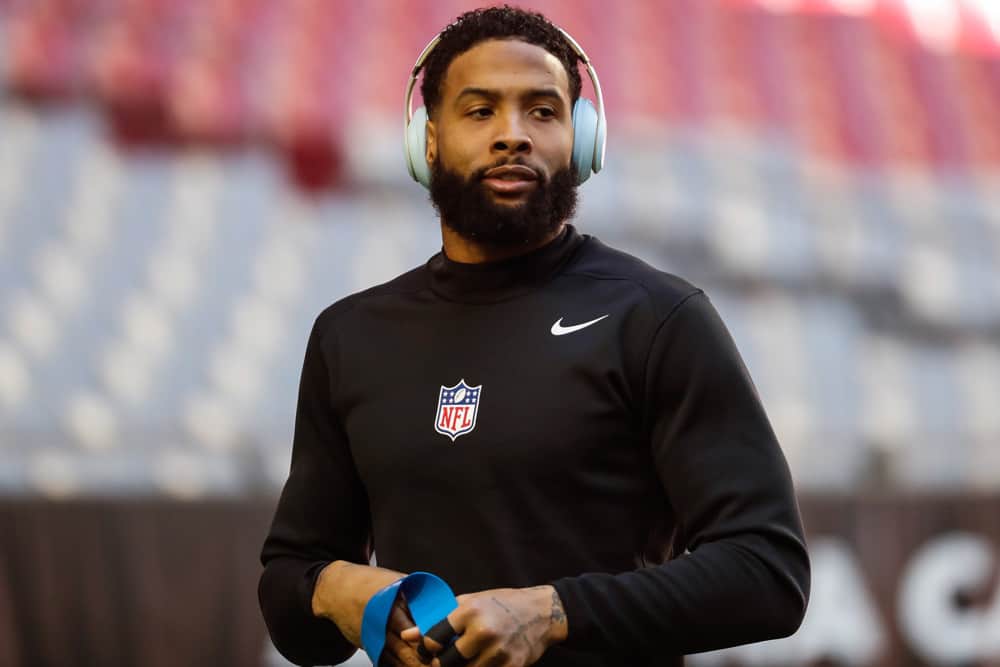 Cleveland Browns WR Odell Beckham Jr. is working himself back into football form.
He tore his ACL during the October 25, 2020 game against the Cincinnati Bengals.
OBJ underwent surgery to repair it on November 10, 2020.
From the moment his injury was announced, speculation began as to whether his future with the Browns was in doubt.
From @NFLGameDay: The #Browns will play their first game without WR Odell Beckham today, and he may have played his last game in Cleveland. pic.twitter.com/d5UI0bK627

— Ian Rapoport (@RapSheet) November 1, 2020
OBJ's Twitter Feed
OBJ's recent Tweets raised more questions than answers.
Im more motivated than I've ever been…

— Odell Beckham Jr (@obj) February 12, 2021
Motivation to put his body in the best possible condition to play football has never been an issue for OBJ.
Then there is this one.
Just wait when I touch a field again….. idgaf the 2nd act is tragic… on everything I love

— Odell Beckham Jr (@obj) February 12, 2021
Determining what he is calling "tragic" requires reading tea leaves and spreading more speculation so instead we will continue to review his recent Tweets.
This one appeared the day after the Super Bowl.
I'm just being patient for my turn… God, thank u in advance

— Odell Beckham Jr (@obj) February 8, 2021
What Does All Of It Mean?
When it comes to OBJ, only he knows what's going on.
Tom Brady won his 7th Super Bowl on Sunday, February 7, 2021.
Because Brady was instrumental in getting Gronk to Tampa Bay, talk started about Brady getting OBJ to come to Tampa Bay too.
Could OBJ be Tampa Bay bound?@JeffDarlington on the possibility of the Bucs acquiring Odell Beckham Jr. 👇 pic.twitter.com/SXXDoY6gA3

— Get Up (@GetUpESPN) February 11, 2021
OBJ and Brady are friends, and he wanted to play with the GOAT.
Someone unearthed old 2019 Tweets as additional evidence.
Remember when OBJ said this in October of 2019:

"Two, three years ago, there was speculation that was going on and I was willing and ready to go over there at any point in time. That was always a dream on mine to play for Tom Brady."

Still makes me sad BB never made the move

— Justin Ramos (@patriotsnews247) February 11, 2021
Does OBJ Want Out Of Cleveland?
He has not made any public statements or actions leading us to believe he is not happy being a Cleveland Brown.
Having the NFL Coach of the Year on your sidelines has to be an incentive to stay put.
His BFF and LSU teammate Jarvis Landry is also firmly ensconced in Cleveland.
Even if he wanted out of Cleveland, the timeline of his rehab and being medically cleared by an NFL team's physician for trade would not happen anytime soon.
Does Tampa Bay Want OBJ?
Again, the Bucs are enjoying their much deserved Super Bowl victory.
No one, not even Tom Brady, has said anything indicating that OBJ may be brought into the fold in 2021.
It's really hard to believe he would be, given both his injury and the financial impact of his contract.
The Bucs got it done with Chris Godwin, Mike Evans, Scotty Miller, and a late season assist by Antonio Brown.
Do they need another wide receiver?
It does not look as though they do.
Even if they did, who is to say OBJ would be the chosen one?
TB12 and Gronk may want their old buddy and former teammate Julian Edelman to fly south and join the Bucs.
What We Know
Both Coach Kevin Stefanski and GM Andrew Berry have shown plenty of support for OBJ.
Each talked about the excitement of getting him back on the field in 2021 in their end-of-season press conferences.
They have bigger fish to fry, so to speak.
The Browns defense is where they will presumably be focusing their efforts in the 2021 offseason.
Plus they have a lot of free agents and pending contract extensions to weed through and figure out how to proceed with.
This means the OBJ rumors will persist, as usual.
However, it looks like they are unfounded.