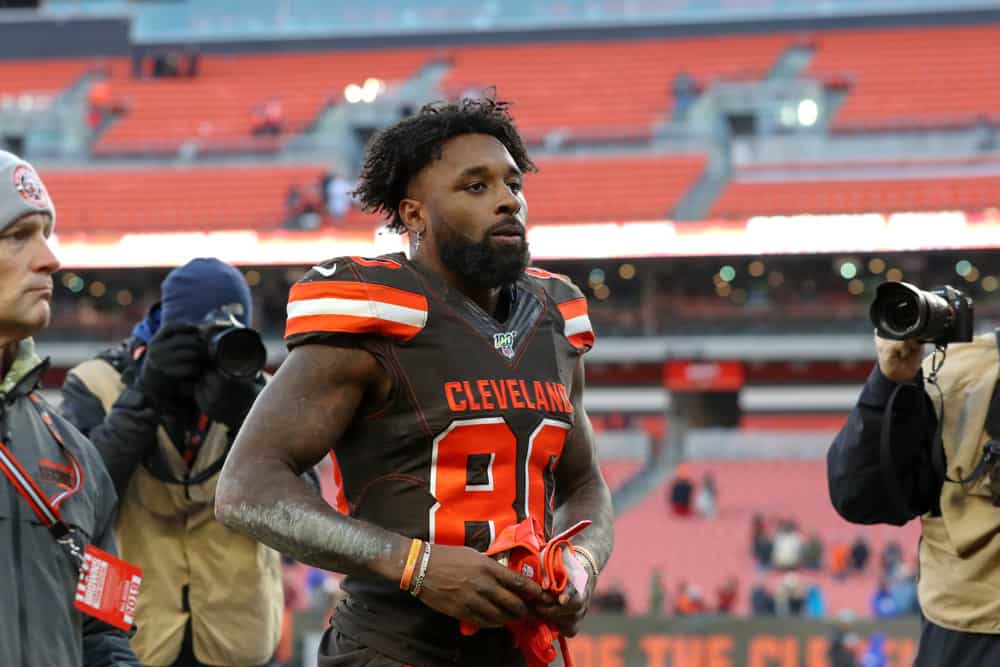 The Cleveland Browns are 9-4 and on the brink of a potential wildcard playoff berth.
With that being said, few are reluctant to stroll down memory lane and talk about the issues the team had last season with former head coach Freddie Kitchens.
Freddie Kitchens Is Back…Sort Of
But the issue has popped up in this week's press conferences because the Browns are facing off against the New York Giants and Freddie Kitchens is the tight ends coach for the Giants.
Compound that with the fact that offensive coordinator Jason Garrett has tested positive for COVID-19, and we now have the situation where Freddie Kitchens will be calling the plays against his former team on Sunday night.
Freddie Kitchens will be calling plays for Giants this Sunday night. As Jason Garett tested positive for Covid…. lol wow

— Kyle ⚜️⭕️🙌🏻🙏🏻⭕️⚜️ (@K_Captain13) December 17, 2020
Jarvis Landry's Take
Browns WR Jarvis Landry was asked how he felt about Kitchens' departure at a press conference yesterday.
"I was not opposed to it. I can only do my job and trust that the staff and the organization are going to be able to put somebody in place, whether that continued to be Freddie or Coach Kevin (Stefanski) as it is now obviously, to make sure that we can get on the right track and be a winning football team."
The diplomatic Landry was pressed for more detail and provided this.
"It definitely was a frustrating season for a lot of people. That's just kind of how the NFL is. It's kind of how it works. Each game you go into, it is any given Sunday, anybody can beat you and you have to play your 'A' game. I do not want to go back too much into last year, but I just did not think that the season ended the way that anybody wanted it to."
Kevin Stefanski
The Browns are eager to move on from the Kitchens questioning, and the best way to do that is to prepare for the Giants game under the leadership of current head coach Kevin Stefanski.
Stefanski was recently recognized by Touchdown Wire as one of the best NFL play callers this season.
And he is likely a candidate for NFL Coach of the Year.
After years of tumultuous on and off-the-field antics for the Browns, it appears they finally got their man.
His rookie season, in the midst of a pandemic, has been stellar.
He is steady, focused, and clear with his expectations, qualities that his players certainly admire.
After the Titans game, we got this glimpse of Stefanski the motivator.
🗣 "We are about the work!" pic.twitter.com/N9iH410pf6

— Cleveland Browns (@Browns) December 8, 2020
Stefanski is content keeping things close to the cuff in his locker room; he is not one to rant and rave to the media.
"If I address anything, I'll keep it internal.  In regards to our players, I think they know what we're about, and what we're about is working. I tell you that because we just came off the field, and I thought the guys got some really good work in. They understand what's so important about our preparation is that we're continually grinding on it. I think the guys get that message from me."