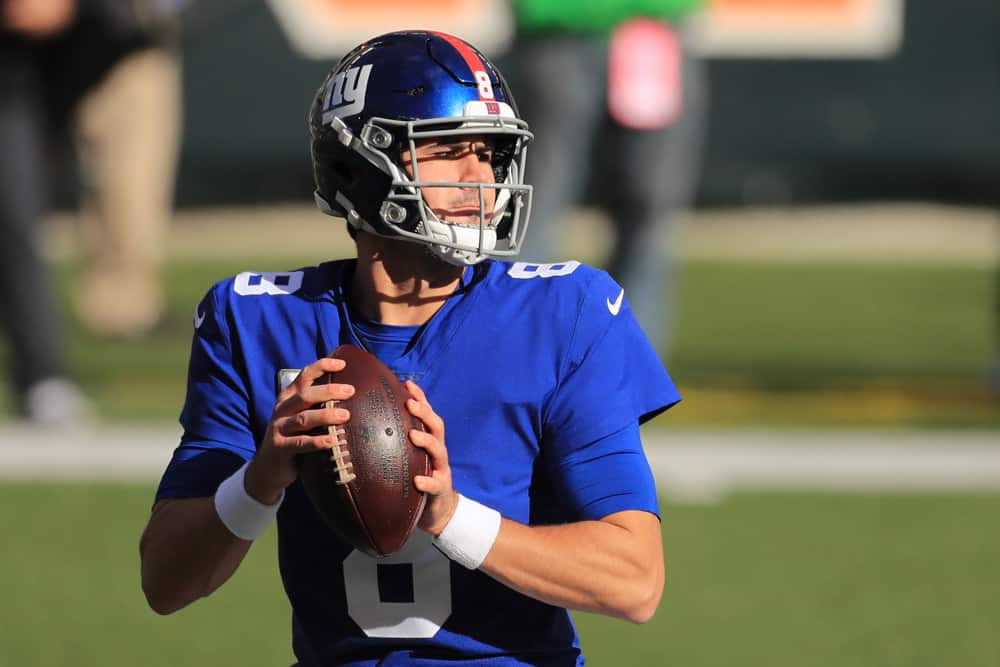 The Cleveland Browns are currently preparing for a Week 15 matchup against the New York Giants.
Cleveland is looking to bounce back after a tough loss to the Baltimore Ravens last week.
This Giants team does not have a pretty record, but cannot be taken lightly.
Quarterback Daniel Jones has shown he can be a dual threat quarterback in both the passing and running game.
Sadly, he is still taking heat for his infamous stumble a few months ago during a primetime matchup against the Philadelphia Eagles.
The second-year quarterback was on his way to an easy touchdown before tripping over himself after running 70 yards.
Everybody laughing at Daniel Jones acts like they wouldn't also trip after running 70 yards at full speed pic.twitter.com/uroXCQdW4w

— JJ Stankevitz (@JJStankevitz) October 23, 2020
Jones has been a good sport about the situation despite becoming a social media sensation with one misstep.
On Wednesday, quarterback Baker Mayfield couldn't help himself and took a playful jab at Jones.
Mayfield's Comments
To be fair, Mayfield did give Jones credit before taking a stab at him.
"He's doing a great job, giving his guys chances, putting them in position to win," said Mayfield.
The Giants are technically competing for a playoff spot with only a few games left in the regular season.
Despite that, Mayfield still decided to take a playful shot at Jones.
Baker, on Giants QB Daniel Jones: "He's doing a great job, giving his guys chances, putting them in position to win. … when he wants to tuck it and run, he can move. Now, I don't know about the finishing part, when he tripped up at the 5-yard line. But he can move." #Browns pic.twitter.com/Oc7qjgNvQJ

— Jake Trotter (@Jake_Trotter) December 16, 2020
He's clearly joking and has plenty of respect for the second-year quarterback.
It's nice to see that Mayfield still has some great one-liners.
Jones shouldn't feel attacked by Mayfield's comments and is already making jokes at his own expense.
He recently rushed for a 34-yard touchdown in a win over the Eagles and decided to take a shot at himself afterwards.
Daniel Jones on his long TD run: "I tried to stay on my feet that time."

— Tom Rock (@TomRock_Newsday) November 15, 2020
There are plenty of worse things Jones could've done on the field to be famous for doing.
At least Jones didn't run didn't his own teammate and fumble the ball.
Quarterback Mark Sanchez will forever be haunted by his infamous butt fumble.
The butt fumble will haunt Mark Sanchez for the rest of his life 🤣💀 pic.twitter.com/FJjhWt51pt

— @RoutePlay on IG 🏈 (@FBaIITweets) December 12, 2020
It's unclear if Jones will even suit up for this matchup against the Browns.
Right now, it sounds like his status in his doubt due to an ankle injury.
That means, veteran quarterback Colt McCoy would be tasked with drawing the start under center.
McCoy is a former third-round pick of the Browns, but sadly never accomplished much during his time in Cleveland.
He very well could get his chance for a revenge game this weekend.
Regardless of who starts, it should be an interesting game nonetheless.