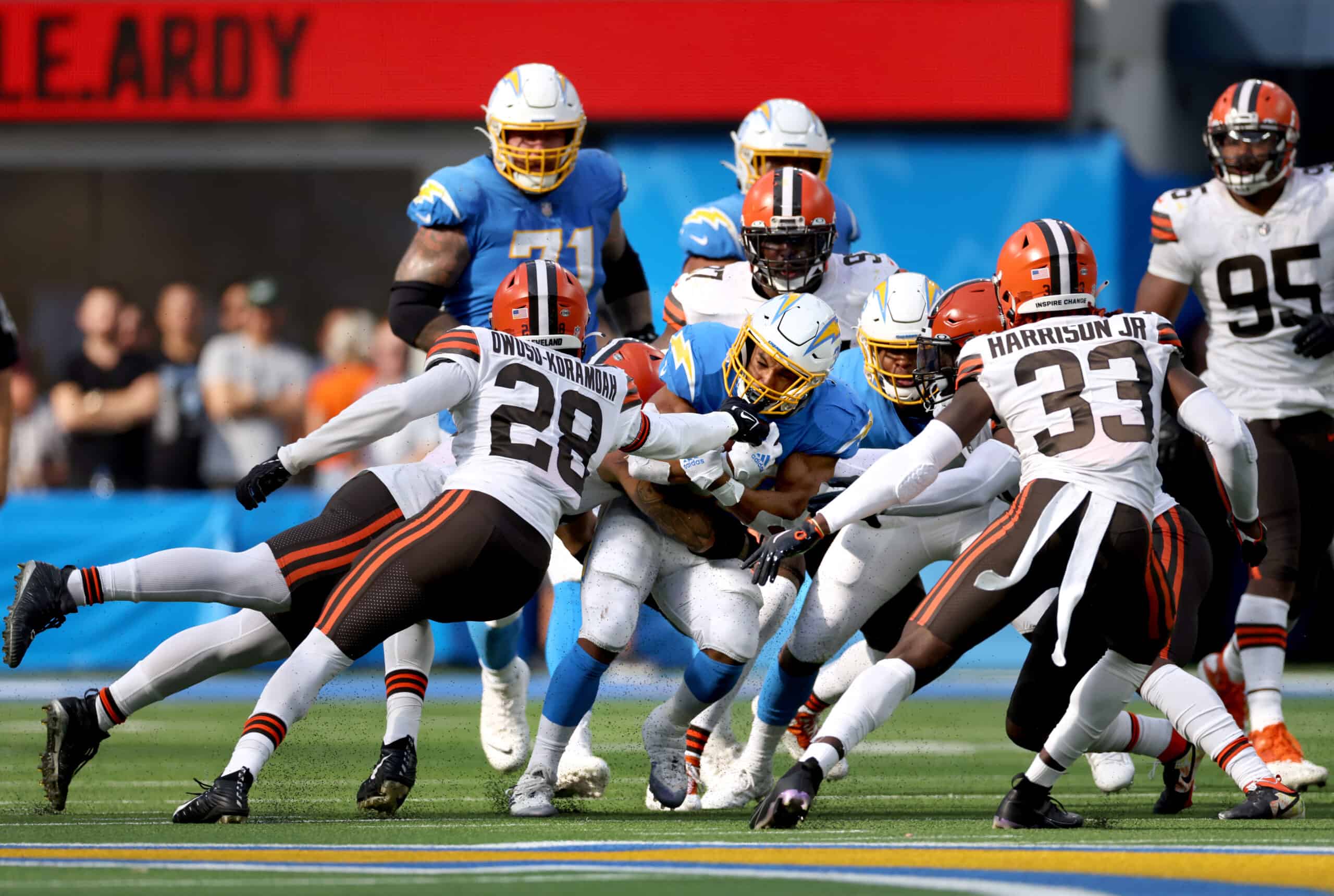 It was an exciting game that didn't end well for the Cleveland Browns.
Injuries played a role throughout the game on both sides of the ball.
But the most serious injury wasn't reported during the game.
In fact, spectators and announcers didn't even notice it.
#Browns LB Jeremiah Owusu-Koramoah suffered a throat contusion. He's was taken to the hospital for further evaluation as a precaution.

— Camryn Justice (@camijustice) October 11, 2021
Cleveland's training staff sent Jeremiah Owusu-Koramoah to a Los Angeles hospital after the game.
The team says their rookie linebacker suffered a throat injury.
It is unclear when the injury happened or if JOK ever left the game because of it.
But the team called an ambulance to rush Owusu-Kormoah to the emergency room.
How Bad Can a Throat Injury Be? 
Throat injuries are always serious, although there are big variables in diagnoses and prognoses.
Direct contact injuries can cause spasms that restrict the airway.
But this is unlikely in JOK's case since this happens immediately.
If the injury became an emergency many minutes or even hours later, it is probably due to edema or bleeding.
#Browns Jeremiah Owusu-Koramoah. Impact unmatched.

— Camryn Justice (@camijustice) October 3, 2021
There is a lot of space for blood or air to accumulate in our necks, outside the throat.
For that reason, a player or trainer does not recognize the severity of the injury right away.
But eventually, the space is used up, and the edema starts pressing on the throat.
That is when it affects breathing or swallowing, and the patient knows they have a problem.
What It Means For JOK and the Browns 
Cleveland announced the injury as a contusion to the throat.
Any contact that creates a contusion to the throat or neck warrants observation for a spell.
The majority of these cases resolve and the patient is released in a short time none the worse for wear.
But the doctors are more aggressive in looking for the problem if edema develops or continues.
1. Jeremiah Owusu-Koramoah
2. Creed Humphrey

Top 15 highest-graded rookies through Week 4https://t.co/ob4Cr0qPSH

— PFF (@PFF) October 5, 2021
Likewise, if the patient complains of breathing or swallowing difficulty, radiological tests to find the damage if warranted.
In a worst-case scenario, doctors have to repair the damage surgically or endoscopically.
But the most likely scenario is that Owusu-Koramoah will not experience symptoms and return to Cleveland asap.
And fans, coaches, and teammates will let out a big sigh of relief.