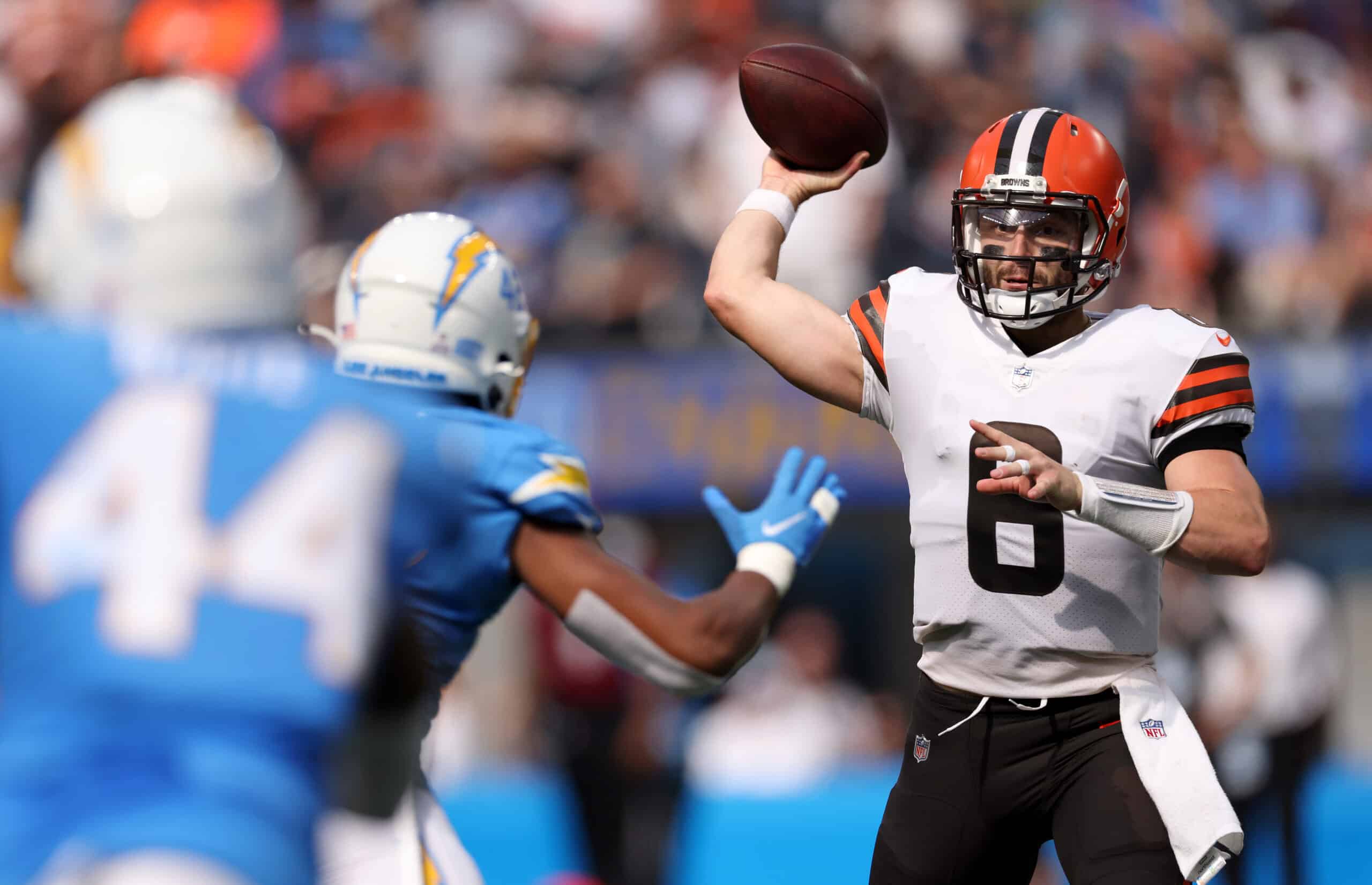 The Cleveland Browns dropped their Week 5 game to the Los Angeles Chargers by a score of 47-42.
This was a winnable game which makes the loss even more disappointing.
Here are the studs and duds from the game.
Stud: Greedy Williams
Williams is making the most of his time filling in for the injured Greg Newsome II.
He had a fantastic game with 7 solo tackles.
Greedy Williams is balling out right now, major props to him #Browns

— MoreForYouCleveland (@MoreForYou_CLE) October 10, 2021
Dud: Odell Beckham Jr.
That 4th down drop was a huge error.
It seems inexplicable that he does not haul in this catch.
This is unacceptable. Odell Beckham Jr. has got to catch this football.#Browns pic.twitter.com/TVobCBXLsO

— Marcus Harvey (@MarcusHarvey_) October 10, 2021
I am still not a believer that Beckham cannot be integral in this offense though I may be forced to change my position if more plays like this happen in the coming weeks.
Stud: Myles Garrett
Garrett continues his high caliber defensive play.
He had 1 sack, 1 batted ball, 2 solo tackles, and 3 quarterback hits.
#Browns Myles Garrett sack counter sits at 7.

— Camryn Justice (@camijustice) October 10, 2021
Dud: Browns 2 Minute Offense
Calling it a dud may even be a compliment; that implies it exists.
There really does not appear to be a 2-minute offense for the Cleveland Browns.
The play calling at the end of this game was atrocious.
There was no clock management despite the fact that the Browns had no time outs.
Plays geared toward the sidelines were nonexistent.
Instead, the Browns continue to run and complete short passes and waste inordinate amounts of time they did not have.
Coach Stefanski's subpar play calling did not put the Browns in the best possible position to win the game at the end.
That might have been the worst 2 minute offense I have ever seen. 4 consecutive plays without getting out of bounds…WTF@Browns @TheRealTRizzo @HammerNation19 #Cleveland

— Stan The Man (@StanTheManCLE) October 10, 2021
Stud: Chase McLaughlin
McLaughlin continues to be accurate when called upon.
This is a huge comfort because the Browns play tough opponents and need to maximize their scoring opportunities.
Chase McLaughlin appreciation tweet. #Browns

— Camryn Justice (@camijustice) October 10, 2021
Dud: Hail Mary Play
While the entire 2-minute offense already earned "dud" status, the final offensive play, the "Hail Mary" deserves its own separate dud designation.
The play is a low percentage play hence the name.
However, it can be completed or at least nearly completed if executed better.
The ball was in the neighborhood, but no Browns were leaping up for it.
Worse than that, it looked like David Njoku and Rashard Higgins got tangled up so they ended up in a pile on the ground.
just a mess of bodies on that Browns-Chargers hail mary

— Nate Tice (@Nate_Tice) October 10, 2021
Stud Tandems:  Nick Chubb and Kareem Hunt; Blake Hance and James Hudson
These two tandems worked well together to keep the Browns in the game.
Chubb and Hunt were operating on all cylinders today with 222 combined rushing yards and 3 touchdowns.
Hance and Hudson did their job in blocking and protecting Mayfield's blind side in Jedrick Wills' absence.
Mayfield was sacked only one time for a loss of four yards.
This #Browns team is blocking their behinds off!! Chubb/Hunt rewards them every single time!!

— Anthony Alford (@AnthonyAlford92) October 10, 2021
Conclusion
It is tempting to put the officiating in the dud category.
However, the loose play by the defense that allowed Justin Herbert to keep slinging passes and scoring touchdowns is really what is at fault.
Clearly, no one can control officiating.
It can be extremely good or downright poor.
Players can control their level of play in the game.
This loss can only sting for a few hours because it is time to prepare for the 5-0 Arizona Cardinals who are coming to town in Week 6.