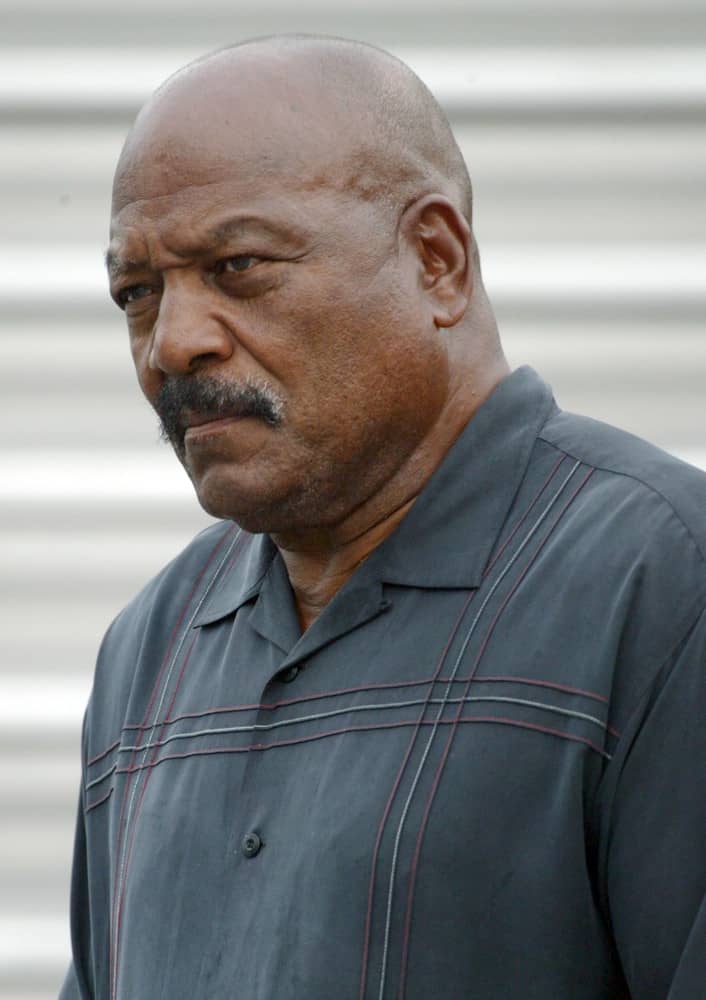 Profile of Jim Brown
In the lengthy history of the Cleveland Browns, no player has had the impact or the legend of running back Jim Brown.
Brown's influence went far past the Browns to affect football as a sport forever.
His life history and career during and after football is endlessly fascinating.
A Challenging Early Life
Jim Brown's early life was not an easy one after his 1936 birth.
Born on St. Simons Island off of the coast of Georgia, Brown was abandoned by his father at just two weeks old.
His mother tried to take care of the young and precocious Brown but struggled to find work.
Not long after his birth, she gave him to her grandmother while she worked as a maid in New York, sending money to the family for his care.
Though Brown loved his great-grandmother, he missed his mother and often struggled to stay focused in school.
However, his mother took him back to New York at the age of eight, where he finally found a purpose in life: football.
With his substantial height and frame, Brown was an imposing figure even as a teenager.
And he was also incredibly fast, which made him a dangerous weapon for Manhasset High School on the football field.
During his career, he averaged 14.9 yards per carry and was scouted and recruited by Syracuse as one of the most in-demand high school players of the time.
Brown was a multi-sport athlete both in high school and in college, playing basketball and lacrosse and also running track while dominating on the football field.
His demanding play in college peaked with his final game, in which he ran for 197 yards, scored six touchdowns, and kicked seven extra points (!).
His Stunning Professional Career
In 1957, the Cleveland Browns were already the most dominant team in the NFL but in need of a little boost after losing so many of their most legendary players in the previous year.
Born #OTD 1936 The Cleveland Browns,Jim Brown,The Greatest Running back of All Time.#NFL100 #Cleveland #Browns #1950s #1960s
pic.twitter.com/7bZ2hLwWQK

— Tom's Old Days (@sigg20) February 17, 2020
They got the help that they needed when they picked Jim Brown at sixth in the draft.
In the same year, he won Rookie of the Year award, rushing for 942 yards and making the five teams who passed on him immediately jealous.
Brown then dominated the game in a way that no single player had ever before or – arguably – has since.
His combination of size, speed, and intelligence – combined with a skilled offensive line – made Brown a bulldozer that his opponents couldn't stop.
Remember, his domination came in a time when passes were seen more as a novelty option and when defenses were created mostly to stop the run.
In spite of these difficulties, Brown's next eight years are legendary.
He rushed for 1,527 yards in 1958, 1,329 in 1959, 1,257 in 1960, 1,408 in 1961, 996 in 1962, a staggering 1,863 in 1963, 1,446 in 1964, and 1,544 in 1965.
These records came during a time when the league played just 14 games per season, so Brown was rushing for well over 100 yards per game – sometimes nearly 200 – to set these records.
Brown's career 12,312 rushing yards and 15,459 combined yards were records that nobody touched for years – Brown is currently number 11 on the all-time rushing list.
However, Brown was also known as an occasional receiver and a surprisingly capable passer on option plays who threw three touchdown passes in his career.
Brown was chosen unanimously to the first-team All-NFL pick eight times and played in the Pro Ball nine years, winning it three of those nine times.
Born #OTD 1936 The Cleveland Browns,Jim Brown,The Greatest Running back of All Time.#NFL100 #Cleveland #Browns #1950s #1960s
pic.twitter.com/7bZ2hLwWQK

— Tom's Old Days (@sigg20) February 17, 2020
Brown earned his first and only NFL championship in 1964, where he helped the Browns destroy Baltimore 27-0 in a game where he ran for 114 yards.
The next year was another dominating one for Brown, who scored three touchdowns in the 1966 Pro Bowl and who looked prime to dominate for the foreseeable future.
However, Brown stunned the world by retiring at the peak of his career.
Life After Football
After retiring, Brown immediately got a role in "The Dirty Dozen" in 1967 and acquitted himself well.
He later went on to star in "100 Rifles" in 1969 and has been in more than 30 films.
He also became infamous for his "blaxploitation" films, such as "Slaughter."
As he aged, Brown settled into smaller roles, such as a cameo in "Mars Attacks!"
The only stains on his reputation are the assault charges in 1968 – in which he allegedly threw his girlfriend off a second-story balcony – and a six-month jail sentence in 2002 after smashing his wife's car window.
In spite of these blemishes, Brown also heavily supported African-American rights, including the Negro Industrial Economic Union and the Amer-I-Can program, which focused on helping gang members regain a normal life.