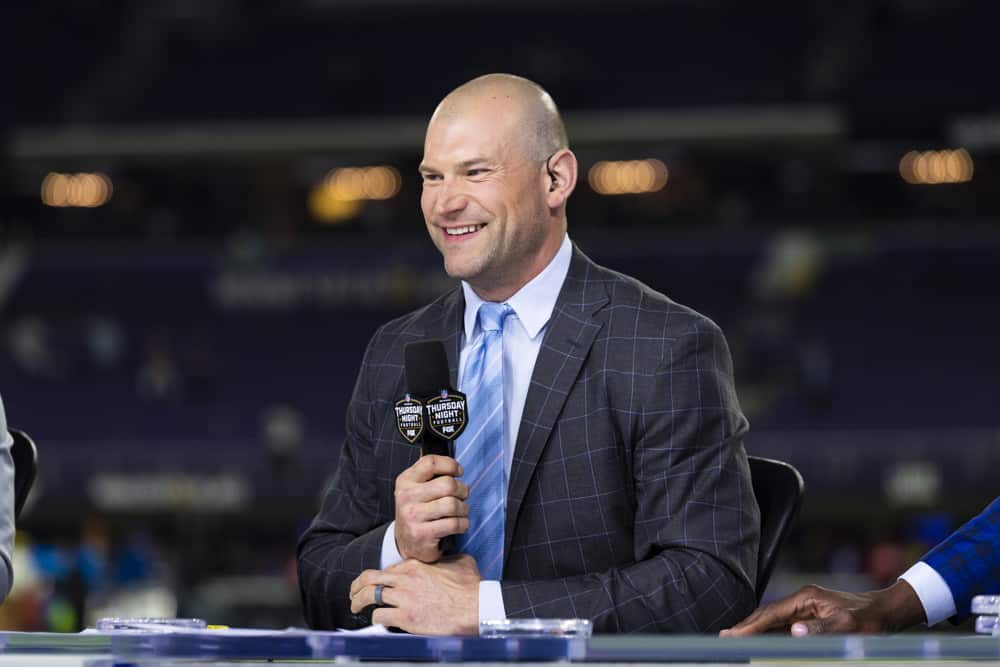 The Deshaun Watson sweepstakes are over.
As a result, Baker Mayfield will be resuming his career outside of northeast Ohio once the Browns find a trade partner.
That's easier said than done at this point, however, as Mayfield's value isn't exactly at a premium.
Plus, teams like Indianapolis have already filled their quarterback needs. How did it get to this point for Baker Mayfield?
Former Browns left tackle Joe Thomas, part of the Thom and Hawk Football Show, has a theory.
On the latest episode of the podcast, Thomas claims Mayfield "overplayed" his hand, resulting in the Browns going hard after Watson.
Maybe if @bakermayfield hadn't overplayed his hand, the @Browns would have never pursued @deshaunwatson … pic.twitter.com/laJBb8I3ZC

— The Thom & Hawk Football Show (@ThomaHawkShow) March 25, 2022
Is Thomas on to something here?
Did Baker create his own sort of demise?
He does clarify this is all ultimately speculation, but Thomas is someone worth listening to.
Too Emotional
According to Thomas, this all boiled down to too much emotion.
As Thomas mentions, Watson seemingly eliminated Cleveland from contention in signing him at one point.
The #Browns have been informed they're out of the running for Deshaun Watson, a source says. The team still views Baker Mayfield as their quarterback going forward. They told Mayfield's agents at the Combine they'd only explore top-tier QBs such as Watson.

— Mike Garafolo (@MikeGarafolo) March 17, 2022
Just before that, Baker released a statement on Twitter talking about his uncertainty of his own future.
With many uncertainties, here is where my head and heart is. pic.twitter.com/psipN96cmh

— Baker Mayfield (@bakermayfield) March 16, 2022
Additionally, Mayfield reportedly went radio silent on the Browns, completely ignoring them.
Per Jason Lloyd of The Athletic, this is because Mayfield's camp thought Cleveland wanted Kirk Cousins.
Baker Mayfield stopped communicating with the Browns. His side believed they would trade for Kirk Cousins. Andrew Berry told his agent they would only pursue one of the elite guys if they could get one. Turns out, they got one. https://t.co/OsVp5NdeVv

— Jason Lloyd (@ByJasonLloyd) March 21, 2022
That's a lot of layers to a messy situation.
But, as Thomas says, much of that could have been avoided.
As I've done before, I'll reference the Jimmy Garoppolo ordeal in San Francisco.
The organization made it clear that Trey Lance would be the future of the organization.
Garoppolo did not respond by getting emotional on social media and giving his team the silent treatment.
He simply put his head down, led his team through the season, made a postseason run, and didn't make a fuss about it.
Mayfield, on the other hand, did not do the same.
He demanded a trade from the team, the team responded by saying they would not comply, and every part of the relationship spiraled from there.
Sending Him Wherever
A key part of Thomas' rant comes at the end when he talks about Baker and his perceived value around the league.
It does seem that Baker believed he could just demand the terms of his trade and things would turn out smoothly.
As we've seen in the last week or so, that is very much not the case.
The Colts, a once-potential landing spot for Mayfield, decided to go with Matt Ryan moving forward.
That's an aging quarterback, certainly on the downside of his career, that Indianapolis felt would better serve their franchise.
That's telling on the value of Mayfield. It should be clear to Baker now that there's no picking and choosing where to go.
At this point, it's far from a guarantee that he even has a starting spot in the league next season.
Seattle remains a possibility, but there's nothing in the works just yet.
Gut feeling: Baker and a fifth to Seattle for a sixth.

— Ben Axelrod (@BenAxelrod) March 22, 2022
Rude Awakening
This offseason has to be a bit of a shock for Mayfield.
Heading into last season, as Thomas notes, Baker had bet on himself and seemed ready to pursue a $40 million contract.
A miserable 2021 led to a change of plans in the Cleveland front office, one that leaves Mayfield out of the equation.
Life comes at you fast as they say. Thomas may not be entirely right with his assessment of the situation.
Even if Baker did handle things better and Watson chose elsewhere, it's hard to assume Andrew Berry would just roll the dice with Mayfield again in 2022.
His play hurt the Browns mightily last season.
Even if Watson didn't choose Cleveland, Berry very well may have gone another direction from Mayfield anyways.
Now it's a certainty Mayfield will play elsewhere, although where that will be is still anyone's guess.