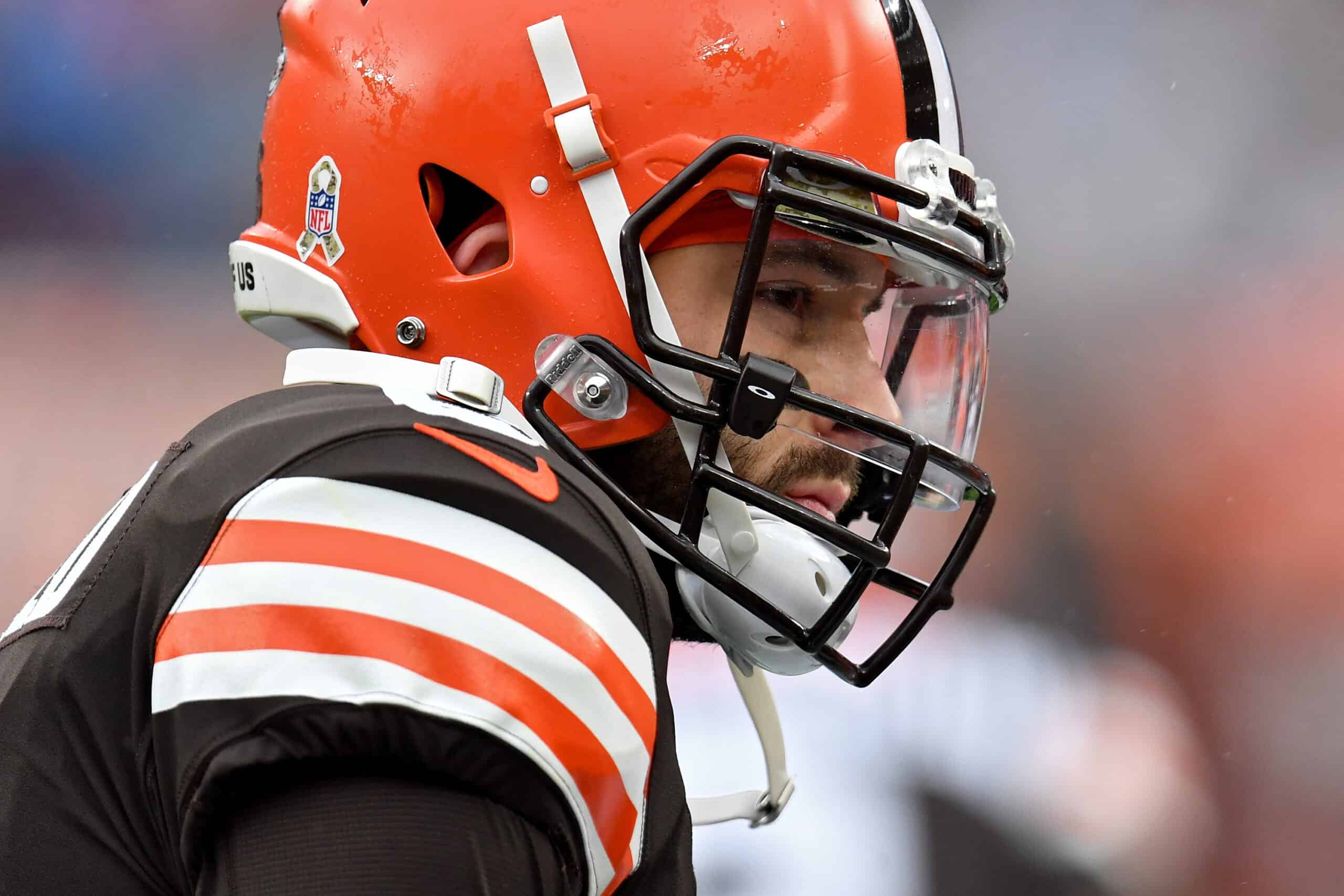 The Cleveland Browns told Baker Mayfield they would only look for a quarterback change if it came in the form of a top-tier talent.
Before that, however, Baker gave Cleveland the silent treatment and stopped communication.
Why?
Because he felt the team might trade for Kirk Cousins.
This comes via Jason Lloyd of The Athletic, who outlines the whole Deshaun Watson-to-Cleveland saga.
Baker Mayfield stopped communicating with the Browns. His side believed they would trade for Kirk Cousins. Andrew Berry told his agent they would only pursue one of the elite guys if they could get one. Turns out, they got one. https://t.co/OsVp5NdeVv

— Jason Lloyd (@ByJasonLloyd) March 21, 2022
From this, we know that Baker saw the writing on the wall.
One could also make the safe assumption that pursuing Watson (or any other quarterback for that matter) did not sit well with Baker in the slightest.
Why else would someone completely cut off communication with their current team?
Now the deal for Watson is done, so there doesn't have to be any concern over Baker and the Browns talking.
That relationship is off the fairway and into a sand trap.
Only it's not coming back.
No One But Me
Baker is not the first NFL quarterback in history to have his team actively look for an upgrade while he's still there.
Jimmy Garoppolo just went through this same thing in San Francisco as the 49ers acquired Trey Lance.
Surely the news didn't bring the same huge smile to the face of "Jimmy G" as it did when he interviewed with Erin Andrews.
However, he's a professional so he put his head down and worked.
According to Lloyd's report, Baker's camp believed the team would pursue Vikings quarterback Kirk Cousins.
Given the relationship between Cousins and Stefanski, that's not totally out of left field.
Still, it seems that Baker cut off communication and essentially started pouting once that became his belief.
Of course, Deshaun Watson's name entered the equation as well.
While Mayfield didn't talk with the Browns, he did make sure to check in on Twitter with the whole situation.
With many uncertainties, here is where my head and heart is. pic.twitter.com/psipN96cmh

— Baker Mayfield (@bakermayfield) March 16, 2022
The "drama" started once it became clear that Baker would not be the guaranteed starting quarterback for the Browns in 2022.
Once Mayfield knew he may not be the guy, he checked out.
Another reported comment from the team didn't help the situation either.
Adult in the Room
The infamous "the Browns want an adult at quarterback" line from ESPN's Chris Mortensen has made the rounds.
ESPN's Chris Mortensen says Baker Mayfield and the Browns are breaking up because the Browns want an "adult" at QB pic.twitter.com/cXPIOKNklr

— gifdsports (@gifdsports) March 16, 2022
Mortensen's report infers the Browns did not believe Baker to be mature enough emotionally to handle the starting spot.
Many believe Baker caught wind of this comment (and it's safe to assume he did based on his social media presence) leading to an increase in the divide between the two sides.
If he did hear that, it probably didn't give him much reason to re-engage in talks with the team.
Value Shock
Baker may be in for a bit of a rude awakening in terms of learning his value in the current NFL.
His heartfelt Twitter message to Browns fans talks about giving it his all, laying it on the line, and all that sappy stuff.
The problem is that the NFL is a ruthless business with little room for emotion.
Baker did play through injuries and played with fiery emotion.
That's something the Browns can certainly appreciate.
However, when he has a mediocre season and the team has a chance at one of the game's elite talents, they're going to take that shot every time.
Baker never seemed ready to accept that, ultimately leading to this messy fallout.