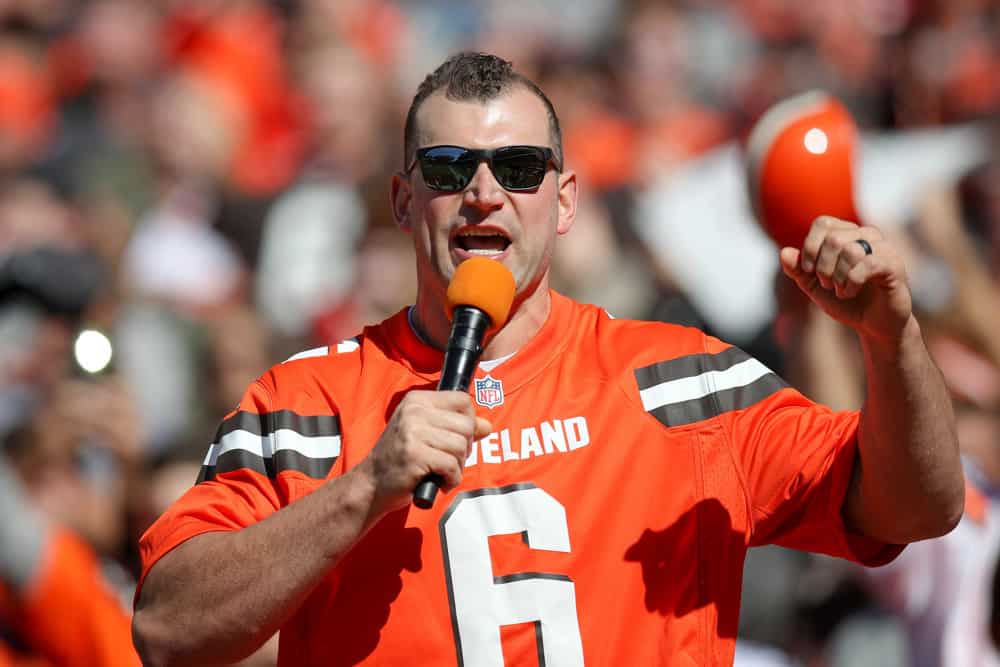 One of the many decisions the Cleveland Browns need to make in the 2021 offseason is what to do with Baker Mayfield's contract.
Or do they?
He will enter the 4th year of his rookie contract.
As a first round draft pick, the Browns can exercise a 5th year option or opt to negotiate a long-term deal.
Opinions vary on how this should be handled; however, Browns' legendary left tackle Joe Thomas weighed in recently in favor of a long-term deal.
He made the comments before the Browns loss to the Chiefs in the divisional playoff.
Joe Thomas on Baker Mayfield's Contract
"The second half of the season, he's been playing Pro Bowl-plus football. He's been the emotional leader. He's been giving, by all accounts, great leadership in the building to all the players, helping guys deal with the adversity of the COVID season, and he's been throwing the ball really well, making great decisions…He's only in his third year, and he's been looking really good, and if you had to make a decision right now, absolutely. I think they'll definitely pick up, without question, the fifth-year option. From a team standpoint, you always want to wait as long as you can to pay the big bucks because once you pay it, if something happens, you can't get out of it, obviously. But at the same time, the way things are going with Baker, the longer you wait, the more you're going to have to pay him because he just keeps playing better and better."
GM Andrew Berry's thoughts:
Andrew Berry was asked about Mayfield's contract during the playoffs and would not delve into specifics.
Berry "very pleased" with QB Baker Mayfield. "He's grown before our eyes." Berry wouldn't get into any discussions about a contract extension for Mayfield, but made it clear team is excited about him and his future.

— Tom Withers (@twithersAP) January 15, 2021
Mayfield's Statistics
Football is all about numbers.
Both statistics and money are the key measurements.
Mayfield, with his 4th head coach in 3 seasons, excelled this year.
In the regular season, Mayfield completed 305 passes for 3,563 yards.
He had 26 TDs and only 8 INTs.
Mayfield (and Deshaun Watson) were the only 2 NFL QBs who did not throw an interception in the entire month of November.
In his 2 playoff games, Mayfield threw 4 TDs and 1 INT.
There is no doubt that he has matured during 2020.
His accuracy and decision-making on the field improved tremendously.
All About The Money
The Browns have a lot of decisions to make; there are 25 free agents on the roster.
There is also the issue of the salary cap and what implications that may have in the coming seasons when the young players on the Browns team will be negotiating contract extensions.
Nick Chubb's 4 year contract ends at the end of the 2021 season.
So there are plenty of factors involved that have nothing to do with Baker Mayfield.
looks like I have to remind everybody already that every "Pay Baker Mayfield" take you're about to read and hear is wrong.

the point of a rookie contract is to have QB1 on a cheap contract for as long as possible.

— Zac Wassink (@ZacWassink) January 18, 2021
Some argue keeping him on the rookie contract through the 5th year allows the Browns to continue to spend wisely on the offensive line, and judging by the Chiefs game, defense will be a priority also.
For his part, Mayfield has shown heart, passion, and commitment, and there have been no indications he wants to play anywhere else but Cleveland.
This is just one of the many interesting offseason storylines to follow with the Cleveland Browns.