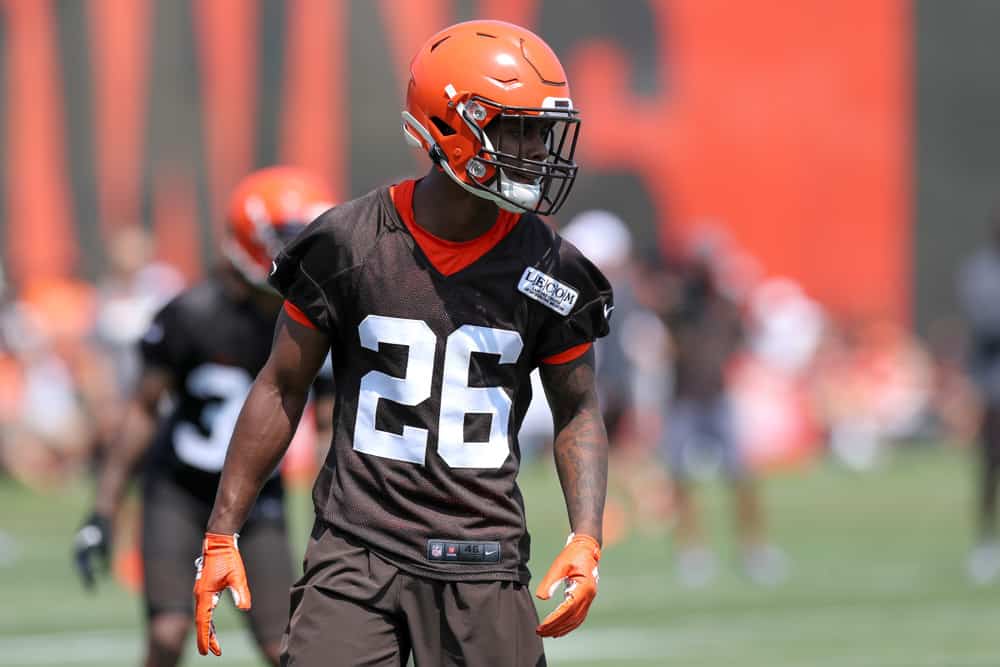 The Cleveland Browns secondary was doomed from the start of the 2020 season.
Both defensive back Greedy Williams and safety Grant Delpit suffered injuries in training camp.
Neither of them were able to take a snap for the Browns during the 2020 campaign.
Two of the Browns projected starters in the secondary were sidelined from the beginning.
It was obviously a significant blow to the team and their absence was missed throughout the year.
Luckily, it sounds like both players will be back on the field in 2021.
Incoming Reinforcements
The Browns struggled to contain the passing game with Williams and Delpit sidelined.
However, head coach Kevin Stefanski believes both players will be ready by the start of next season.
"I am excited about both of those guys. Unfortunate injuries," Stefanski said in his season-ending press conference via Zoom. "They are just going to continue to rehab and work through those injuries. That is the exciting part for us to get some of those guys back next season."
It's never easy to win games when your backups are forced to play for the entire season.
Although, veterans Terrance Mitchell and Andrew Sendejo had some nice moments in 2020.
On defense, for all the Browns problems in pass coverage, Terrance Mitchell has been great. Watch him force two incompletions within three plays by having blanket coverage on the WR. He should remain a full-time starter even when Greedy Williams returns. pic.twitter.com/WuOMRyX66X

— Mike Bossetti (@bossetweets) September 28, 2020
Neither of them are full-time starters and it showed throughout the regular season.
Cleveland didn't expect two of their starters to be sidelined for the entire year, so Mitchell and Sendejo deserve credit for stepping up.
Although, the Browns secondary should be in much better hands with Williams and Delpit starting.
What To Expect
Browns general manager Andrew Berry is well aware that Cleveland needs to revamp their defense.
He wasted no time selecting young defensive talent in the draft this year.
Berry selected two LSU products early in the draft with Delpit and linebacker Jacob Phillips.
#LSU ties record for most draft picks in first 3 rounds with 10 and sets school record with one draft as Browns take LB Jacob Phillips with 97th overall pick.
Cleveland drafted Grant Delpit in 2nd round.#NFLDraft2020

— Scott Rabalais (@RabalaisAdv) April 25, 2020
Delpit was once viewed as a top-10 selection, but his stock dropped before the draft.
His final season in college didn't quite live up to expectations, which hurt him on draft day.
Luckily, Berry saw the potential and snagged Delpit in the second round.
This move could end up being a steal for the Browns, assuming Delpit comes back healthy.
He was sidelined the entire season after tearing his Achilles in August.
#Browns S Sheldrick Redwine said he was really torn apart and almost shed tears when he saw Grant Delpit go down for the season with a torn Achilles. Says he prays for him every night.

— Camryn Justice (@camijustice) August 28, 2020
The return of Williams is huge for the Browns defense as well.
The LSU product is a former second-round pick by Cleveland.
His rookie campaign was underwhelming, but there is still plenty of potential.
Honestly, the Browns didn't use him correctly under then-coach Freddie Kitchens.
It'll be interesting to see how Williams performs under Stefanski.
He missed the entire season with a nerve issue in his shoulder.
The Browns are certainly excited to have both young studs back on the field for the 2021 campaign.