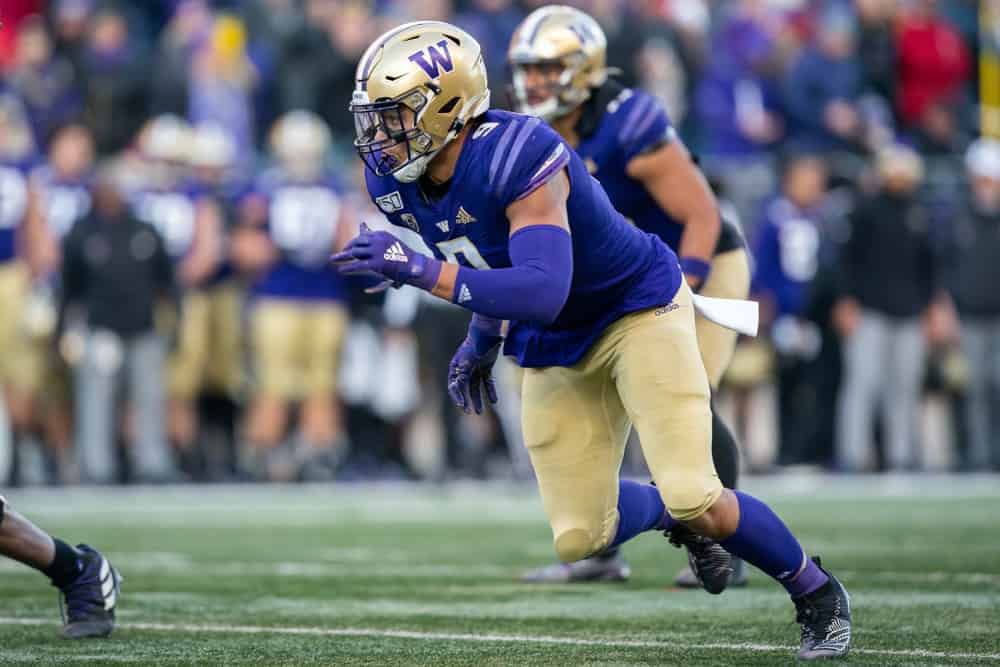 The good news is, the Cleveland Browns don't have too many areas of concern heading into the NFL Draft.
They've already taken care of some needs during free agency, but there is still room for more reinforcements.
Most importantly, the Browns need to find a reliable pass rusher before the 2021 season begins.
There could be help on the way in the form of Washington Huskies edge rusher Joe Tryon.
Tryon At Washington
It's fair to say that Tryon might not be the biggest name at edge rusher heading into the draft, but he still packs a punch.
He was a full-time starter during his sophomore year in 2019.
That season he recorded 41 tackles, 12.5 tackles for loss, and eight sacks in 13 games.
Tryon is quick off his feet and uses his hands effectively to get leverage on his opponents.
He also showed off his above-average speed during his Pro Day workout.
Pro day ✅ NFL draft next 🙏🏽 that's 4.5 I'm not hearing it 😁 pic.twitter.com/bwGMPbE30O

— Joe Tryon-Shoyinka🛸🇳🇬 (@joe_tryon) April 1, 2021
There is plenty of potential upside in his game, but he isn't quite NFL-ready yet.
He was a part-time player during his freshmen year and obviously showed flashes of brilliance during his sophomore campaign.
Although, Tryon decided to sit out the 2020 season due to the uncertainty surrounding the Pac-12 season.
No one can blame him for that decision, but it could potentially hurt him on draft day.
There is no doubting that Tryon is an explosive pass rusher with some above average coverage skills.
He is versatile player that could fit in numerous defensive schemes at the professional level.
Worth The Gamble?
The fact Tryon can be used as a three-down linebacker or an explosive edge rusher makes him a valuable prospect.
There is a good chance that Tryon becomes a full-time defensive end once he gains more weight.
That kind of reliable versatility is not something you find in every young player.
Tryon is the type of player that never gives up on a play and is always entertaining to watch.
UW Edge/LB Joe Tryon is a player to watch, who has an incredible motor and is quite the effective disrupter. Has also met with the #Chargers.

🎥: @joe_tryon | @TDavenport_NFL
pic.twitter.com/D3axvUjZcD

— Dan W. (@ChargersHomer) March 30, 2021
It would sure be interesting to watch Tryon and Myles Garrett play alongside each other.
The lack of playing experience is a concern, but there is clearly a ton of upside here.
Selecting Tryon early in the draft is certainly a high risk-high reward type of situation.
Cleveland could use help at both linebacker and edge rusher, so drafting Tryon does make sense.
However, it's uncertain if Tryon will be NFL-ready right away on a roster that needs impact players now.
He could be worth the gamble, assuming Tryon lasts until the late second or possibly the third round.