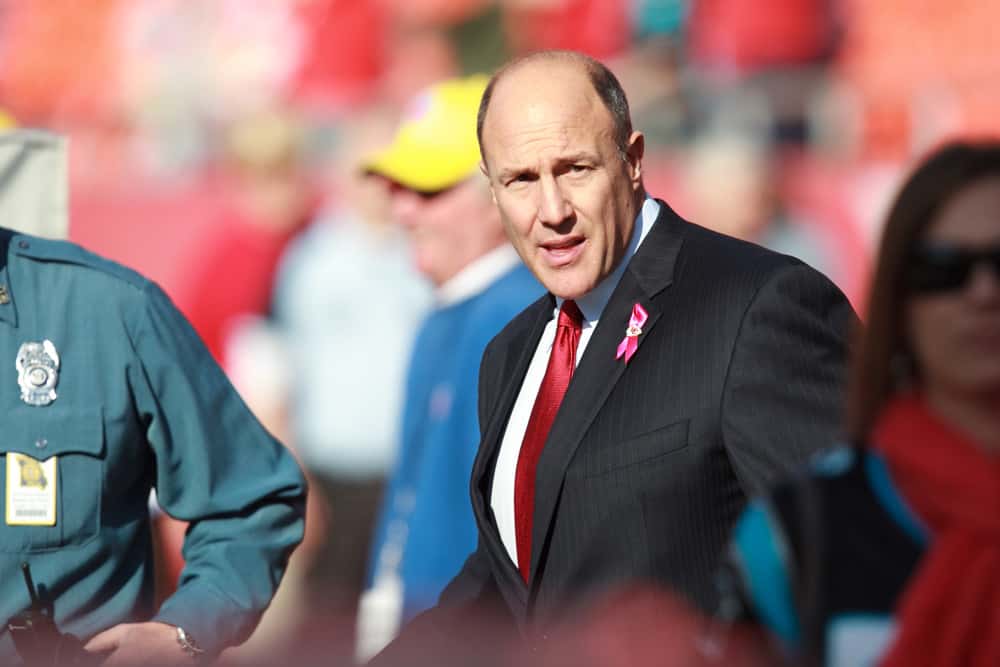 "Finally."
Scott Pioli shared what he thinks is the most important factor in the Cleveland Browns resurgence.
And while his colleagues on the NFL Network's Total Access went offense and defense, Pioli went with the Browns' front office and coaching staff.
Be encouraged @Browns fans -organizational stability will manifest itself into team improvement.Good young players developing under strong FO & coaching leadership.Just consider balance w/ some veteran player leadership in locker room & meeting rooms #NFL @NFLTotalAccess #Browns pic.twitter.com/WnVEA7doGz

— Scott Pioli (@scottpioli51) April 2, 2021
Specifically, Pioli cited the long-sought stability in Cleveland's management team.
Pioli, who spent 36 years in various NFL front offices before joining NFL Network, lauded the two men in charge.
"Finally, the Cleveland Browns have stability with an incredible general manager in Andrew Berry and really a terrific young coach in Kevin Stefanski."
Fans would almost think Berry and Stefanski have been in Cleveland for years.
But Pioli's definition of stability has more to do with consistent messaging coming from the coaches to the players.
"Players know what (the coaches) are expecting and what to expect. It's going to help this football team without a doubt," said Pioli.
Kevin Stefanski agreed with Pioli's assessment when he discussed Baker Mayfield's offseason plans.
Kevin Stefanski spent time Monday talking with QB Baker Mayfield. "I can tell you, he's very excited not to learn a new offense…" #Browns pic.twitter.com/psS5ttraTr

— Jake Trotter (@Jake_Trotter) January 18, 2021
Alluding to the historical turnover of Browns coaches and coordinators, Stefanski told the press,
"I can tell you, he (Mayfield) is very excited not to learn a new offense."
Scott Pioli Has An Allegiance To Cleveland 
This isn't the first time Pioli has raised some excitement about the Cleveland Browns.
In January, his co-hosts asked what the Browns Wild Card victory over Pittsburgh meant to the Cleveland organization.
But he couldn't resist expanding on the thought.
"It meant a ton to the organization. I spoke to a couple of people and they were happy, they were excited, but they also measured. But the city of Cleveland is unhinged."
Pioli explained to the questioner that his first NFL job was with the Browns and he still has an emotional attachment.
"I talked to some friends (in Cleveland) and they are over the moon, because they… think this is something that is going to last. Because they beat the Pittsburgh Steelers, and it's important not just to win, but to beat the Pittsburgh Steelers. So I am so happy for Cleveland."
Pioli is best known for his tenures as general manager of the Kansas City Chiefs and Atlanta Falcons.
But Bill Belichick got him started in the NFL as a pro personnel assistant in 1992.
Always fun to reminisce about the #Browns 1994 Staff:

Bill Belichick – Head Coach
Ozzie Newsome – Director of Pro Personnel
Nick Saban – DC
Kirk Ferentz – OL Coach
Jim Schwartz – Scout
Scott Pioli – Pro Personnel Cord
Eric Mangini – Coaching Assistant

— Steve Frederick (@_SteveFrederick) February 4, 2019
Cleveland almost hired him back a couple of times, the latest opportunity in 2017 when John Dorsey stepped in.
Jimmy Haslam did not want to wait until after the season to hire a GM, eliminating Pioli from consideration.
So, maybe Scott Pioli is a little prejudiced in his opinion of the Cleveland Browns.
But there are few who will argue about the impact of a consistent, stable front office.
And every Browns fan is just as excited over the Browns' upcoming season.