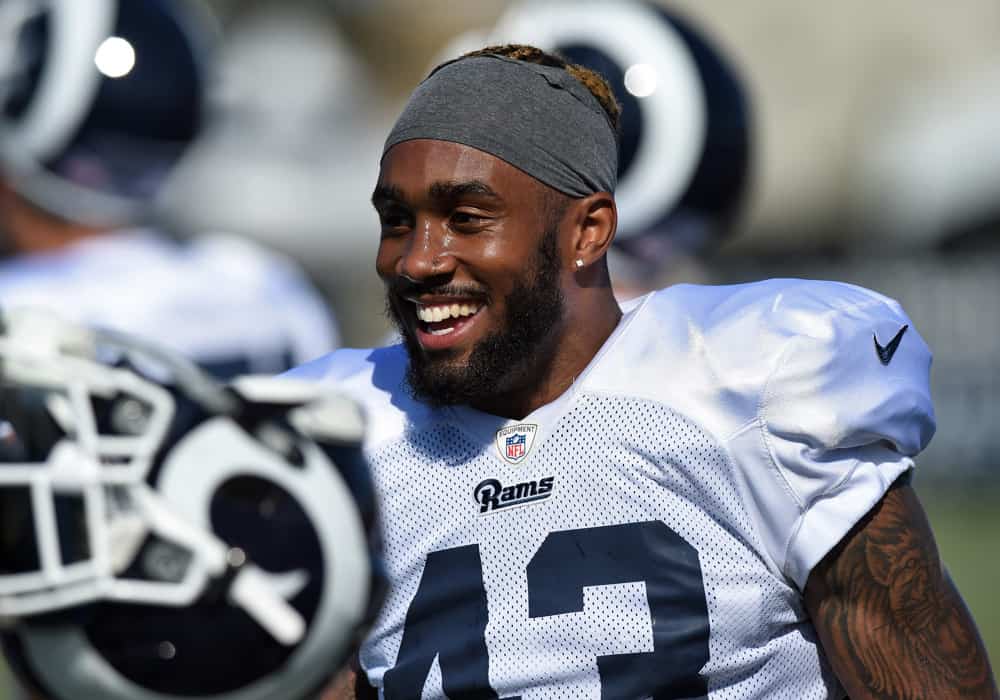 Cleveland Browns safety John Johnson III had his first press conference as a Brown yesterday.
JJ3 is clearly excited to be in Cleveland.
He was surprised to already be recognized by fans.
"Honestly, I knew that the fans loved their team and supported the team, but when I got here yesterday, people started to notice me already so that just confirmed everything. I'm happy I made the right decision.''
He was his usual polished and professional self in his first press conference.
Here are some of the highlights.
1. Impressions Of The Browns Defense
JJ3 talked about his new teammates as being a young, vibrant, and versatile group of elite athletes.
He is eager to work with Denzel Ward, Greedy Williams, Grant Delpit, and of course, Myles Garrett.
Though he spent 2020 as part of the Los Angeles Rams' top ranking defense, he thinks the Browns have the essential pieces to have the same reputation and success.
He already has plans to work out with Mack Wilson who is doing offseason training in California, and JJ3 and Baker Mayfield share a mutual friend.
Calling his stint with the Browns an "opportunity of a lifetime," he said:
"I felt like it was an opportunity of a lifetime, coming to a situation that things are moving in the right direction. It's rare [in this business] that people care about you, people actually appreciate you and people want to do things the right way. This city as a whole, let alone the organization, it drips that.''
2. Signal Calling
JJ3 was the defensive signal-caller for the Rams.
He talked about how much fun he had being the defensive coordinator on the field.
Because he was on the field for 100% of the snaps and lined up in a position that he could see things that helped his teammates, he really enjoyed the role.
He said that Joe Woods had not talked with him yet about assuming the signal calling for the Browns in 2021, but he is certainly open to it if Woods wants him to do it.
3. Troy Hill Is His Old And New Teammate
The Rams secondary was one of the best in the league last year.

The Browns was one of the worst.

Naturally Andrew Berry just signs John Johnson and Troy Hill away from them.

Taking the off season by STORM. pic.twitter.com/DAOZ2aHGQg

— Nick Karns (@karnsies817) March 18, 2021
He did not actively recruit for the Browns to sign his former Rams teammate Troy Hill.
When Hill texted him that he was coming, JJ3 thought he was joking.
He believes it will be fun to have Hill with him in Cleveland.
What JJ3 thinks he and Hill bring from their experience with the Rams is discipline.
He says the Rams defense honed in on the little things and did them right with a lot of hard work.
JJ3 describes Aaron Donald as the hardest working player he has ever been around.
JJ3 talked about the nerve-wracking experience of being a free agent, having an uncertain future.
He admitted thinking during the Green Bay playoff game that he may be in his final game in a Rams uniform.
New Browns S John Johnson is viewed as one of the smartest, instinctive safeties in the league. On top of his physical skill set, he'll immediately bring leadership, reliability and impact plays.

Huge get for Cleveland.

— Field Yates (@FieldYates) March 15, 2021
JJ3 comes off as a well-grounded guy that is ready to get to work and prove what he can do with the Browns.