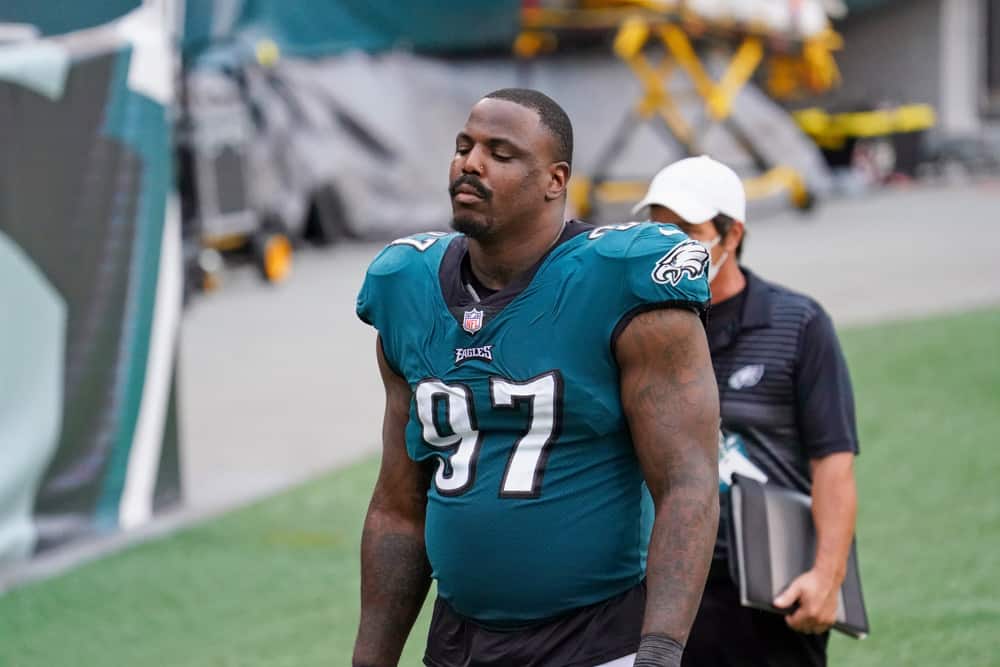 On March 19, the Cleveland Browns signed defensive tackle Malik Jackson to a one-year deal soon after the Philadelphia Eagles released him.
With Jackson, the Browns added the following players in free agency:
Browns Free Agent Tracker:
– S John Johnson
– CB Troy Hill
– LB Anthony Walker
– DE Takk McKinley
– DL Malik Jackson
– LB Malcolm Smith
– WR Rashard Higgins
– WR/KR JoJo Natson
– OL Greg Senat
– K Cody Parkey
– LB Elijah Lee#Browns

— Hayden Grove (@H_Grove) March 19, 2021
The 31-year-old Jackson is the first defensive lineman that the Browns have added this offseason.
He has played with the Denver Broncos and Jacksonville Jaguars in addition to playing the past two seasons in Philadelphia.
Here are three things to know about Cleveland's new signing:
1. Jackson Played Well on the Eagles Defense Last Season
The 4-11-1 Eagles did not have a strong 2020 season.
However, Jackson battled back from a 2019 foot injury to add a lot of value to the Philadelphia defense.
After being released by the Jaguars in early 2019, the Eagles signed Jackson to a three-year, $30 million contract.
Unfortunately, after his first regular-season game for the Eagles, he was placed on injured reserve.
Jackson's 2020 was much more successful.
In 15 games, he hit the quarterback 13 times, his most since 2016.
He played just 49 percent of defensive snaps but accumulated 2.5 sacks and 28 tackles as well as these statistics:
#Browns Malik Jackson vs DTs:

2020, 20% qualifier:

Jackson: 63.7 RDEF. 72.1 PRSH, 11.3% pressure rate, 6.2 pass-rush productivity (18th),

Ogunjobi: 53.8 RDEF, 56.2 PRSH, 6.6% pressure rate, 3.9 PRP (58th)

Richardson: 67.7 RDEF, 66.1 PRSH, 9.0% pressure rate, 5.1 PRP (32nd) pic.twitter.com/M6n1hNEBR8

— Sam Penix (@Sam_Penix) March 20, 2021
In the Browns' 22-17 victory on November 22, 2020, Jackson played 32 snaps (48 percent) and had a tackle for loss.
He was a part of an underrated Eagles defense that finished with the following statistics last season:
12th in the NFL in points allowed per drive
Seventh in net yards allowed per drive
Fourth in opponent plays per drive
In comparison, here is how the Browns fared with these statistics:
23rd in points allowed per drive
21st in net yards allowed per drive
25th in opponent plays per drive
The addition of Jackson should help boost the Browns on the defensive line.
2. Jackson was a Pro Bowler in 2017
In 2017, Jackson played 16 games for the fifth consecutive season, and here is how he performed:
Eight sacks
Four forced fumbles
40 tackles
10 tackles for loss
11 quarterback hits
Pro Football Weekly also named him to the all-conference team for his strong performance in Jacksonville.
Under Doug Marrone, the 2017 Jaguars were a tremendous story, and Jackson was an important part of the 10-6 season.
Then, in the postseason, Jackson had a tackle for loss in each of the team's three games.
He played at least 73 percent in all three of the playoff contests.
Browns fans will be excited to have such a vital defensive force who has played a lot of playoff games.
3. Jackson has Plenty of Playoff Experience and Success, including a Super Bowl Ring
Jackson has not only been in the playoffs with the Jaguars, but he has also been to two Super Bowls with the Broncos.
Coincidentally, Jackson was on all four of Peyton Manning's Broncos teams.
As a part of the 13-3 Broncos team in 2013, Jackson had his first taste of the Super Bowl.
Although the Seahawks blew out the Broncos in Super Bowl XLVIII, Jackson and Denver were back two years later.
Jackson scored a touchdown in Super Bowl 50, a 24-10 victory over the Panthers.
In total, Jackson's playoff record is 7-4.
The Browns made a strong move by bringing him to Cleveland.
A healthy Jackson can be a big part of an improved Browns defense in 2021.