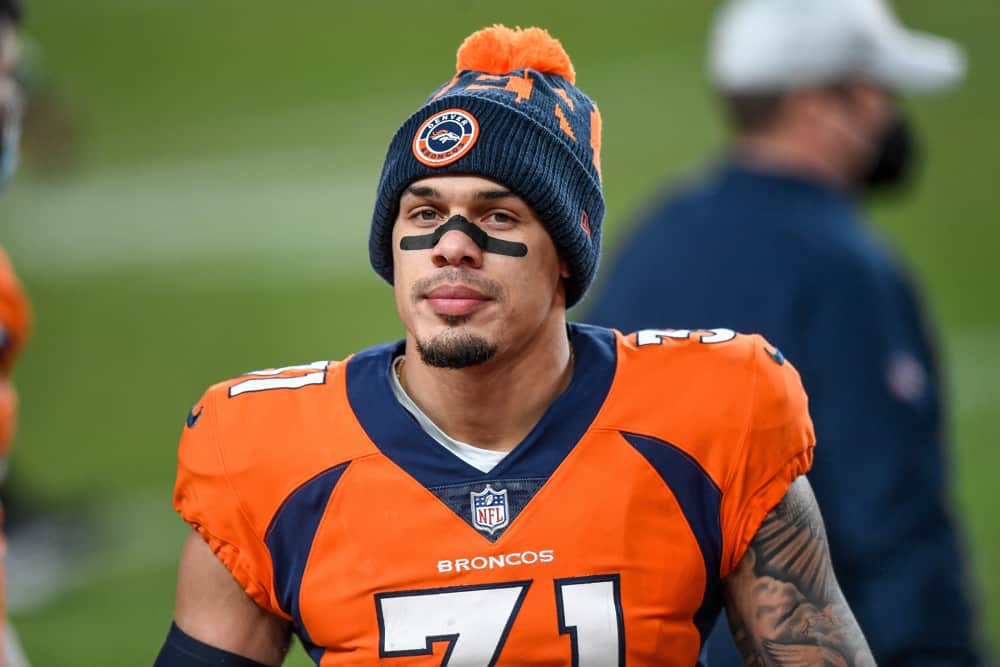 Luckily, the Cleveland Browns don't have too many holes to fill going into the offseason.
The front office did a fantastic job of rebuilding the offensive line last year.
This team was much improved in 2020, but there are still a few areas of concern.
The biggest issue for this team is the lack of depth and talent at linebacker and in the secondary.
This offseason, the focal point needs to be upgrading on the defensive side of the ball.
Cleveland needs to make a big splash this offseason if they want to make that jump to being title contenders.
Who Should Cleveland Target?
Much like every offseason, there are plenty of superstar players hitting the free agent market.
This time around it does seem to be a little top heavy with offensive talent.
The Browns don't exactly need to make any significant changes on the offensive side of the ball.
As already mentioned, the biggest concern for Cleveland is at linebacker and in the secondary.
Which means, players like Lavonte David, Anthony Harris, and Justin Simmons should be on the Browns radar.
Getting top tier level defenders won't be cheap, but give the Browns need a boost on defense.
Honestly, the Browns need to land a star defensive player if they want to get to the next level.
Justin Simmons To Cleveland?
It's hard to argue that there is a better safety in this free agency class than Simmons.
The 27-year-old has blossomed into one of the best safeties in the league.
A year ago, Simmons finished with an outstanding 90.7 overall grade, according to Pro Football Focus.
He continued to be a force on defense and landed himself in his first Pro Bowl in 2020.
Simmons does a lot of things on the football field that might not show up on the stat sheet.
Watch how Justin Simmons baits Justin Herbert into this throw. Looks like 2-high pre-motion, Broncos check after the motion to nub trips, but Simmons initially widens to sideline in a deep-half drop before anticipating the break and undercutting the post.

Good football player! pic.twitter.com/eYU9sZrngf

— Benjamin Solak (@BenjaminSolak) November 4, 2020
In 2020, Simmons recorded 96 tackles, nine pass defended, and a career-high five interceptions through 16 games.
He is still playing at an elite level and hasn't missed a game since the 2017 season.
Simmons has played both safety positions throughout his career, which is great to have a player that can play multiple spots.
Another great attribute about Simmons is that he's extremely active against the run.
This seems like an ideal fit for Cleveland, but it remains to be seen what Simmons will request in terms of salary.
How Much Will Simmons Cost?
It wasn't too long ago that Chicago Bears safety Eddie Jackson landed the largest contract for a safety.
Jackson was well deserving of his massive extension, but Simmons might have a chance at landing a better deal.
Bears safety Eddie Jackson agrees to four-year, $58.4M contract extension. (via @RapSheet) pic.twitter.com/RKLTuZ6B6l

— NFL (@NFL) January 3, 2020
The Browns have plenty of cap space and could be aggressive this offseason.
This is a roster that is a few key pieces away from being legitimate title contenders.
It wouldn't be surprising to see Simmons landing a deal around $16-18 million per year.
Something in the range of five years $80 million sounds like a realistic deal for Simmons.
Cleveland has youngster Grant Delpit coming off an Achilles injury, but have almost no promising safety help outside of that.
It's unlikely that Karl Joseph returns next season and Ronnie Harrison showed flashes, but Simmons is no doubt a better option.
Obviously, Simmons is going to come with a hefty price tag, but he'd be well worth the money, assuming the Browns are willing to pay it.