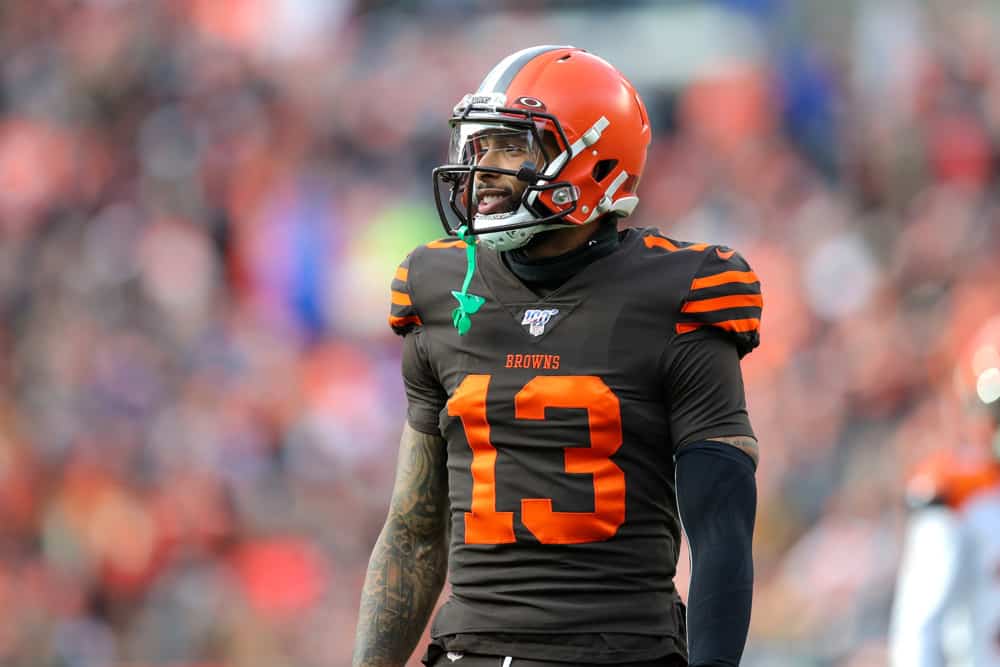 The Cleveland Browns had a great season in spite of losing WR Odell Beckham Jr. after only six games.
His torn ACL was one of the biggest injury disappointments of the season.
Despite a short season of highlights, OBJ still delighted with some remarkable plays.
His stats for 2020 are a testament to "What Could Have Been" if he had a complete and healthy season.
After six games, he had 23 catches for 319 yards and 3 receiving touchdowns.
He also rushed 3 times for 72 yards and 1 touchdown.
Check out OBJ's top three plays of 2020, showing off his versatile playmaking skills.
3. Catching a TD from Fellow WR Jarvis Landry, Dallas Cowboys, October 4, 2020
Them @LSUfootball Boys are up to sumthin‼️😱

Jarvis Landry connects with OBJ for a 37-yard TD in Dallas

(via @Browns) pic.twitter.com/nikkBwR4NA

— FOX Sports: NFL (@NFLonFOX) October 4, 2020
Trick plays rule especially when they work.
And this one was beautifully timed and executed.
All OBJ needed to do was be in his spot to get the TD.
2. The Reverse Pays Dividends, Dallas Cowboys, October 4, 2020
#Browns Top 5 Plays of 2020‼️#2️⃣: Odell Beckham Jr game clinching TD vs the #Cowboys. 🧨#NFL @obj pic.twitter.com/81KnvfXEgc

— The Hottest Take Sports Podcast (@Hottest_TakePod) November 11, 2020
Here's what happens when defenders get into a foot race with OBJ.
They lose, and OBJ scores the first rushing touchdown of his career.
This shows OBJ's tremendous speed and agility and the way he evades tacklers.
OBJ talked about the play after the game.
"When he called the reverse I saw it open up with 4 or 5 lead blockers and I just turned the jets on. People look to me for that energy…I can't believe that's only my first rushing touchdown."
1. OBJ Reels In Big Catch, Cincinnati Bengals, September 17, 2020
OBJ with a monster TD (?) catch pic.twitter.com/Fbkc3zfDy0

— Barstool Sports (@barstoolsports) September 18, 2020
Not only does OBJ make the big catch with his footwork and athletic skills on display, but he also creates a gap between himself and the defender to get open.
OBJ proves again why he is a legitimate deep threat every time he is on the field.
What's Next For OBJ?
Obviously, the biggest question mark for OBJ in the past couple of seasons has been durability.
The injuries he suffers are not small or minor.
He dealt with an core muscle injury in 2019 that required off season surgery.
And of course the 2020 ACL injury required surgery and extensive off-season rehab to hopefully put him in a position to compete in 2021.
The #Browns will hope to return an elite weapon in Odell Beckham Jr. ✨

In Week 4, OBJ racked up 154 Total Yards and 3 TDs.

That week, he had an Overall Grade of 87.8, per @PFF.

73.9% of his Receptions in 2020 went for a 1st Down. He only had 1 drop on 43 Targets.🔥#NFL @obj pic.twitter.com/dtwEdgZdfc

— The Hottest Take Sports Podcast (@Hottest_TakePod) January 25, 2021
Since he's come to Cleveland, the chatter has been prevalent about when he will leave.
The Browns have many offseason decisions to make with free agents and contract extensions that it seems reasonable they will talk about OBJ.
Of course, the Browns absorbed his contract originally signed with the Giants.
It is a five year $90 million contract that runs through the end of the 2023 season.
Seems unlikely that he could or would be packaged in a trade because of the financial situation and because he won't be medically cleared for months.
Besides, Coach Stefanski showed his allegiance to OBJ the morning after the Browns lost to the Chiefs in the divisional playoff game.
"I texted with him this morning. I know he's working really hard to get better in his rehab. I'm excited to get him back here. I know it was not easy for him being away from his teammates, especially as these games got bigger and into the playoffs. I know he definitely wanted to be a part of it."