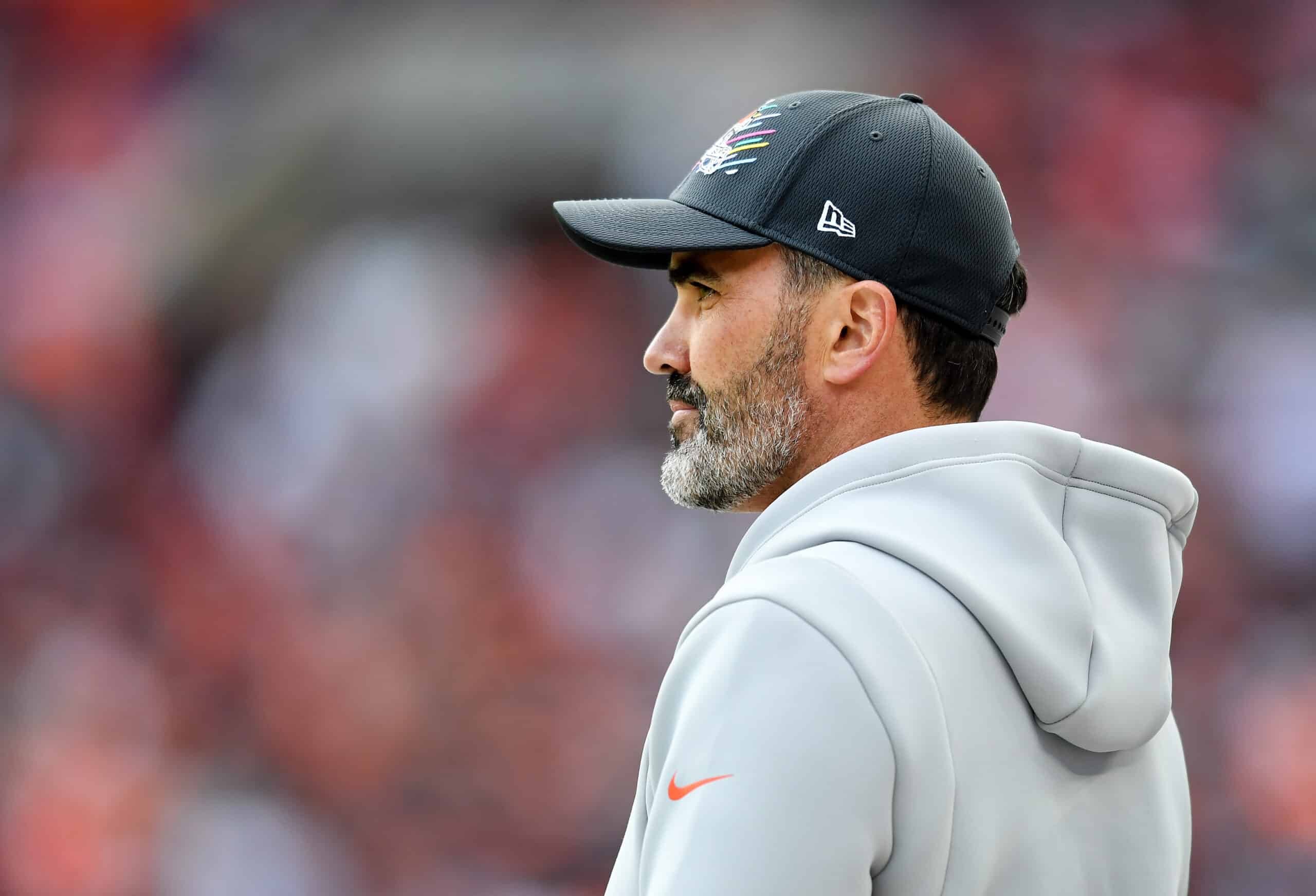 Andrew Berry signed Anthony Walker, Malik Jackson, and John Johnson III in the offseason.
And it was as much for their leadership ability as it was for the playing skills they bring to the Cleveland Browns.
But none of them can match the impact of Myles Garrett in the locker room.
#Browns Myles Garrett:

"We have to go back to the drawing board, and see how we can get better. See how we can scheme better, see how we can make adjustments on the fly. We never had a chance just because we didn't make any adjustments on the sideline or when we had time to."

— Camryn Justice (@camijustice) November 14, 2021
And when Garrett throws shade at the coaching staff, everyone knows there is a problem.
Head coach Kevin Stefanski acknowledged as much today in his Monday presser.
Garrett told reporters defense did not make any adjustments to the New England Patriots attack Sunday.
#Browns Stefanski said he talked to Myles Garrett about his lack of adjustment remarks. Will keep convo private pic.twitter.com/rFYU26pZor

— Mary Kay Cabot (@MaryKayCabot) November 15, 2021
Stefanski was asked by reporters about what Garrett said on Sunday.
"Anytime you have a game like that, there's a lot of frustration.  I have spoken to Myles about that…I'll leave that conversation between me and Myles."
He went further in saying the coaches never gave the defense a chance to stop the offensive onslaught.
While he did not share any details, Stefanski was sure to let the media know he spoke with Garrett about his concerns.
Garrett Not the Only Player To Speak Out 
Garrett's statement won't do anything to help Joe Woods deflect criticism from fans and pundits.
New England scored touchdowns on three drives of 90-plus yards, a first for a Belichick-coached team.
Heading into the locker room down 24-7, it was reasonable to expect a different twist in the second half.
But there were no more blitzes, stunts, or double teams than there were in the first half.
#Browns coach Kevin Stefanski regarding John Johnson III saying Patriots did things offensively that defense had struggled to stop earlier in season: It's a copycat league, teams will continue to do things until you show you can stop it.

— Scott Petrak ct (@ScottPetrak) November 15, 2021
And the Patriots' rookie quarterback maintained total control of the field before being pulled in the 4th quarter.
But it wasn't just Garrett who threw insult on top of Joe Woods' injury.
Safety John Johnson pointed out how New England exploited weaknesses shown in previous games.
The inference being it isn't just in-game adjustments that were lacking.
Offensive Player Not Happy, Either
Cleveland made Joel Bitonio the highest-paid guard in the NFL last week.
His big contract extension recognized him as one of the quiet leaders of the best units on the team.
But he wasn't exactly quiet after the game, calling out his head coach's play calling.
Bitonio noted how the team showed their run-first, efficient offensive prowess on their first drive.
#Browns LG Joel Bitonio: "You have to bring it every play. It was a good opening drive and then we just didn't get anything else going on offense. We just didn't execute after that."

— 92.3 The Fan (@923TheFan) November 14, 2021
And he pointed out how things fell apart after that as Stefanski turned to the passing game early.
New England runs more man coverage in a typical week than any other NFL team.
They went almost exclusively man-to-man against Baker Mayfield, whose numbers pale against such coverage.
Bitonio said what everyone wondered, and Stefanski will eventually have to address that issue, too.
Stefanski Doesn't Say Much Else 
Kevin Stefanski plays things close to the vest, especially when it comes to plans and players.
But he and Andrew Berry earned a reputation for feeling out their players and staff.
Surely they realize there is a concern in the locker room about the direction of the team.
And that concern is exacerbated by the lack of identity in the face of adversity.
#Browns HC Kevin Stefanski: "I think we just need to talk as a staff and make sure we're all doing our parts during the week, during the game…giving our guys a chance to succeed. Just like any week, we'll have those conversations."

— 92.3 The Fan (@923TheFan) November 15, 2021
Stefanski is as quick to go conservative with a lead as he is to abandon the run if he falls behind.
And Joe Woods conceded his corners are better in man coverage than he gave them credit for.
But any adjustments to his base zone coverages didn't pay off this week against a rookie passer.
And nothing Stefanski said Monday can be called a plan or response to any of these matters.