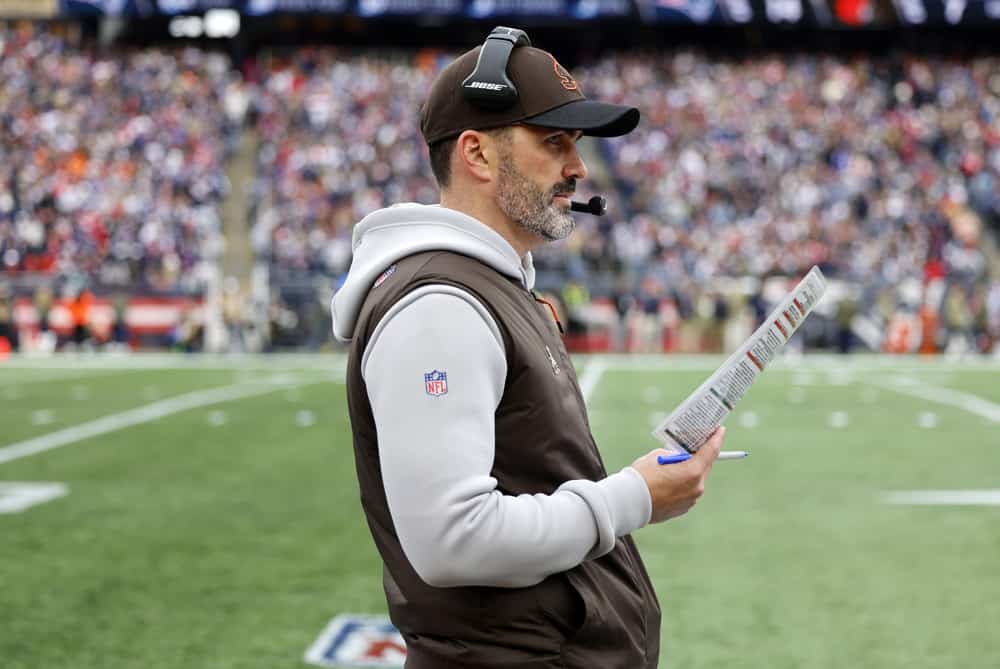 Every team has an occasional game where absolutely nothing seems to work against a charmed opponent.
And all you can do is tip your hat to the team that was better that day.
But the Cleveland Browns' Week 10 debacle in New England didn't elicit that kind of response.
— Cleveland Browns (@Browns) November 14, 2021
Instead, the game exposed a rift between players and coaches on both sides of the ball.
And the closest thing to a mea culpa came from head coach Kevin Stefanski.
But even that sounded like a careful response from a coach who knows his players are not happy.
"We have to identify things that we can correct and we have to have accountability with the players and correct those things." said Stefanski.
"We have to do a good job as coaches, of identifying things that we can correct."

📼: https://t.co/U3JGrMOHyk pic.twitter.com/IiRtVmnm9I

— Cleveland Browns (@Browns) November 14, 2021
The keyword in Stefanski's statement is "with" the players, not from the players.
It was as if he knew his biggest stars were about to call out the coaching staff in their own press moments.
We're with the players when it comes to grading Kevin Stefanski's performance against the Patriots.
Offensive Play Calling: F
D'Ernest Johnson ran for 58 yards on the opening drive, the most ever against a Belichick-coached team.
And Kevin Stefanski apparently didn't notice.
After that impressive drive, we saw way too many empty-backfield pass plays amid unimaginative up-the-middle runs.
From @ESPNStatsInfo: D'Ernest Johnson had 58 yards rushing on the Browns' opening drive. That's the 2nd most rush yards on an opening drive against the Patriots under Bill Belichick.

— Mike Reiss (@MikeReiss) November 14, 2021
Stefanski put the game in Baker Mayfield's hands against one of the best man-coverage defenses in the league.
It was as if the Browns never had the box stacked against them before and ran successfully anyway.
On their first possession of the second half, after the only New England punt, Stefanski called back-to-back rushes.
#Browns Joel Bitonio said they know their identity is running the ball and play action but "today we did that for one drive and then it kinda fell apart."

— Camryn Justice (@camijustice) November 14, 2021
On 2nd and 4, he sent Johnson up the middle again for 2 yards, setting up a third-and-2.
Mayfield handed off to Johnson again, but this time out of the shotgun with half the Patriots defense waiting for him.
Johnson never ran for more than 3 yards up the middle, but he didn't go off-tackle again until Case Keenum was in the game.
And let's not even mention Stefanski's decision to go for it on 4th-and-19 with a cold quarterback destined to get sacked.
In-Game Adjustments: F 
Not to beat a dead horse here, but Stefanski seemed locked into the notion his quarterback could pass them back into the game.
Even after Mayfield failed to stay on the field for more than 5 plays in any drive after the opening score.
Meanwhile, Stefanski's defense was gassed, playing twice as many snaps as the Browns defense.
#Browns Myles Garrett:

"We have to go back to the drawing board, and see how we can get better. See how we can scheme better, see how we can make adjustments on the fly. We never had a chance just because we didn't make any adjustments on the sideline or when we had time to."

— Camryn Justice (@camijustice) November 14, 2021
They were unable to reach Mac Jones and couldn't wrap up ball carriers for the most part.
That reason alone warranted some clock chewing, but that wasn't the only reason for the defensive issues.
Readers might notice, I called the defense "Stefanski's defense."
Because he is the head coach and he had to be aware of the failure of the defensive game plan as much as anybody.
#Browns Kevin Stefanski said they just need to talk as a staff and "make sure we're all doing our part during the week, during the game" to allow the players to have success on the field.

— Camryn Justice (@camijustice) November 15, 2021
Hall of Fame coaches and Coach of the Year candidates would want to know what their coordinator is going to do about it.
And if they seemed hesitant, the head coach would tell the coordinator to get more pressure by hook or by crook.
But nothing looked different in the second half, as the Patriots moved downfield at will.
Post Game Statements: D-
Coming off his worst defeat as a head coach, Kevin Stefanski would have done well to laud the Patriots' effort.
Sure, he made the canned statement about being outcoached, outplayed, and out-everything-ed.
But he was too quick to get into what his own team did poorly and the Browns' week-to-week inconsistency.
#Browns HC Kevin Stefanski: "We are way, way too inconsistent as a team right now."

— 92.3 The Fan (@923TheFan) November 15, 2021
While it is credible to already be thinking about adjustments, he needs to recognize what went wrong first.
New England all-but-eliminated Donovan Peoples-Jones and Jarvis Landry from Mayfield's arsenal.
Mayfield targeted Peoples-Jones 4 times without a completion and threw to Landry once all game.
And Belichick won the ball control battle, something the Browns defense counts on to stay fresh.
#Browns coach Kevin Stefanski regarding John Johnson III saying Patriots did things offensively that defense had struggled to stop earlier in season: It's a copycat league, teams will continue to do things until you show you can stop it.

— Scott Petrak ct (@ScottPetrak) November 15, 2021
Maybe Stefanski would earn more confidence if he recognized these things instead of looking for what he did wrong.
Nothing he said after the game sounded like a plan as much as it did the same canned excuses Browns fans are used to.
And it earns Stefanski an overall F grade for Week 10.