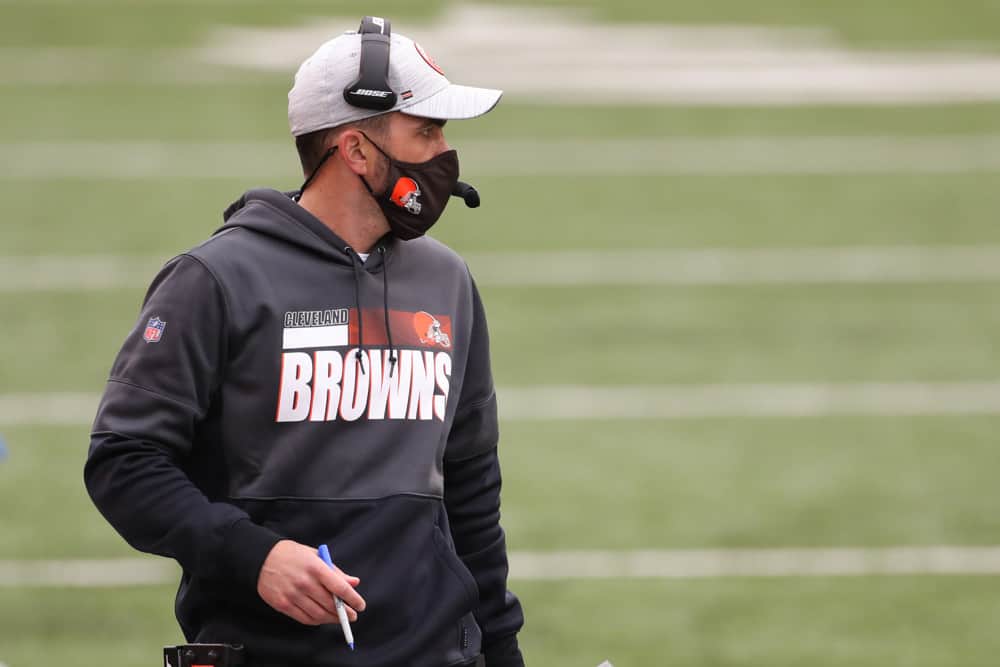 Kevin Stefanski is the NFL Coach of the Year.
That's how Cleveland Browns fans feel about their head coach right now.
But, oddsmakers currently have Stefanski at the 3rd best odds for the award behind Mike Tomlin and Brian Flores.
#Browns Kevin Stefanski's Coach of the Year odds have improved.

Moved from 6/1 to 4/1

3rd best behind Tomlin and Flores.

— Matt Fontana (@MattFontana83) December 9, 2020
Some anticipated Stefanski being part of that conversation if the Browns were halfway decent this season.
However, having Cleveland at 9-3 has turned the "Stefanski for Coach of the Year" campaign to a legitimate one.
He certainly has plenty of folks in northeast Ohio that would gladly be his campaign manager.
It's exciting that Stefanski is part of that conversation, and it helps further solidify the fact that the Browns are back on the national stage.
I can't think of a Coach who deserves Coach of the Year more than #Browns Head Coach Kevin Stefanski. He's changed the culture of the Cleveland and turned them into a real threat in the AFC for years to come. Losing OBJ and Chubb for multiple games and now winning 10-11 games. pic.twitter.com/oBGAsSPfnM

— Thomas Gorski (@ThomasGorski33) December 8, 2020
His Competition
It's no guarantee that Stefanski brings the award home at the end of the season.
While what he's done has been tremendous, it's not the only impressive coaching job of 2020.
Of course, divisional foe Mike Tomlin is in the conversation.
His Steelers were previously unbeaten before falling to Washington this past Monday.
Still, taking a .500 team to this level, even with the return of Ben Roethlisberger, has been eye-opening.
He remains the front-runner with even 1-1 odds per SportsBetting.com.
Behind him is Miami Dolphins head coach Brian Flores.
Boy has he done a heck of a job down there in southern Florida.
Not only are the Dolphins much-improved, but they're competing for a divisional title.
Granted, the New England Patriots are not the dominant force atop the AFC East they once were as the Bills now lead the way.
Still, competing for that division crown is not a conversation the 'Phins are in every year.
Rookie Tua Tagovailoa has been impressive since taking over for Ryan Fitzpatrick and is expected to run the offense for years to come.
Flores has Miami set up nicely for the future, something that seemed a distant dream for the Dolphins faithful for a long time.
Stefanski comes in at third, with 6-1 odds.
Behind him is New Orleans head coach Sean Payton, but I don't anticipate him making a serious run at the award.
This likely boils down to a three-way race between Tomlin, Flores, and Stefanski.
Kevin Stefanski and Mike Tomlin should be in a 2 man race for coach of the year.

Honorable Mention: Sean Payton.

— Emmanuel Acho (@EmmanuelAcho) December 6, 2020
Can He Win It?
The Steelers losing to Washington guarantees competition for Tomlin.
A 16-0 head coach is pretty much a lock to win, so a loss to the Football Team has opened the door.
Kevin is in a decent position to steal this award late in the season.
Obviously, the regular season finale against Pittsburgh will play into the result.
That game gets extra meaning if the Browns win out heading into that one.
Even if Pittsburgh wins out but loses to Cleveland in the finale, I think Stefanski gets the nod over Tomlin for Coach of the Year.
That leaves the Dolphins, who have a tough slate to close the season.
Every opponent they face is over .500, including the Chiefs and AFC East-leading Bills.
That's a tougher final stretch than either Pittsburgh or Cleveland.
As good as Miami has been, I see them tripping up a bit here in the final month.
Week 17's contest with the Steelers will have a lot riding on it.
Playoff seeding implications will likely be present, and if nothing else, another chapter in the rivalry is written.
Coach of the Year honors may very well be on the line as well.