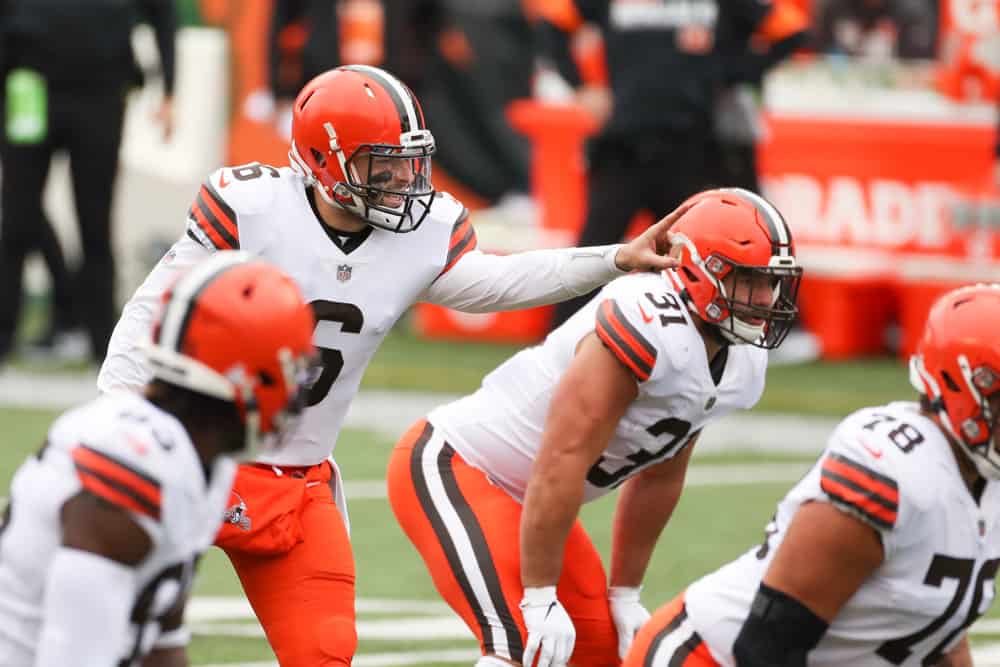 The 9-3 Cleveland Browns host the 7-5 Baltimore Ravens on Monday Night Football on December 14.
In Week 1, when these teams met, the Ravens handed the Browns a demoralizing loss by the score of 38-6.
But these two teams seem to be on different trajectories than they were in Week 1.
You're counting week 1 vs a browns team with a brand new coach and system? They're a completely different team now than in Week 1…..just like the Ravens. They've clearly regressed, that's just facts

— William Kelley (@bilthy) December 10, 2020
The Browns won 4 straight games; whereas, the Ravens lost 3 out of their last 4 games.
COVID-19 can be attributed to some of the Ravens struggles.
With QB Lamar Jackson back, the Ravens are a tough team to beat.
How To Watch Browns Vs Ravens
The game is nationally televised on ESPN at 8:15 pm on Monday, December 14.
Calling the game will be the ESPN crew of Steve Levy, Brian Griese, and Louis Riddick while Lisa Salters will report from the sidelines.
How To Listen to Browns Vs Ravens
The three flagship stations for Browns football are:
On satellite radio, the SiriusXM Browns broadcast station is Channel 388.
Outside of Cleveland, the Browns radio affiliates are:
Akron
WAKR – 1590 AM
Akron
WONE – 97.5 FM
Canton
WHBC-AM – 1480 AM
Canton
WHBC-FM – 94.1 FM
Columbus
WTOH – 98.9 FM
Corry (Pa.)
WWCB – 1370 AM
Dayton
WHIO-AM – 1290 AM
Dayton
WHIO-FM – 95.7 FM
Dayton
WZLR – 95.3 FM
Dover
WJER – 1450 AM
Erie (Pa.)
WPSE-AM – 1450 AM
Erie (Pa.)
WPSE-FM – 107.1 FM
Fostoria
WFOB – 1430 AM
Geneva
WKKY – 104.7 FM
Jamestown (N.Y.)
WQFX – 103.1 FM
Lima
WWSR – 93.1 FM
Mansfield
WRGM – 1440 AM
Mansfield
WVNO-FM – 97.3 FM
Marietta
WJAW – 100.9 FM
Norman (Okla.)
KREF – 1400 AM
Sandusky
WMJK – 100.9 FM
Tulsa (Okla.)
KAKC – 1300 AM
Uhrichsville
WBTC-AM – 1540 AM
Uhrichsville
WBTC-FM – 101.9 FM
Wooster
WQKT – 104.5 FM
Youngstown
WKST – 1200 AM
How To Live Stream Browns vs Ravens
Those interested in live streaming the game can access it on the following platforms:
Playoff Ramifications
Both teams are in must-win situations.
The Ravens are fighting to stay in the playoff picture, and the Browns want to keep their wildcard hopes alive.
This game caps off an active weekend for teams vying for AFC playoff positions.
Among the top nine teams in the AFC playoff picture, eight of them are playing each other in Week 14.

– #Steelers (1) vs. #Bills (3)
– #Chiefs (2) vs. #Dolphins (6)
– #Browns (5) vs. #Ravens (9)
– #Colts (7) vs. #Raiders (8)

Major playoff implications. 🍿

— NFL Update (@MySportsUpdate) December 9, 2020