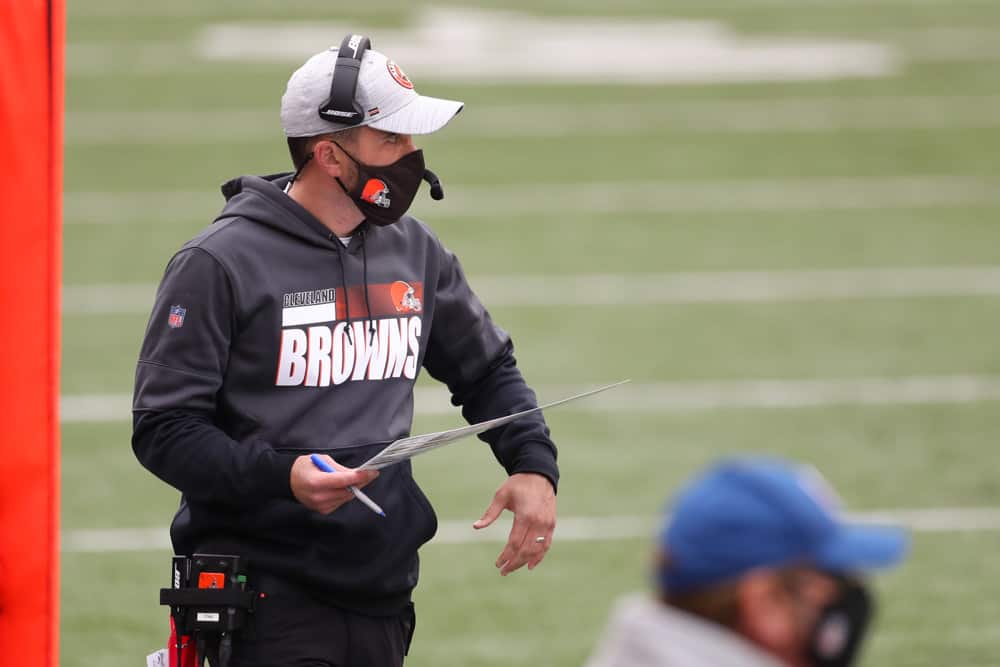 The Cleveland Browns are 9-4, and most agree that rookie Coach Kevin Stefanski has a lot to do with their 2020 success.
This was confirmed by a recent report by Touchdown Wire that puts Stefanski among the best in NFL for play calling.
Stefanski Is In Good Company
In addition to Stefanski, Touchdown Wire's list includes:
Sean Payton, New Orleans Saints head coach
Arthur Smith, Tennessee Titans offensive coordinator
Sean McVay, Los Angeles Rams head coach
Brian Daboll, Buffalo Bills offensive coordinator
Matt LaFleur, Green Bay Packers head coach
Honorable mention goes to:
Josh McDaniels, New England Patriots offensive coordinator
Andy Reid, Kansas City Chiefs head coach
Scott Turner, Washington Football Team offensive coordinator
Kliff Kingsbury, Arizona Cardinals head coach
Why Stefanski Made The List
"Sure the Cleveland Browns just lost in what many believe was the best game of the year, but the Browns are in the playoff mix thanks to what Kevin Stefanski has built this season on the offensive side of the football. The Browns have a strong running game and Stefanski uses that to dial up vertical designs for Baker Mayfield."
What Makes A Great Play Caller?
According to Super Bowl Champion and coaching legend Bill Walsh in his book, "Finding The Winning Edge", it is a mixture of skill and luck.
"For every call that was made that was well conceived, thoroughly practiced and called just at the right time, but failed because the ball was batted down or dropped, there was a parallel occurrence. An equal number of times, I made a call that was not as concise or as well-schooled and was called at the worst possible time given the defensive alignment, but was successful due to some extraordinary effort or talent by a particular player."
Browns Players Agree
The Cleveland Browns players clearly respect and admire their head coach.
And they've noticed he is a good play caller also.
"He's got some balls, man."

– Jarvis Landry, on Kevin Stefanski's play-calling.

— Andrew Siciliano (@AndrewSiciliano) October 8, 2020
.@JoelBitonio on Stefanski's aggressive play-calling: "Most of the things that he's doing are technically the right move"#browns @cleveland19news

— Cleveland 19 Sports (@WOIOSports) December 17, 2020
Gary Kubiak Forecasted Stefanski's Play calling Skills
During the offseason, Gary Kubiak who worked side-by-side with Stefanski in Minnesota last season predicted Stefanski would excel at play calling with the Browns.
"First off, you've got to get your players in position to be successful. You've got to do what your guys do best, and the ultimate thing you've got to do is do what's best for your team, and I think [Stefanski] exemplified all those things last year. When we ran the ball well, our team played well, and that's having patience running the ball, grinding things out sometimes when people want to throw it 40 or 50 times…We also had the ability to put up some points and throw the ball around and make some big plays. But knowing when to do it and what was best for your team, to me, that's what makes a great play caller. He got everybody involved. We had some good players. Every team's got some weaknesses. There's some things you got to work around, and he learned how to call plays through those type of things."
What's Next For Stefanski's Browns?
Stefanski needs to have his play calling game on point for Sunday Night Football against the New York Giants.
He is coaching against Joe Judge, a childhood friend from St. Joseph's Preparatory School in Philadelphia.
Both teams are in a must-win situation.
The Browns are trying to hold on to their 5th spot in the AFC playoff picture; whereas, the Giants are one game behind division leader Washington in the NFC East.