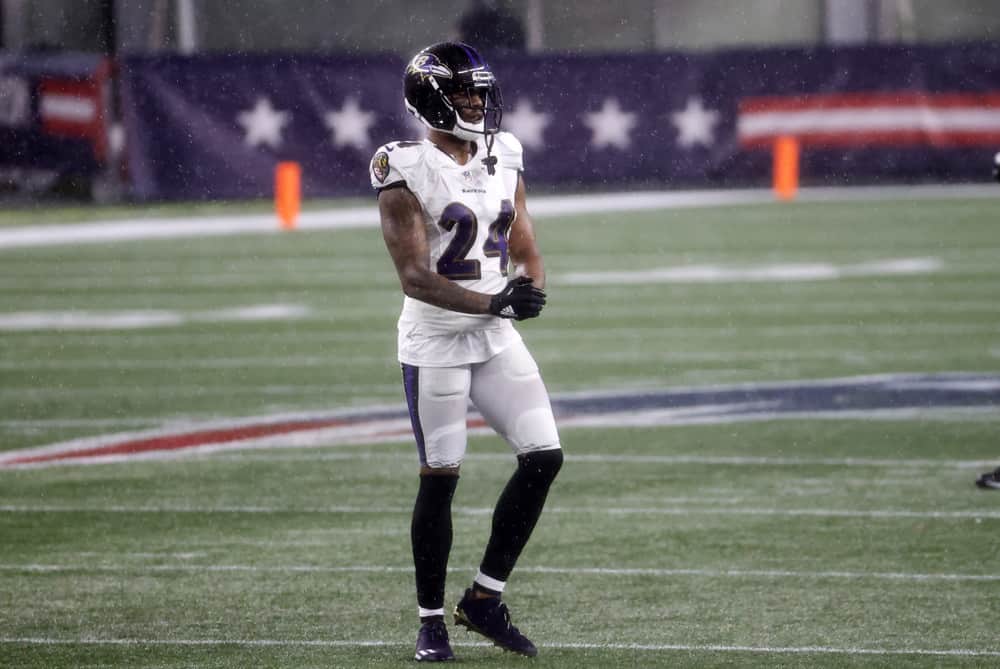 Spitting on someone during a global pandemic isn't exactly advisable.
Yet, that's exactly what Baltimore Ravens cornerback Marcus Peters chose to do on Monday night.
Why Marcus Peters spit on Jarvis Landry 😂 pic.twitter.com/L2EWULZg49

— 🇭🇳JOE Mama 🎭 (@Yopazzetty) December 15, 2020
The little white speck you see flung towards the direction of Jarvis Landry is a not-so-nice spitball from Peters.
Even under normal circumstances, this is just an odd and classless move.
In the context of the COVID-19 pandemic, however, it's downright shameful.
That's not Cleveland Browns bias coming into play or anything like that.
In a time like this, idiotic moves like that deserved to be called out.
Jarvis' Response
Twitter and other social media platforms were on fire late Monday night.
Part of that was simply to discuss a heck of a game between the Browns and Ravens.
Some of that did have to do with Peters and Landry though.
Browns fans were (and still are) upset and wanted punishment handed down from the NFL.
Also, they wanted to see what Landry had to say in retaliation.
This feud between Landry and Peters isn't new by any stretch.
Their rivalry took a personal turn back in December of 2019.
The Ravens had just extended Peters' contract, much to the delight of Landry and Odell Beckham Jr.
if yall are wondering why they got beef pic.twitter.com/RNCXfZdbyj

— malik🦦 (@HollywoodJetEra) December 15, 2020
As soon as those "send" buttons were pressed on the Twitter accounts of Odell and Jarvis, it was on.
Truthfully, it was a great moment for the rivalry.
Browns fans could be excited by the confidence of their guys.
Ravens fans knew Peters would take that personally and get physical with those two in matchups.
With that trio, the drama and flare for a great rivalry were all there.
Unfortunately, it's taken a bit of an unsanitary turn now with spit being brought into the equation.
"If there's a protocol for being a man, that sure ain't it right there", Landry told ESPN in response to the incident.
Will Peters Be Punished?
As mentioned, there's a pretty large outcry from people (and not just Browns fans) to have Peters punished.
It's tough to imagine an ICU nurse, who has likely seen a countless number of people pass away and struggle with coronavirus, watch one man deliberately spit on another without consequence.
Landry and Peters were not on the streets, either.
They were on an NFL football field playing an NFL game.
That's the same as being on the clock at any other job, where spitting on another person during a pandemic would be a pathway to termination.
Peters won't lose his job or be banned from the NFL.
A suspension is possible, but the NFL hasn't indicated any sort of step in that direction.
They should be careful with doing nothing, however, as that's a bad look for the league.
Having no punishment and making no statement about a player violating protocols and spitting on another player is a bold move, and maybe not the best one to settle on.
We'll keep tabs over the next few days to see if anything comes down from the league office about it.
This incident deserves further action, but we've seen the Ravens been bailed out before this season.
If I'm a Browns fan, I'm not holding my breath.