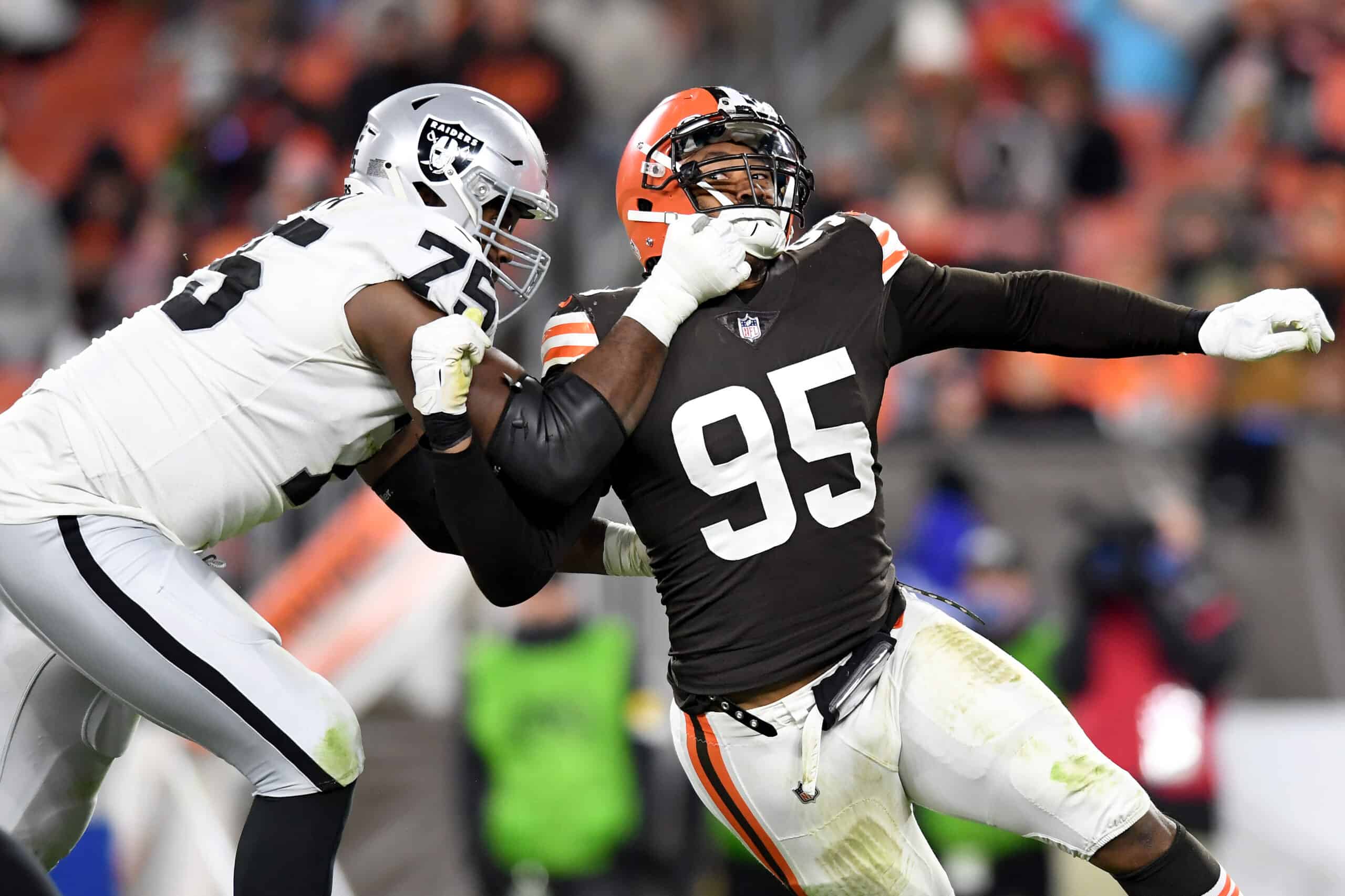 The Cleveland Browns are already depleted at defensive end.
Jadeveon Clowney is on the Reserve/COVID-19 list.
Takk McKinley tore his Achilles tendon in last night's game and is out for the rest of the season.
We also know that Myles Garrett suffered a groin injury that he attempted to minimize in the postgame press conference.
That injury could be more extensive and could keep him out of the Christmas Day Week 16 game with the Green Bay Packers.
Coach Stefanski was noncommittal about Garrett's Week 16 availability.
#Browns coach Kevin Stefanski said he just doesn't know if DE Myles Garrett's groin injury could force him to miss a game. Garrett was adamant last night he'll play through it

— Nate Ulrich (@ByNateUlrich) December 21, 2021
What Stefanski Said
"Myles has a groin injury. I still have results pending on that one.''
When asked if he will play on Saturday, Stefanski answered:
"I just don't know. Still have more info coming in.''
Coach Stefanski also addressed Takk McKinley's injury.
"Losing Takk is very unfortunate. He's been giving us some really good reps and production. There's some uncertainty with Jadeveon, with Myles. We'll see how that goes throughout the week. We obviously are always looking to apply pressure to the quarterback, and those guys have done a nice job. We'll see who's available to us and come up with a plan based on people that are available."
What Garrett Said
With groin injury, #Browns D-end Myles Garrett said it hurt to jump in an attempt to block game-winning field goal. This @ap photo makes it look like he was close. pic.twitter.com/uiKKOEPZRI

— Nate Ulrich (@ByNateUlrich) December 21, 2021
Garrett is preparing for the Packers game on Christmas Day.
"It was tough. It hurt, but everybody's hurting. I don't want to say I'm special. Everybody's fighting through something and you're going to have to kill me to take me off that field or you're going to have to break my leg, you're going to have to take me completely out, because I'm going to go out there until I can."

"Everybody has to play through pain, injury,. Everybody's dealing with something. So I don't feel sorry for myself, I don't want anybody to feel sorry for me. I've gotta get right, get ready for Christmas day. We've got another game."
Next Man Up Mentality Sounds Good But…
Pass rushers are depleted right now. Myles Garrett is working through a groin injury and awaiting further tests, Jadeveon Clowney is on the COVID-19 list and now Takk McKinley is done for the year. That's the #Browns top 3 edge rushers.

— Noah Weiskopf (@BrownsWithNoah) December 21, 2021
Everyone knows that the Browns thrive on the "next man up" mentality.
However, it will be a tall order to contain the reigning NFL MVP Aaron Rodgers on Saturday without the Browns' top three defensive ends.