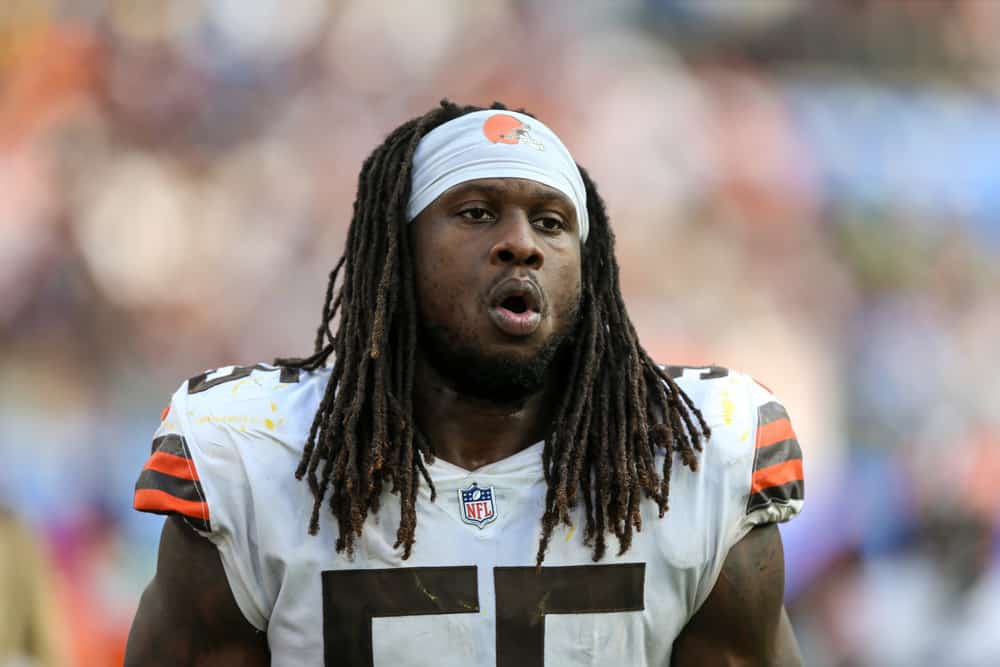 The Cleveland Browns lost in more ways than one yesterday in their Week 15 game against the Las Vegas Raiders.
Of course, the scoreboard loss that dropped the team to 7-7 on the season was painful.
Check out my TikTok talking about the aftermath of the Week 15 disappointment.
However, the loss of a key defensive player for the remainder of the season is even more painful.
He is defensive end Takk McKinley who played a lot last night because of Jadeveon Clowney being ineligible for COVID-19 reasons.
McKinley went down in the second half and looked to be in a lot of pain.
#TakkaristMcKinley @browns carted off.
Team says ankle OUT.
By video, left Achilles tendon tear and season is done with surgery. pic.twitter.com/JjhCqVg6V1

— David J. Chao – ProFootballDoc (@ProFootballDoc) December 21, 2021
The Browns feared the worst, and it was confirmed on Tuesday.
Torn Achilles Is The Diagnosis
I'm told #Browns DE Takk McKinley is in fact done for the season with a torn Achilles, per league source.

— IG: JosinaAnderson (@JosinaAnderson) December 21, 2021
McKinley tore his Achilles tendon and is out for the remainder of the season.
This is the same injury that rookie strong safety Grant Delpit suffered during 2020 training camp.
He never took the field in 2020.
Long Recovery Ahead
The Achilles is the largest tendon in the body so it requires a long recovery time possibly as long as 12 months.
Surgery is generally the path taken to begin the healing.
Because of the nature of football which requires pushing off of the feet, movement from side to side, and changes in speed, it is an especially challenging injury to overcome.
Players Rallied Around McKinley
McKinley came to Cleveland in 2021 on a one-year contract.
The former first-round pick was excited to be a Brown and embraced everything about the Cleveland culture including wearing a suit in Browns colors to his introductory press conference.
Baker Mayfield who kept his Twitter account very active while watching the game sent out well wishes to McKinley.
🙏🏼🙏🏼 please don't be a serious injury for Takk

— Baker Mayfield (@bakermayfield) December 21, 2021
Takkarist McKinley carted off #LVvsCLE pic.twitter.com/mUaBAU0pBd

— Breaking Trends News (@breakingtrendsn) December 21, 2021
Myles Garrett was at his side while he was being loaded on to the cart.
We wish Takk McKinley a speedy recovery; it is not the way any of us wanted to see him end his season.