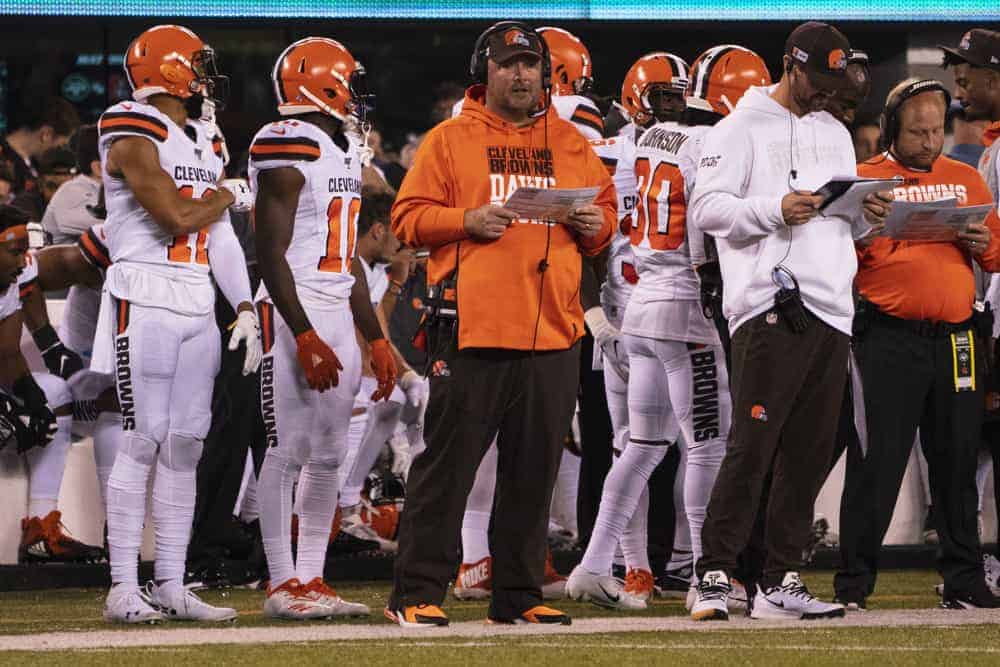 Through the first 2 games of the season, Baker Mayfield has not looked like the decisive, quick-firing, accurate quarterback of a year ago.
It's a troubling change from what many were expecting Mayfield to be even better than last year.
Baker Mayfield's average time to throw the ball was 3.35 seconds, according to Next Gen Stats.
Through two games, his average time of 3.07 is third in the NFL.
Per NFL Next Gen Stats, Baker Mayfield is averaging 3.07 seconds to throw, the 3rd highest in NFL. When he throws within 2.5 seconds: 74%, 2 TDs/1 INT; when he throws in over 2.5 seconds: 55%, 0 TDs/3 INTs.

— Jake Trotter (@Jake_Trotter) September 17, 2019
Cleveland Browns coach Freddie Kitchens was asked about this indecisiveness from Mayfield in a Tuesday conference call.
"No, I do not think so," he said Tuesday on a conference call. "I have to do a better job of getting the ball out of Baker's hands quicker."
He is taking too many hits. I do not like my quarterback to take hits," said Kitchens, the play caller. "I need to get the ball out of his hands quicker."
In Monday nights win over the Jets, Mayfield was sacked 3 more times as well as hit 3 times as well.
The offensive has appeared out of sync at times and has struggled to find a consistent rhythm with new addition Odell Beckham Jr.
Kitchens mentions that he believes these growing pains are contributing to Mayfield's indecisiveness.
"That probably has a lot to do with it," he said. "My job is to, until we get to that point, do what we can do good right now and that is a week-to-week thing. And I have to do a better job of doing that."
Even though the Browns were victorious on Monday night against the Jets, Mayfield's performance had its ups and downs.
He made some strong throws to Beckham and Damion Ratley in the game but was off-target on easier throws.
While accuracy is usually a strong point of Mayfield, he finished the game only 19-for-35 with 1 interception.
"Some of the plays he looked good on and some of the plays he did not look so good on, but it is all things that we can correct," Kitchens said. "I can do a better job personally putting him in better situations on a more consistent basis. That is the way we will go about that."
Kitchens was also asked about the lack of improvement shown from Mayfield so far this year in comparison to last year.
"Every game is not the same. The quarterback's job is to win the game, and that is what he did last night," he said. "I will reiterate, I need to put him in better situations, too."
Putting Mayfield in Harm's Way
One observation in the first 2 weeks by many is that Kitchens is putting the ball in Mayfield's hands too much.
One particular instance was in Monday nights win when the win was secured with 2 minutes left in the 4th quarter.
Kitchens called a pass play on 3rd and 8 and Mayfield was hit and taken down awkwardly for a sack.
ESPN analysts Marcus Spears and Dan Orlovsky criticized Kitchens for the unnecessary play call and putting Mayfield in harm's way.
Kitchens explained that he called the play because he thought a run play would have lost 3 to 4 yards.
He was then asked if it really mattered with a 3 score lead.
"It matters to me, but it probably does not matter to everybody else," he said. "We have certain things we are going to do and certain things we are not going to do. I am not going to call a play that does not have the opportunity to be successful.
"We are going to finish the game. That is what we preach is finish the game, and that is what we were trying to do. We were trying to get a first down."
He mentioned that he was happy Mayfield didn't throw the ball away in that situation to stop the clock, but that he needed to protect himself better.
"Once it was not open initially, I would like for him to do a little better job of protecting himself," Kitchens said. "When they cover it, you just protect yourself. I do not need him out there taking unnecessary shots."
With the Rams and Ravens coming up in the next 2 games, the Browns will need to get their offense straightened out quickly.