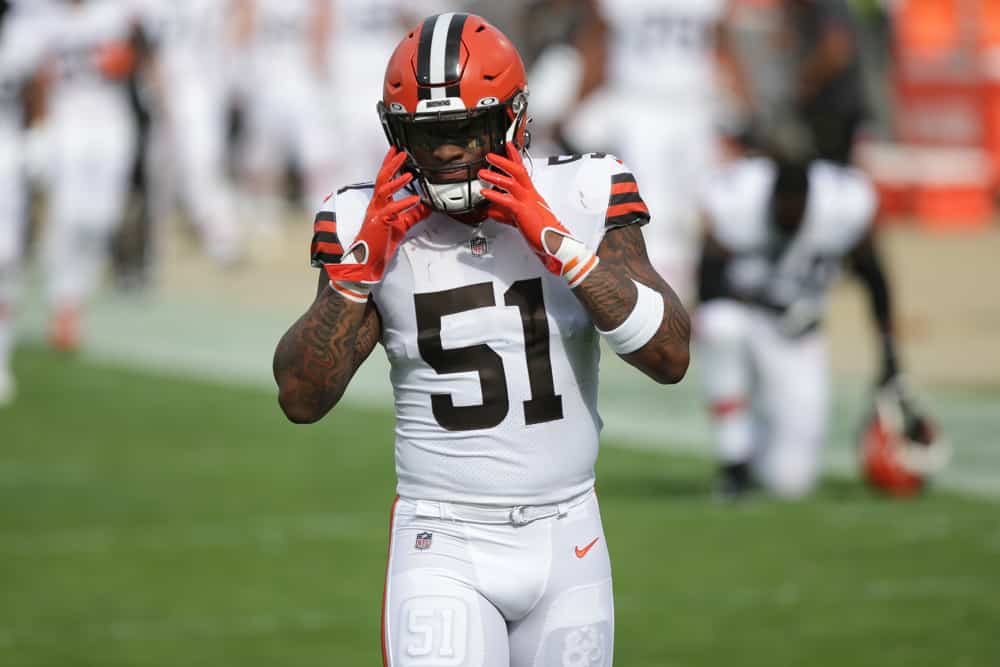 Mack Wilson survived trade rumors, final roster cut rumors and the OBJ scenario in 2021.
But now it looks like a split with the Cleveland Browns is finally in the cards.
Wilson maintains a fairly active social media presence both during and between NFL seasons.
However, it appears many of those tweets and posts have been purged from Wilson's accounts.
Sources tell @BallsackSports that #Browns LB Lyndell "Mack" Wilson wants out of Cleveland.

Wilson is a 3 year player in CLE, where he has struggled to make an impact. Wilson looks to get a fresh start somewhere else. Hopefully he doesn't miss his next flight like his tackles. https://t.co/naZyxsa1H2

— Ron Billmery  (@RonBillmery) March 4, 2022
In fact, fans will be hard-pressed to find any mention of the Cleveland Browns or a photo of Wilson in uniform.
And the linebacker replied with a peace sign to a tweet claiming the player wants out of Cleveland.
#Browns LB Mack Wilson has scrubbed his social media of Brown's content

— MoreForYouCleveland (@MoreForYou_CLE) March 3, 2022
Wilson recently hosted an NBA All-Star Weekend party with the Cavaliers' Darius Garland.
But has not been very visible otherwise since the Browns' season ended.
What Happened? 
There has been no announcement of any official personnel moves regarding Wilson so far.
And the press at the NFL Combine hasn't leaked any rumors to date.
But the team has met with several player representatives in Indianapolis this week.
Without real news, we are left to speculate,  but wiping the team off social media does not seem like a good thing.
Stuck to the script through thick and thin. It's time to get on my bully! pic.twitter.com/TwI8OwPeNo

— Mack Wilson Sr. (@5mackwilson1) March 3, 2022
Nor does a cryptic post stating,
"Stuck to the script through thick and thin. It's time to get on my bully."
That could indicate Wilson is pushing for his release from the Browns with one year left on his rookie deal.
With a potential $2 million cap savings, it's hard to see the Browns fighting to keep Wilson on the roster.
Although it is ironic he survived all the speculation of 2021 just to walk away this year.
3 Years Gone 
Wilson's best season was his rookie year when he accumulated 82 tackles and his lone career sack.
Injuries helped derail his second year in Cleveland.
Wilson told reporters he found himself in a bad place and vowed to return a new man in year 3.
The birth of his son seemed to energize Wilson, and his social postings were always positive.
Mack Wilson rockets through for sack
#Browns vs #Broncos pic.twitter.com/8xBzVmSEmK

— Browns Replay (@BrownsReplay) November 3, 2019
But Jeremiah Owusu-Koramoah and Malcolm Smith entered Week 1 ahead of Wilson on the depth chart.
Wilson copped a role on the special teams and served as the emergency punter and long-snapper.
If this is it for Wilson with the Browns, he leaves with 163 tackles, 5 TFL, a fumble recovery, and one pick.
His release would allow Wilson to test the free-agent market.