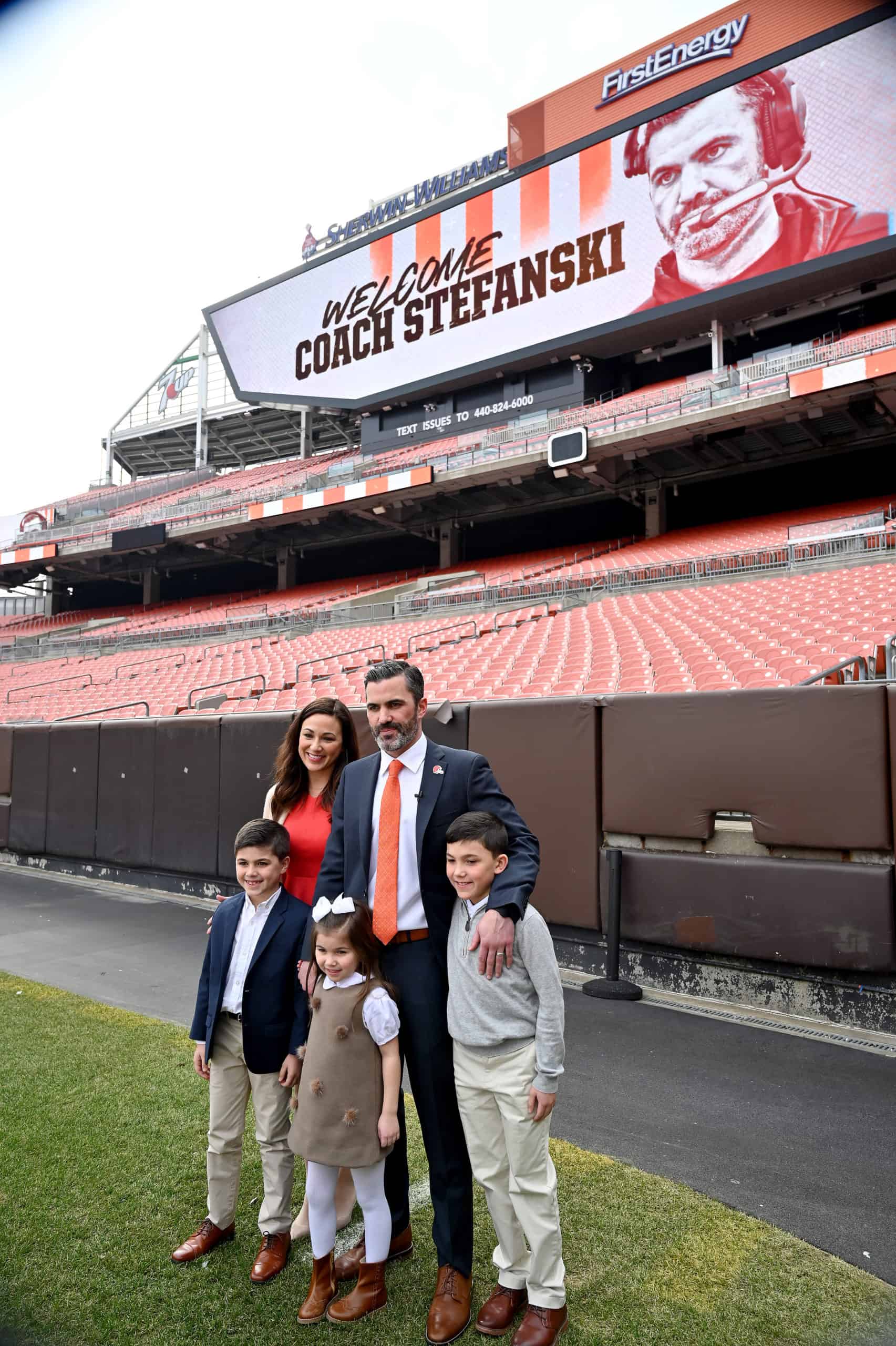 There is no doubt that being an NFL coach is a demanding, stressful job.
It is critical that NFL coaches have a strong source of support at home as they navigate the daily pressures of life in the NFL.
For Cleveland Browns head coach Kevin Stefanski, a key source of his support comes from his wife, Michelle.
Michelle Stefanski was born as Michelle McCarthy on October 19, 1981 in Philadelphia, Pennsylvania.
Kevin and Michelle (who was born on May 8, 1982) both were born in Philadelphia.
Michelle is one of three children born to Linda and Michael McCarthy.
Michelle's two siblings are a sister, Kristin Friend, and a brother, Kyle McCarthy.
Kevin and Michelle were married in July, 2007.
When Michelle and Kevin were first married, Kevin was assistant to Minnesota Vikings head coach Brad Childress.
During most of Michelle and Kevin's marriage, Kevin has had various positions with the Minnesota Vikings.
After serving as assistant to Brad Childress through 2008, Kevin continued to work for the Vikings as assistant quarterbacks coach from 2009 to 2013, as tight ends coach in 2014 and 2015, as running backs coach in 2016, as quarterbacks coach in 2017 and 2018, as interim offensive coordinator in 2018, and as offensive coordinator in 2019.
During these years, Kevin had many successes, as the Vikings made the playoffs six times and won three playoff games, but also had some disappointments, such as losing six playoff games (including two NFC championship games).
As Kevin went through the highs and lows of being an NFL coach with the Vikings, Michelle provided important support at home for Kevin.
During Kevin's years with the Vikings, Kevin and Michelle had three children – two sons, Will and Gabe, and a daughter, Juliette.
On January 13, 2020, Kevin was hired as the new head coach of the Cleveland Browns (the 18th head coach in Browns team history).
Browns' Kevin Stefanski moves his family to the west side of Cleveland after the big east side-west side debate https://t.co/qNFyAjCF5y good intro the stuff we LiKE to hear. Thank You Very Much

— Nick (@asterwhite) May 12, 2020
At his introductory press conference, Kevin recognized his family, including Michelle:
"I also need to acknowledge my family here.  My wife Michelle, my boys Will and Gabe, my daughter Juliette.  If anyone with young children and if you have moved before, you know it is a tough 48 hours we have been through.  We have made some promises to these children.  We are getting a dog, we are going to Disney World and lord knows what else has been promised since you guys got here."
The #Browns coaching family- Kevin Stefanski, wife Michelle and children. pic.twitter.com/JN2CWc2cIr

— Jeff Schudel (@jsproinsider) January 14, 2020
Kevin's use of the word, "we", shows the important role of Michelle in his life.
#Browns Kevin Stefanski about moving his 3 kids: 'We've made some promises to these children. We're getting a dog. We're going to DisneyWorld.'

— Mary Kay Cabot (@MaryKayCabot) January 14, 2020
As head coach of the Browns, Kevin has already had some highlights and lowlights.
On September 17, 2020, Kevin earned his first victory as an NFL head coach, as Cleveland defeated the Cincinnati Bengals 35-30.
On October 4, 2020, with a 49-38 Browns win over the Dallas Cowboys, Kevin earned his first road victory as an NFL head coach.
However, on October 18, 2020, the Browns were routed by the Pittsburgh Steelers 38-7, and on November 1, 2020, the Browns lost at home to the Las Vegas Raiders 16-6.
Through the ups and downs of year 2020, Michelle has again been there to support Kevin.
While she will not score any touchdowns or force any turnovers, with her invaluable support at home, Michelle Stefanski plays an essential role in the life of Kevin Stefanski and thereby in the success of the Cleveland Browns.