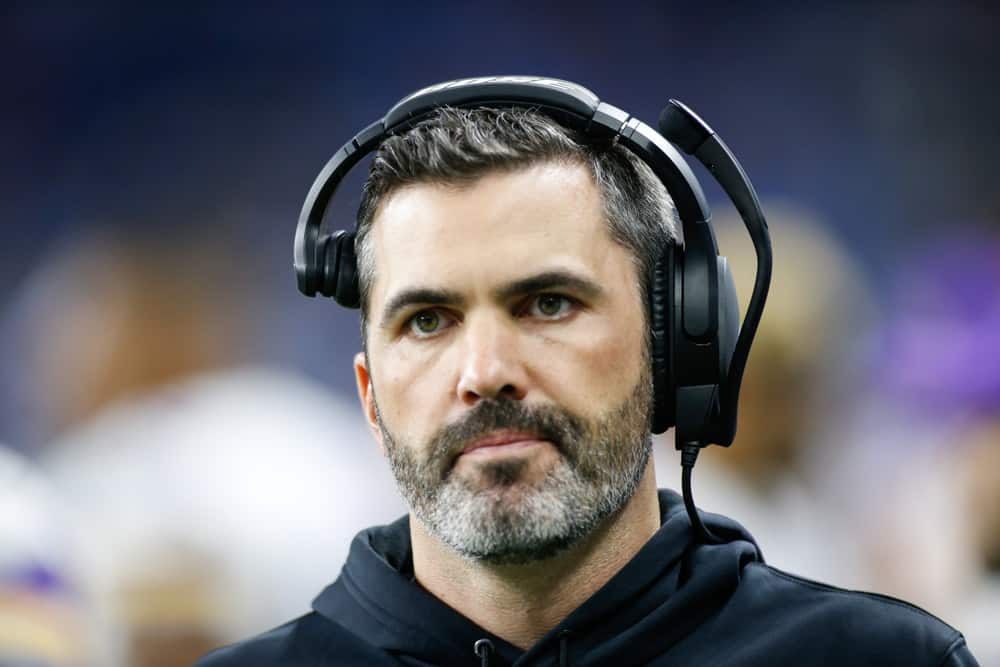 On January 13, 2020, Kevin Stefanski was hired to be the new head coach of the Cleveland Browns.
Stefanski replaced Freddie Kitchens who had been fired by the team weeks earlier.
As the 18th head coach in team history, Stefanski has some work ahead of him.
As he builds Cleveland on both sides of the ball, the biggest challenge is getting the Browns back to the playoffs.
Since Butch Davis took Cleveland to the playoffs in 2002, the team has cycled through nine coaches (including two interim head coaches).
Stefanski makes the 10th coach to take the reins and attempt to lead the team back to the promised land.
Although he comes in with zero prior head coaching experience, current Browns players and fans are optimistic with what they've seen so far.
Given Stefanski's pedigree, there is good reason to have a rosy outlook for the future.
The experience he has in the sport of football, and sports in general, should provide the groundwork for immediate improvement.
This is a closer look at the new face pacing the sidelines this fall.
Stefanski at St. Joseph's
Stefanski was destined to make his way in sports from the beginning.
He was born on May 8, 1982 in Philadelphia to Ed and Karen Stefanski.
It just so happens that Ed had been a star basketball player at the University of Pennsylvania and was drafted in the 10th round of the 1976 NBA draft by the Philadelphia 76ers.
Vikings QB Coach Kevin Stefanski is a Drexel Hill Pa native who went to St. Joe's Prep and Penn

Stefanski's Dad, Ed is the former Sixers GM#skol#FlyEaglesFly #Eagles pic.twitter.com/TeosnVYnJf

— Jeff Skversky 6abc (@JeffSkversky) January 19, 2018
After his playing days, the elder Stefanski became a longtime NBA executive and is currently working with the Detroit Pistons.
Full Woj Pod audio of Pistons executive Ed Stefanski and Browns coach Kevin Stefanski: https://t.co/pzzLpvW2TH pic.twitter.com/IOKb3kfWBc

— Adrian Wojnarowski (@wojespn) May 15, 2020

Kevin Stefanski grew to love the sport himself and did his best to emulate his father's hardwood skills.
The only problem was, the younger Stefanski didn't exactly have the desired skillset.
"In his mind, he was a poor man's Jason Kidd," Ed Stefanski said with a laugh during a 2018 interview while referring to the hall of fame point guard. "Kevin had a very high basketball I.Q. and that was it. He wasn't Jason Kidd, I'll tell you that."
Stefanski only made it as far as the JV team during his years at St. Joseph's High School in Philadelphia.
However, basketball wasn't his only love.
He also had a passion for football.
"My (three) brothers and I played basketball growing up, but at least for me, football became something I was much better at than I was at basketball," Stefanski said of not following in his father's footsteps. "So I fell in love with the game way back when."
It was evident early on that football would be a way to provide for his future.
As a quarterback and safety for St. Joseph Stefanski experienced a championship with the team as a sophomore in 1997.
The program went back to the title game two years later but lost while Stefanski was sidelined with an injury.
As the starting quarterback that season, Stefanski was the Catholic League MVP.
Stefanski Stars for the Quakers
It was his skills as a safety, however, that helped Stefanski get noticed by college programs.
He didn't travel far though, following in his father's footsteps to the University of Pennsylvania.
As a freshman at Penn, Stefanski cracked the starting lineup and was named the program's Defensive Rookie of the Year.
Even at such a young age, Stefanski's leadership skills were on display.
Went to Philadelphia to find out who Kevin Stefanski was during his days at St. Joseph's Prep and Penn. He stood out for all the right reasons — on and off the football field. https://t.co/9E6ntQtn4k

— Dan Labbe (@dan_labbe) January 29, 2020
"At that time, we were more settled at quarterback than we were in the secondary," said Al Bagnoli, who was then head coach at Penn and is now at Columbia. "He turned out to be a very good player and he was a very good leader. The other kids on the team just gravitated toward him."
Stefanski ended up playing for Penn over the course of five seasons and was a valuable member of teams that won Ivy League titles in 2000, 2002, and 2003.
He was also named as a First-team All Ivy League selection in 2002.
New Cleveland Browns coach Kevin Stefanski was a star athlete at St. Joseph's Prep, Penn https://t.co/i4usQgT9uh

— Inquirer High School Sports (@RallyPhilly) January 14, 2020

As Stefanski was wrapping up his college career, Bagnoli tapped into the potential he saw and named Stefanski as an assistant in football operations in 2005.
"He was a bright, hard-working, loyal and creative guy," Bagnoli said. "He had a unique skill set relating to people and getting along with people. We figured he was going to be heading for bigger and better things."
Bagnoli could have had a side career as a fortune teller, because he was spot on in his assessment of Stefanski's next step.
The NFL Comes Calling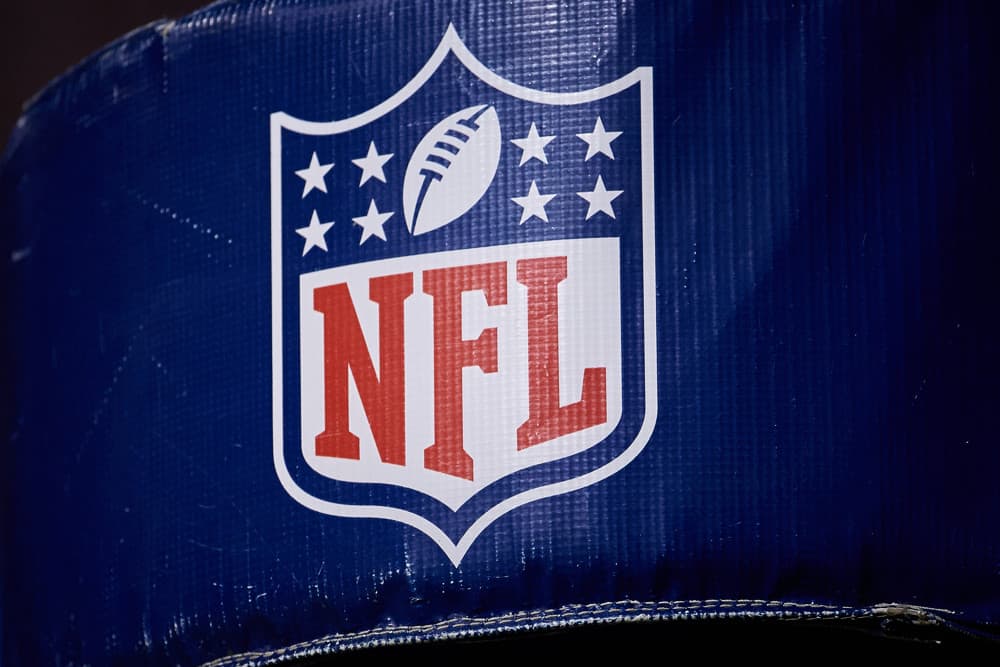 While working at Penn in 2005, Stefanski also caught on as an intern with the Eagles.
Philadelphia's offensive coordinator at the time, Brad Childress, liked what he saw in Stefanski's work ethic and desire.
"He was very kind of clued in as to how things work,'' said Childress in an interview earlier this year. "He was a hard worker, and you knew he was a football guy. He was a captain at Penn, which is a big deal. I liked the way he carried himself.''
Although Childress only worked with Stefanski for a short time in '05, he made a mental note that, should he be hired as a head coach, he would bring Stefanski in as his de facto aide-de-camp.
That didn't take long.
Childress was hired as the head coach for the Minnesota Vikings in 2006.
One of his first calls was to Stefanski and Childress brought him in as an 'assistant to the head coach.'
His job requirements at the time were scheduling and acting as a liaison between Childress and the Vikings players.
"That role sitting outside the head coach's office, you're not only a gatekeeper, but you're doing everything from football to talking to the owners to talking to the GM to talking to the salary cap guy,'' Childress said. "You're intervening with the offensive and defensive staffs, and he had an aptitude for all of that. None of that was too big for him. He was authoritative. People listened to him when he talked and he knew what he was talking about more than anything.''
Stefanski stayed on as Childress' personal assistant for three years.
During that time, Childress continued to be impressed by how Stafanski handled himself, especially with professional athletes.
"You've got to present yourself in the right way because if you show any weakness, those guys will climb all over you," Childress said.  "But he was always good in front of the crowd."
He was so impressed with Stefanski that Childress thought Stefanski could excel as a coach.
In 2009, the former Penn captain was named as assistant quarterbacks coach.
The move would quickly prove fortuitous.
Stefanski works with Favre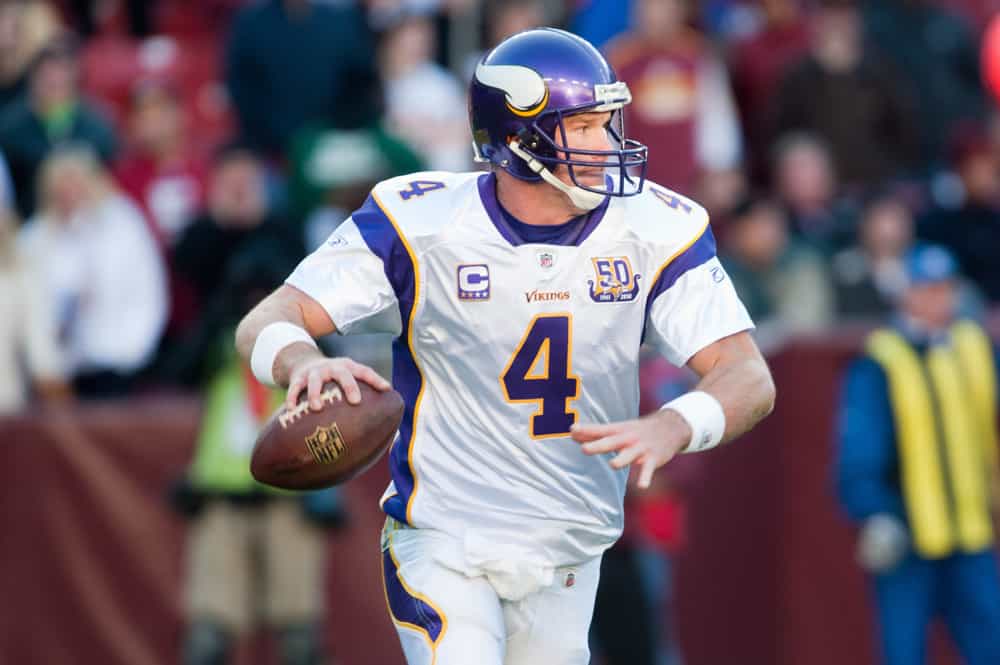 Only weeks before the 2009 NFL season was set to kick off, the Vikings brought in future Hall of Fame quarterback Brett Favre.
Favre had just come from a rather forgettable season as a starter for the New York Jets.
He was looking to end his career with another championship and Minnesota was excited to give him the opportunity.
Although Favre was known for his fun demeanor and hijinks, Stefanski was not fazed working with the legend.
For his part, Favre was taken by how professional the young coach was along with the fact that he could take Favre's near-constant ribbing.
"I really like Kevin," Favre said on his SiriusXM NFL Radio show in 2018. "I thought he was one of those young, really bright minds. The players really loved him."
The Vikings would end up performing well in 2009, going 12-4 and reaching the NFC Championship game before falling to the Saints.
In 2010, Favre returned for his 20th, and last, professional season.
However, Minnesota did not fare as well and ended the year with a 6-10 record and Farve on the sidelines with an injury.
However, Stefanski looks back on his time with Favre as a valuable learning experience.
"We don't have enough time for Favre stories," Stefanski said while still a member of the Minnesota coaching staff. "Brett was a great player here (from 2009-10). Was great for me as a young coach being in that room."
Stefanski Climbs the Coaching Ladder in Minnesota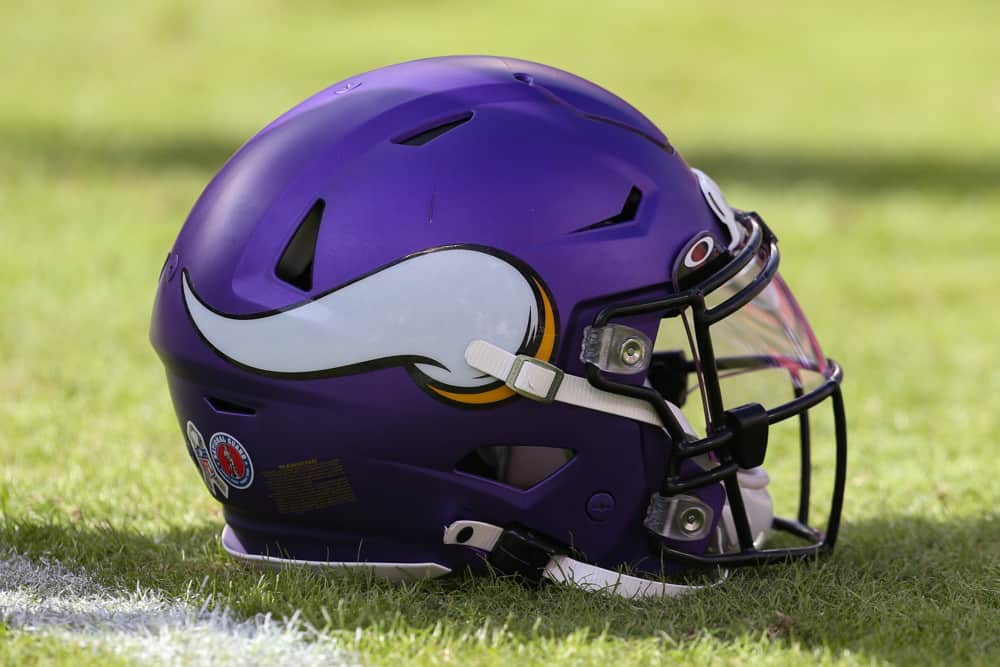 After the Vikings dropped to 3-7 in 2010, Childress was fired and Leslie Frazier took his place.
Even without his mentor, Stefanski thrived in his coaching roles in Minnesota.
He continued to work with Viking quarterbacks through the 2013 season.
When Frazier himself was axed after 2013, the Vikings hired former Bengals defensive coordinator Mike Zimmer as their new head coach.
Zimmer had been interviewed by the Browns to be their head man after the 2012 season.
They eventually passed on him and instead hired Rob Chudzinski.
The Vikings, on the other hand, hired Zimmer and, in turn, Zimmer kept Stefanski on his staff.
Between 2014-2016, Stefanski coached tight ends for two seasons and running backs for one.
Then, in 2017 Zimmer named Stefanski his quarterbacks coach.
The move would once again work in Stefanski's favor.
Stefanski works with Keenum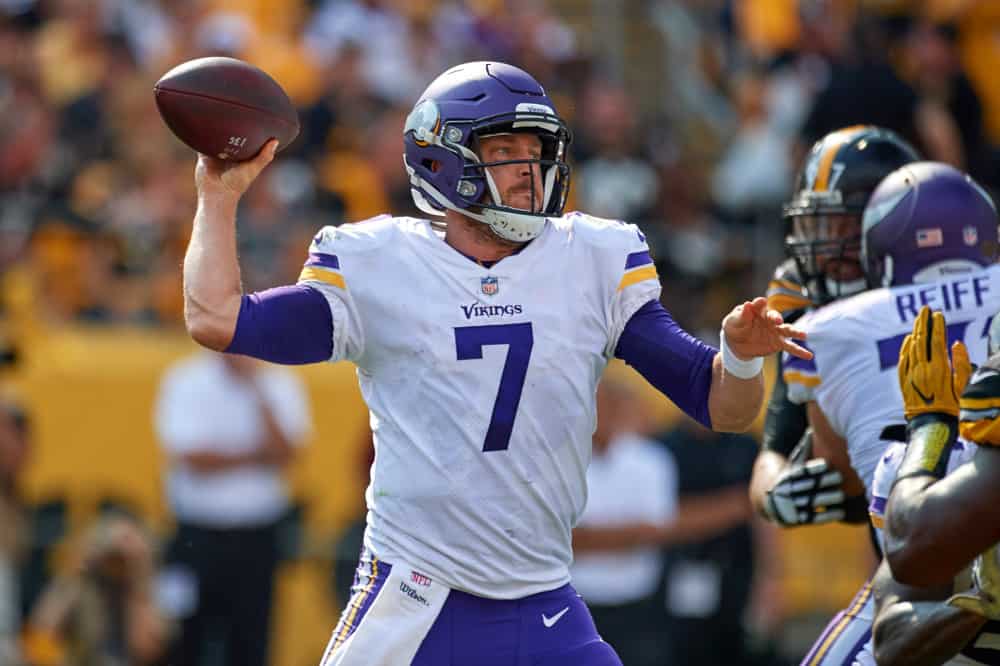 In 2017, Minnesota was poised to make some noise in the NFC.
The team had Sam Bradford at quarterback and brought in an insurance policy named Case Keenum to be his back up.
After Bradford was injured in the first game of the season, things looked bleak as journeyman Keenum took over.
In his first start for Minnesota, Keenum threw for only 167 yards in a 26-9 beat down by Pittsburgh.
Stefanski and Keenum got to work with Stefanski designing game plans that suited Keenum's skill set.
Slowly but surely, Keenum and the Vikings caught fire and Minnesota finished the year 13-3.
That season, Keenum, under Stefanski's tutelage, threw for 3,547 yards, 22 touchdowns, and seven INTs.
Keenum also led the Vikings to an upset playoff win over New Orleans on a play later named "The Minneapolis Miracle."
Down by two with only 10 seconds left in the game, Keenum heaved a prayer to receiver Stefon Diggs, who promptly caught the ball 61 yards downfield.
Diggs then pivoted and ran for the game winning touchdown.
The Vikings lost in the NFC Championship game the following week to Philadelphia.
Zimmer Says "No" to the Giants Hiring Stefanski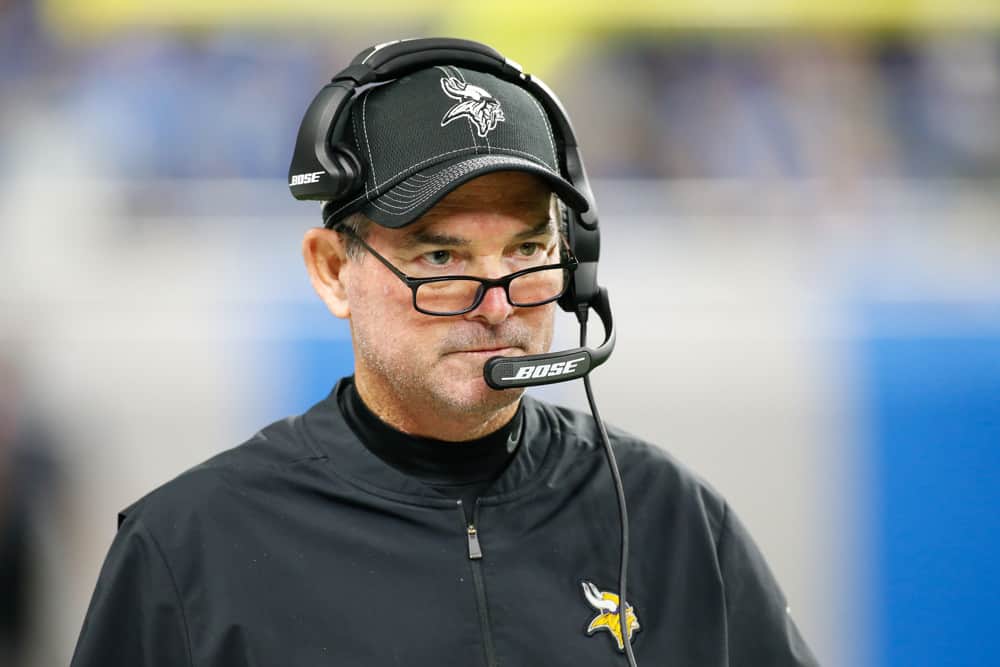 Not long after the loss to Philly, the New York Giants wanted to meet with Stefanski to gauge his interest in being their offensive coordinator.
The Giants head coach at the time, Pat Shurmur, had worked with Stefanski and the Vikings and had just been hired by New York.
Zimmer wasted no time in telling Shurmur that Stefanski leaving Minnesota wasn't going to happen.
"Mike Zimmer's a notorious tough guy, takes him and doesn't throw him out and won't let him go with Pat Shurmur,'' Childress explained earlier this year. "He says, 'I just don't want to let good coaches leave the building.' He just wouldn't let him go. In hindsight it's the best thing that ever happened or he'd (Stefanski) be looking for work right now (Shurmur was fired by the Giants after the 2019 season).''

.@Vikings deny @Giants permission to interview Kevin Stefanski … @danielrpopper pic.twitter.com/4krvVZWzdN

— NY Daily News Sports (@NYDNSports) February 10, 2018
Stefanski Takes Over Play Calling Duties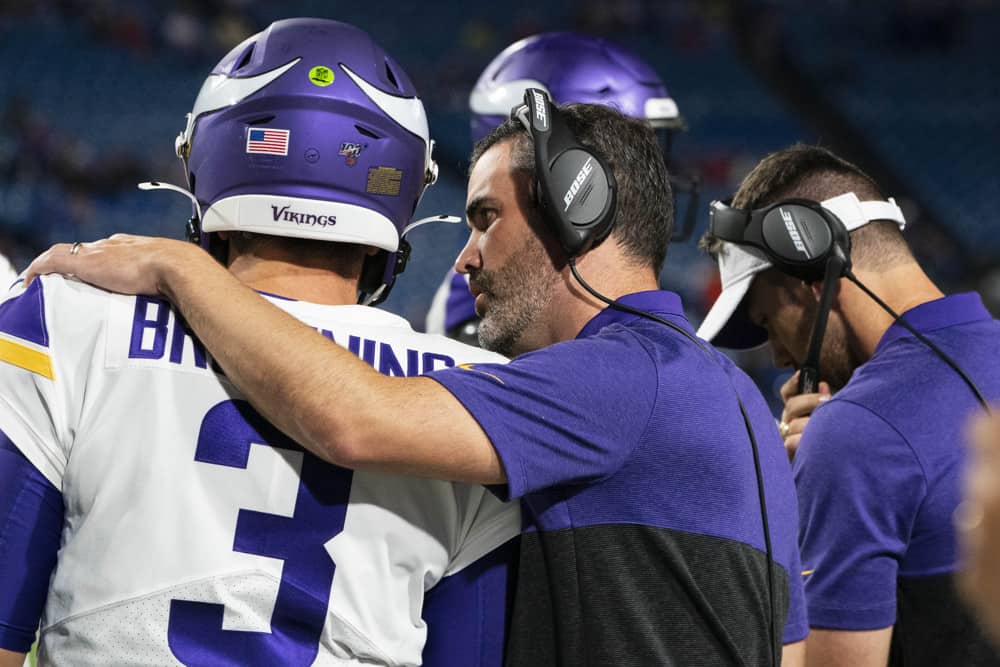 In 2018 the Vikings did not do as well as they did the previous season.
Despite his heroics in '17, Keenum was not re-signed.
However, Minnesota brought in former Redskin Kirk Cousins to lead the team.
Even with Cousins, the Vikings struggled to a 8-7-1 record.
After a Week 14 loss to Seattle, Minnesota fired offensive coordinator John DeFillipo and Stefanski was promoted to interim OC.
The following week versus Miami, Stefanski's play calling led to a 41-17 thrashing of the Dolphins.
"I had a lot of confidence because of the players and the coaches that were helping me," Stefanski said after the game. "It was different, but once I got through that first series and figured out you press a button to talk to the quarterback, it was, I don't want to say easy … I told Zimmer, if I can't figure that out, we have some problems."
Minnesota won again the next week, defeating the Lions in Detroit 27-9.
After the season, Zimmer named Stefanski as his offensive coordinator in 2019.
That same offseason, Stefanski was briefly a head coach finalist for Cleveland.
However, the Browns decided to go with Kitchens instead.
In 2019, the Vikings improved to 10-6.
With Stefanski leading the charge, Minnesota finished the season ranked 8th in the NFL in points for at 25.4 points per game.
The team scored a total of 407 points last year.
Cousins also thrived under Stefanski and Minnesota returned to the playoffs where they upset the Saints (again) and eventually lost to San Francisco in the NFC Divisional Round.
After the Browns promising 2019 season unraveled and Kitchens was shown the door, it didn't take long for the organization to reverse their decision from the previous year.
On January 13, the Browns hired Stefanski to be their new head coach.
Breaking: The Browns are planning to hire Vikings OC Kevin Stefanski as their head coach, a source confirmed to ESPN. First reported by NFL Network. pic.twitter.com/c3SdjJtN8q

— SportsCenter (@SportsCenter) January 12, 2020
Stefanski Hits the Ground Running
It didn't take long for Stefanski to overhaul the Browns roster and bring in talent that could help immediately.
Once free agency opened in March, Cleveland brought in Austin Hooper, Jack Conklin, and someone very familiar with Stefanski, Case Keenum.
Browns landing Case Keenum makes a ton of sense. He played for Kevin Stefanski in Minnesota, and should be an excellent resource for Baker Mayfield.

And stylistically, he's an ideal backup for Mayfield.

— Albert Breer (@AlbertBreer) March 16, 2020
In the 2020 draft, the Browns picked up more help for both sides of the ball including offensive tackle Jedrick Wills Jr. and safety Grant Delpit.
Though cautiously optimistic, Browns fans are excited to see what happens in Stefanski's first season as Browns head coach.
Childress already believes Cleveland did the right thing in hiring Stefanski and believes the new coach can more than handle the responsibility.
"He's got a good sense of humor. He can laugh at himself. Having been around him his whole life, there's not a whole lot that flummoxes him. He can roll with the punches and he's smart enough to absorb and take in the good and spit out the bad and say 'okay here we go, we're going forward.' I think he'll be matter-of-fact. He won't be domineering but he'll be demanding of what those guys do.''
His former GM agrees that Stefanski will be an excellent head coach as well.
#Vikings GM Rick Spielman believes Kevin Stefanski will be phenomenal head coach for #Browns pic.twitter.com/wtIeuiBzhs

— Nate Ulrich (@ByNateUlrich) February 25, 2020

Because of the coronavirus pandemic, Stefanski has been stuck in Minnesota and "meeting" with his new charges mainly by telephone and Zoom-style meetings.
"Players, young people are a resilient bunch," Stefanski said in an interview earlier this month.  "I think they learn under these unique circumstances. I think they're better equipped to do this than maybe any other generation just because they're so in tune to the technological aspect of this whole thing. And the feedback I've gotten from the guys is very positive."
Stefanski, his wife Michelle, and their three young children finally moved to the Cleveland area in early May.
After settling in, Stefanski is ready to get to work.
"I'm just going to be myself,'' he said. "That's the easiest thing for me to do. I can do that every day and I know what my job is, what I'm charged to do with these guys, so I have some really good people around me, some really good coaches, so I've got a bunch of good people and that's good news for me.''