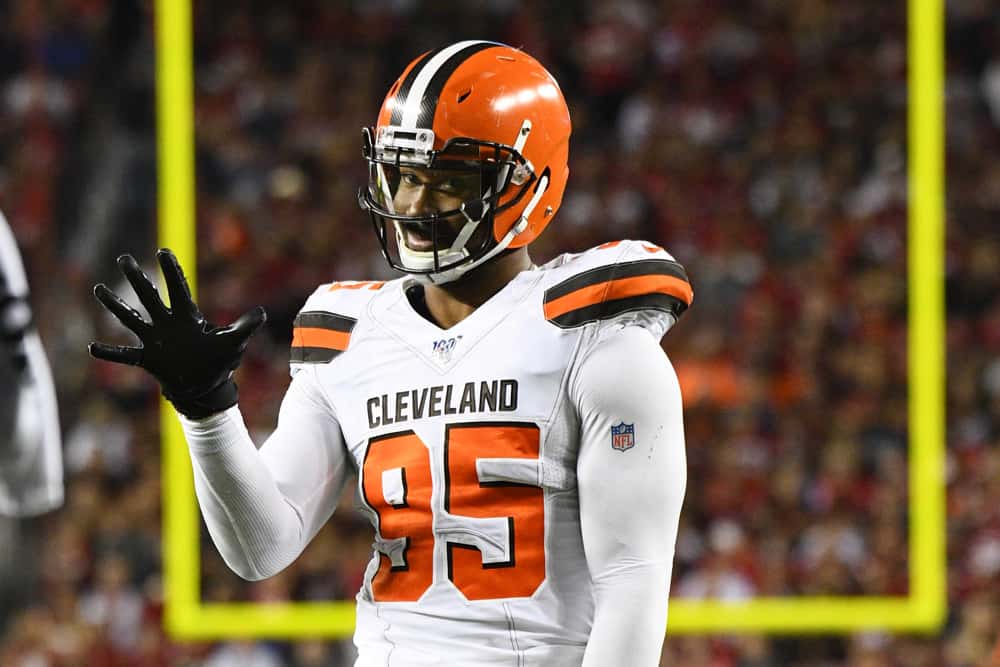 This is your daily reminder that life is not fair.
Cleveland Browns defensive end Myles Garrett not only excels on the football field, but he also gets it done on the basketball court also.
Let's see what happen next…
MG YouTube coming soon 🤫
🎥: @CFrankFilms_ pic.twitter.com/YkDQUucdpH

— Flash Garrett ⚡️ (@MylesLGarrett) March 19, 2021
Seriously?
How does one get blessed with these athletic genes?
Garrett Is Cross-Training With Basketball
This is not the first time we have seen Myles Garrett playing basketball in the off-season.
The 25-year-old posted a video last month that got us wondering what could have been had the 6'4″ 272 pound Garrett chosen a different professional sport.
You need a big guard @mcuban? 👀 pic.twitter.com/73c55fEqTp

— Flash Garrett ⚡️ (@MylesLGarrett) February 24, 2021
To date, there has been no word on whether Dallas Mavericks owner Mark Cuban responded to Garrett's tweet.
For the record, and it will not surprise anyone, Garrett lettered in three sports in high school including football, track, and basketball.
Is Coach Stefanski Okay With Garrett Playing Basketball?
A few years ago the Kansas City Chiefs made Patrick Mahomes stop playing offseason basketball.
Remember this?
Mahomes pulled up to a Lifetime and cooked everybody 😳

(via @Faiz_Jiwani, @kheuzil) pic.twitter.com/xneN88sXek

— Bleacher Report (@BleacherReport) February 5, 2019
It didn't last long.
VEACH: We spoke to Pat Mahomes' agent and said Chiefs Kingdom can be assured there will be no more basketball for Pat. We were able to nip that in the bud.

— Soren Petro (@SorenPetro) February 7, 2019
Rest assured, Coach Stefanski is aware that Myles Garrett is playing basketball in the offseason.
Stefanski recently told Pro Football Talk that he is okay with it.
"I've told him this, I've told all of our players, 'Listen, you've got to stay in shape. You need to do some things that gets your cardio going. You gotta do it safely.' He's very, very well aware of that, but I do marvel at his athleticism…I think that's the key: within reasonable limits. They know not to go in some competitive game where they're gonna turn an ankle or catch an elbow or those type of things. If they're working on their body, which for these guys that is their lifeblood is their body. If they're looking to get more athletic and quicker and stronger, I'm gonna support that within reason."
This means we can expect to see more hardcourt heroics from Myles Garrett this offseason.