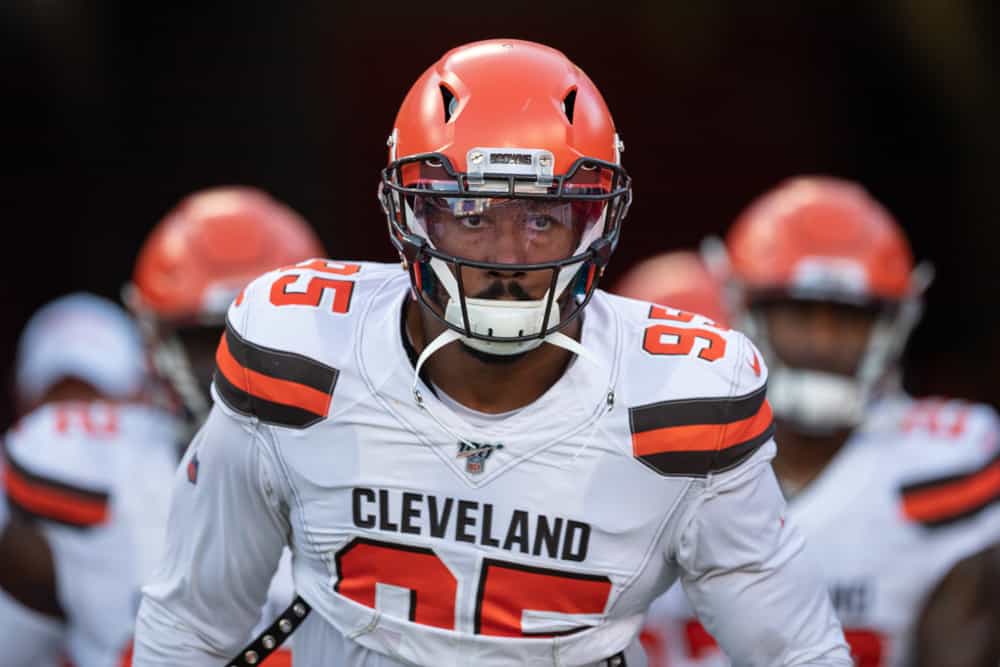 In Mary Kay Cabot's interview with Myles Garrett, the fourth-year defensive end opened up about his thoughts regarding quitting football.
My exclusive interview with #Browns DE Myles Garrett: How he pondered quitting football after the Mason Rudolph incident, how he became a better man, and why he wants to clear the air with the QB https://t.co/JMb600PK9m

— Mary Kay Cabot (@MaryKayCabot) September 9, 2020

Many Cleveland Browns and Pittsburgh Steelers fans remember the November 14, 2019 meeting when the Browns defeated the Pittsburgh Steelers, 21-7.
However, the score is not remembered as much as what occurred on the field near the end of the game.
With eight seconds remaining in the contest, referee flags flew, and by the end of the tussle, Garrett was on the ground and his season would soon be over.
Garrett fortunately will begin the 2020 season with the Browns and hopes to play all 16 games for the team.
However, Garrett revealed recently that he was contemplating retirement.
What Made Garrett Contemplate Retirement?
Garrett looked back upon his actions on November 14 and thought that may have been his last football snap.
There were many questions that flurried in his mind.
"What was I going to be? Who am I at the end of the day? Was I still going to be giving without football without that kind of income coming in? Was I still going to take those trips to see people, was I still going to give back to charities, was I still going to give clothing and shoes to schools around me, to coaches that have impacted me?"
Garrett did not know who he was.
He needed to find himself.
The potential Pro Football Hall of Famer may have ended his career at the end of three seasons, but he knows how important football and competition is to his life.
"I love football. I love competing, I love my teammates, and I definitely want to win, but at the end of the day, I'm still a guy. I'm still a young man who has a lot of life to live and my life is much more than football. I just would've moved onto something else I enjoy and found another way to save my competitive nature, whether it would've been trying out for a basketball team or going to play baseball like [Michael] Jordan."
Garrett is Excited About His Second Opportunity
Although Garrett did ponder the fact that he could try another sport, he is excited about getting a second chance.
The ability to come back in 2020 with new growth is important to him.
He is excited to make the most of this opportunity.
"What happened, happened, and at the end of the day, you have to move forward. I was given a second chance and you have to make the best of it. I know something like that won't happen again, but life's funny that way. Fame is fleeting, athletic ability is fleeting, and you have to make the most of it while it's here."
Luckily for Garrett, he and the Browns are ready to move on to this upcoming season.
They can turn the page from 2019 to 2020, and Garrett can set his sights on a potential career year.
His teammates, especially Baker Mayfield, have his back, and Garrett is excited to be on the field again with them.
Garrett and Mayfield have a strong bond, and Garrett knows that Mayfield is going to remain on his side no matter what:
"He's my teammate and he's going to have my back regardless. He saw what he saw, and he said what he said. But he's always had my back, and he's always going to put his best foot forward for me and for the team."
#Browns Baker Mayfield says he and Myles Garrett were brought in to be "culture changers" and plan to lead their sides of the ball pic.twitter.com/yPWwtfewrT

— Mary Kay Cabot (@MaryKayCabot) September 9, 2020
It is great to hear that the teammates are so close to each other.
A strong locker room will be a large part of 2020 success for the Browns.
Garrett Would Be Happy to Speak with Mason Rudolph
In terms of Garrett and Rudolph speaking, they have yet to do so.
Garrett hopes that they can clear the air though.
"If it were to happen, I'd be fine with it; not just fine, but I wouldn't mind it and I'd be happy to make it happen if there were a way. I'm not sure how I'd go about that, how I'd broach that. I'm not even sure if he'd want to do that but I wouldn't have a problem sitting down with him and just not talking about the incident, just talking man-to-man, how we move forward, and just being better men and football players and not letting something like that happen again."
While Rudolph is not expected to start a game this season for Pittsburgh, Garrett and the Browns will be facing Rudolph's Steelers at Heinz Field on October 18, 2020.
They may be able to speak and clear the air when they are both in Pittsburgh next.