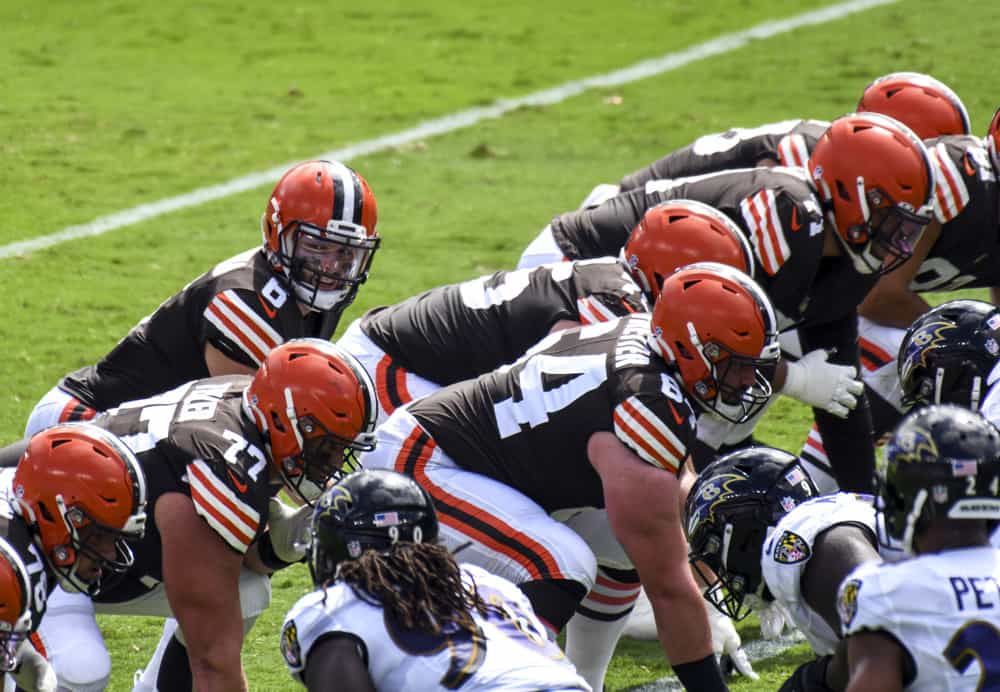 Former offensive linemen and current NFL Network analyst Brian Baldinger did not hesitate when answering the question of which NFL team has the best offensive line in the NFL.
The Cleveland Browns are his pick, and he goes on to describe the Browns offensive line as the current "gold standard" in the NFL.
These accolades are well deserved after how well the o-line played in 2020.
The BEST O-Line in the NFL is ______💪@BaldyNFL has his answer 👇 (via @NFLTotalAccess) pic.twitter.com/0Yx6VmpaLp

— NFL Network (@nflnetwork) May 29, 2021
The Union
Baldinger called the Browns line "the union".
He describes them as going about their business with hard hats and packed lunches and dismantling other teams' defenses.
@Browns offensive line is tough as nails! https://t.co/6S8lvGpxlK

— George J Pofok, CCIM (@GeorgePofok) January 20, 2021
Calling them out by name, Bitonio, Conklin, Teller, Tretter, and Wills with the "architect" offensive line coach Bill Callahan, Baldinger raved about their performances in 2020.
With everyone returning in 2021, Baldinger believes they will continue to be successful.
Must Stay Healthy
Injuries and COVID-19 were issues last year for the offensive line.
Wyatt Teller's absence was felt in the running game.
Nick Chubb and Kareem Hunt are not the two-headed monster without Teller.
Jedrick Wills had an excellent rookie year despite changing positions from right tackle to left tackle.
Wills protected Baker Mayfield's blind side very well; Mayfield had more time to throw and threw fewer picks.
Bitonio, Conklin, and Tretter were also integral parts of the success.
NFL Teams Do Not Win Without Great Offensive Lines
The players do not always get the individual credit they deserve, but the playoff and Super Bowl contenders have the best offensive line protection in the league.
Look no further than the Tampa Bay Buccaneers last season; that was one of the best lines in the NFL.
It is not a coincidence that the Kansas City Chiefs made it an offseason priority to upgrade its offensive line.
That was a weaker link on the team, and obviously protecting Mahomes is a high priority.
The future is bright for the Browns who enter the second season with the same core group of players and coach.