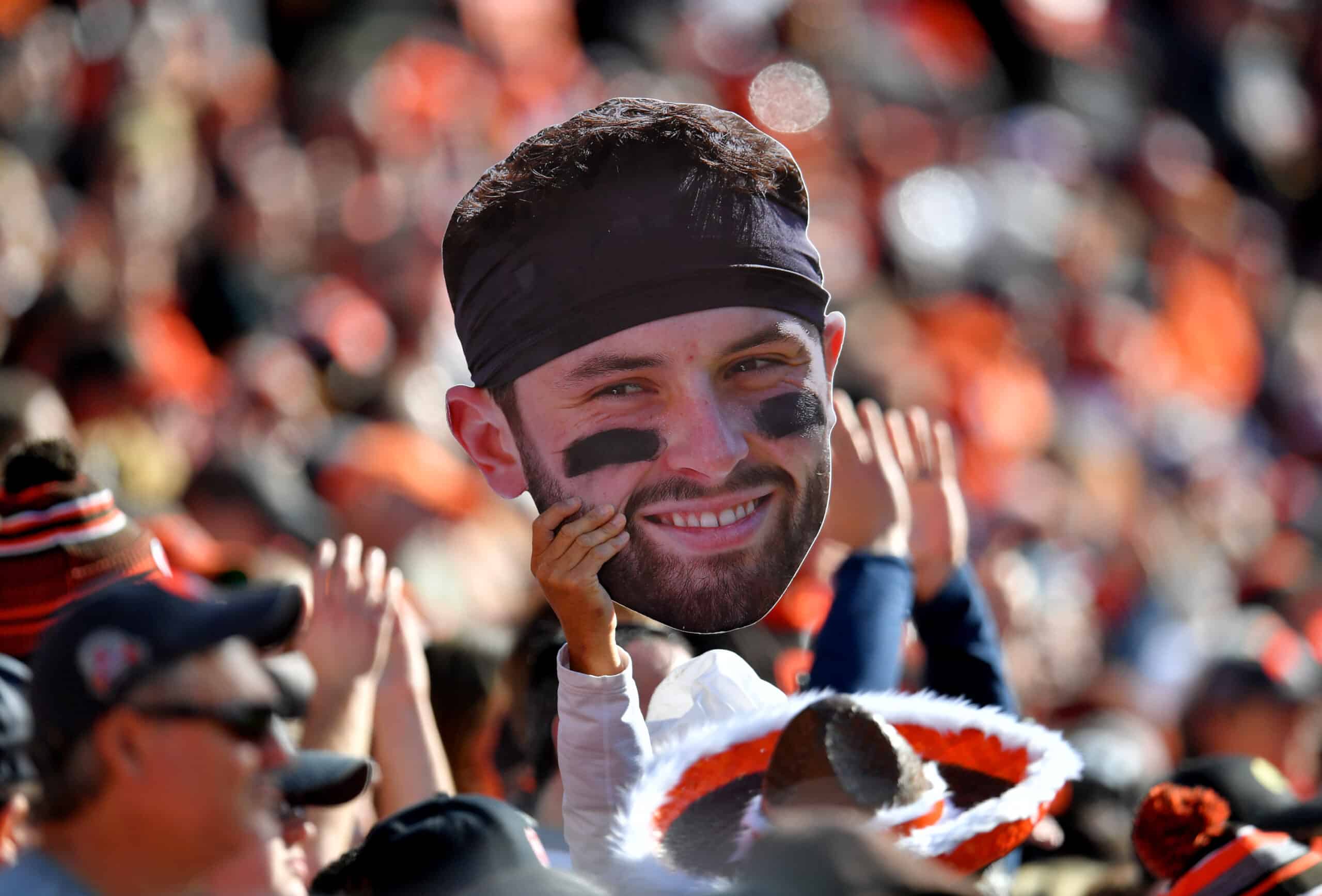 The Cleveland Browns scored a resounding (and much needed) victory in Week 9 over the Cincinnati Bengals by a score of 41-16.
At the center of the OBJ drama this week was Baker Mayfield.
This game was about Mayfield showing what he could do with OBJ no longer a Cleveland Brown.
Mayfield played a great game, and social media took notice.
Here are some of the social media reactions to Mayfield's Week 9 performance.
Media Reaction
#Browns 24, Bengals 7 – and Baker Mayfield has a perfect quarterback rating of 158.3 so far (something must have changed with the offense this week, though not sure what)

— Jake Trotter (@Jake_Trotter) November 7, 2021
Trotter, after a long week of covering the OBJ mess as the ESPN beat reporter for the Browns, poked fun with his Tweet.
Speaking of funny, this is a good one from NFL Memes.
Baker Mayfield with OBJ vs Baker without OBJ pic.twitter.com/JkRt1nNsIN

— NFL Memes (@NFL_Memes) November 7, 2021
Tough week for the Baker Mayfield sucks crowd 😬😬😬😬

— Dan Orlovsky (@danorlovsky7) November 7, 2021
ESPN's Dan Orlovsky has been both pro and anti Mayfield at different points in the season, but he called it like it is when judging Mayfield's Week 9 performance.
Fan Reaction
Mayfield is 6-1 in his career against the Cincinnati Bengals.
That has not gone unnoticed especially after today's performance.
Hey #DawgPound how y'all feelin? #BAKERMAYFIELD #OBJWHO pic.twitter.com/d33aFxjRtW

— Susan🆗 (@chickensusan) November 7, 2021
Mayfield's outlet was today's game; fans appreciated the effort.
OBJ did all his talking through his dad on Instagram. Baker has done his talking today with his play on the field! Go Browns! #Browns #BAKERMAYFIELD

— Geoffrey Miller ⭐⭐ (@GeoffreyM96) November 7, 2021
Donovan Peoples-Jones caught one of Mayfield's TD passes today.
DPJ has long been considered the heir apparent to OBJ.
Replay of Baker Mayfield's 60 yard Strike to Peoples Jones OBJ WHO? #BakerMayfield #CLEvsCIN pic.twitter.com/Mv3bfqhXsN

— Power Play Sports News Chris Jones (@chrisjsports1) November 7, 2021
Who needs @obj when we got @dpeoplesjones #DPJ > #OBJ #Cleveland #CLEvsCIN #CLE #DawgPound #DawgCheck #In6WeTrust #BAKERMAYFIELD

— Joe Slusher (@AngryBrahhnsFan) November 7, 2021
Mayfield, in the post game interview, credited the team effort.
It definitely was a game where the entire team played extremely well.
Astute fans pointed out this fact.
I love my boys! WOW what a beautiful, powerful win today. #TheBattleOfOhio belongs to my Cleveland #Browns. Also, I am so happy that cancer #OBJ is out of our locker room! Good Riddance! I will always be TEAM #BakerMayfield!#DenzelWard #DonovanPeoplesJones #NickChubb #BrownsWin pic.twitter.com/DnkzhbCy5X

— Debra Palermo (@debrapalermo) November 7, 2021
Browns Finally Collected A Must Win Game
Finally, the Browns played up to their expectations and won the game outright.
They dominated the game from the first through the fourth quarters.
Huge contributions were made in all facets of the game.
Victory is sweet, but it is just one.
It should be enjoyed for a brief moment, but the New England Patriots are the next opponent in Week 10.
At 5-4, the Browns are in a must-win situation each week as the 6-2 Baltimore Ravens continue to lead the AFC North.
Hopefully, this is the beginning of a string of victories for the Browns.