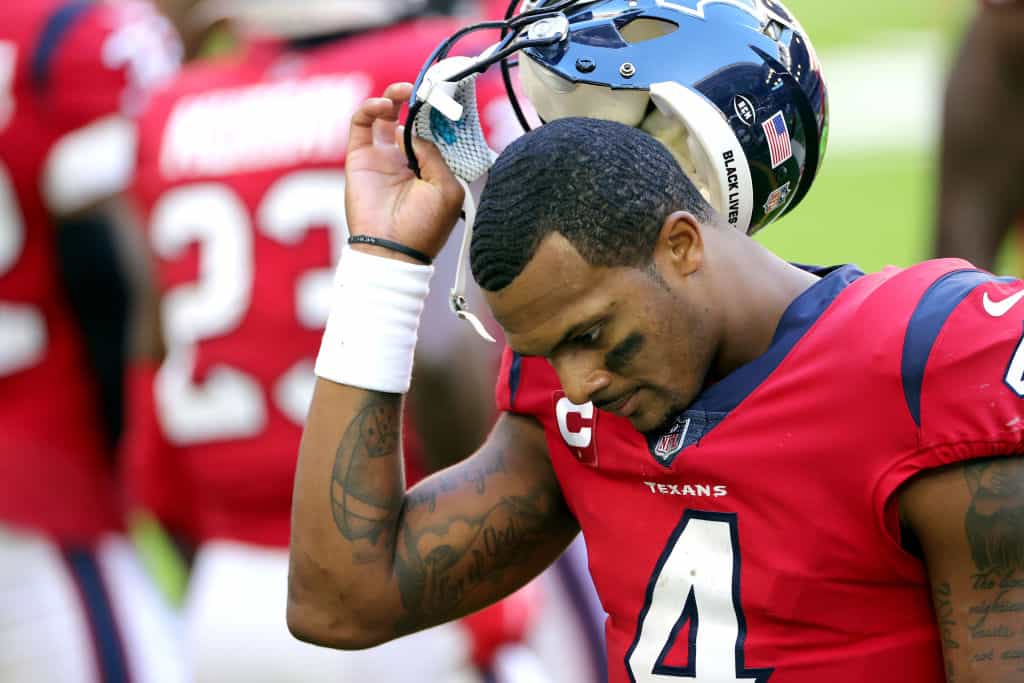 If the Cleveland Browns are the team that hoists the Lombardi Trophy in the 2023 Super Bowl, March 18, 2022, will be a date that goes down in infamy.
The Browns went all-in and were relentless in their pursuit of Deshaun Watson, and it worked.
Watson is going to waive his no-trade clause and be traded to the Cleveland Browns.
He will even get his number as Anthony Walker Jr. is expected to pass No. 4 over to him.
#Browns linebacker Anthony Walker is giving QB Deshaun Watson Jersey #4, per his Instagram.

— Brandon Little (@BrandonLittleSI) March 18, 2022
Here is how the NFL world reacted to this Friday afternoon breaking news.
Fans Are Excited About Having A Better Team
Watson gives the Browns a competitive edge in a tight AFC North division.
Fans are excited about this.
So I'm excited about getting better.. I still don't know how I feel about the player 🤷🏻‍♂️ #Browns

— Brandon of DraftDive (@BClaburn) March 18, 2022
Deshaun with the #browns and I have a income tax hit today God is good 👍🏾

— Derrick Jones (@DerricJones1994) March 18, 2022
Could Jarvis Landry Come Back?
More than one fan immediately jumped to the hopeful conclusion that this change of course could also help bring Jarvis Landry back to Cleveland.
@God_Son80 Please come back! #Browns

— T A T E R 🔶 (@OriginalTater) March 18, 2022
One fan is trying to get #BringBackJuice trending on Twitter.
Yo #Browns fans let's get #BringBackJuice trending!!! #BringBackJuice!@God_Son80

— SICKO SZN! (@_TalkSportsCLE) March 18, 2022
Bring back @God_Son80 @Browns #Browns pic.twitter.com/KAeoZvh0v5

— nathINSANE 👺 (@nathINSANE) March 18, 2022
@God_Son80 come back to Cleveland!!! #Browns #SuperBowl #DawgPound

— ChubbForPresident (@Hanrahan87) March 18, 2022
Sadness And Disappointment Also Exist
The Watson deal does elicit mixed or angry feelings given his obvious off-the-field issues.
"We're no longer @Browns fans." My husband, who has been the most faithful #Browns fan for decades just said words I never expected.

Because this franchise chose a QB with 22 civil suits alleging sexual assault/misconduct & are awarding him $230M.#DeshawnWatson #BakerMayfield

— Grace (@gracefaceRQM) March 18, 2022
Love how the #Browns put their morals aside to make sure their massage client is happy. https://t.co/22aqTtAl1s

— Polish Filipino (@PolishFilipino) March 18, 2022
Beyond disappointed in the #browns today. I get watson is a good qb but minus being exonerated on all charges, its just so hard to be happy about this.

— Sean Beardow (@seanbeardow) March 18, 2022
WTF is wrong with the @NFL when a guy with TWENTY-TWO (22) lawsuits for sexual assault sets the record for most guaranteed money in league history?

What is the message that you are sending here? @Browns @NFL 👎🏼🤡#DeshaunWatson #NFL

— Carlos David (@carlosdavidmzt) March 18, 2022
A Lot Of Money
Some talked about the Browns selling the farm on this deal.
#Browns really worked to give Watson everything. https://t.co/H2UsM25DaJ

— Tom Moore (@Tom_RedRight88) March 18, 2022
The Cleveland Browns are making Deshaun Watson the second-highest paid player in the league at $46 million per year, and the $230 million guaranteed is the most guaranteed money in NFL history. https://t.co/4ZseN0msDz via @chron

— Matt Young (@Chron_MattYoung) March 18, 2022
Please can we always remember that nothing says I'm sorry better than money. The Browns were willing to pay more. And it's ALWAYS about money.

— Michael Lombardi (@mlombardiNFL) March 18, 2022
End Of The Baker Era
This officially ends the Baker Mayfield era in Cleveland.
Fans have a variety of thoughts and emotions about this.
Dear Baker Mayfield,

Thank you for wanting Cleveland when no one else did.

Thank you for pulling Cleveland out of an abyss of losing.

Thank you for the best Browns season many have ever had.

Most importantly….. Thank YOU. pic.twitter.com/WysXI69dvW

— Nick Karns (@karnsies817) March 18, 2022
Baker Mayfield went to the absolute worst possible situation of life & changed a franchise that had sucked for decades & made them a playoff team

He destroys his throwing shoulder, tries to play through it, and the team is spitting in his face because of it

Browns being Browns.

— Michelle Magdziuk (@BallBlastEm) March 16, 2022
Really sad to see Baker go out like this

Thank you for everything 6. @bakermayfield pic.twitter.com/HJQQzrexaR

— 𝘿𝙤𝙢 🧸 (@Watsonbetter) March 18, 2022
Conclusion
The regular season does not start until six months from now.
By then, the emotions of the moment and the shock will abate.
No one knows what is ahead given the loose ends Watson is dealing with in civil court as well any penalties that will come down from the NFL.
The Browns clearly believe that Watson is the key to making them a championship team and aggressively pursued him at all costs.
It will be interesting to watch and see how the whole situation plays out when Watson actually gets on the field.