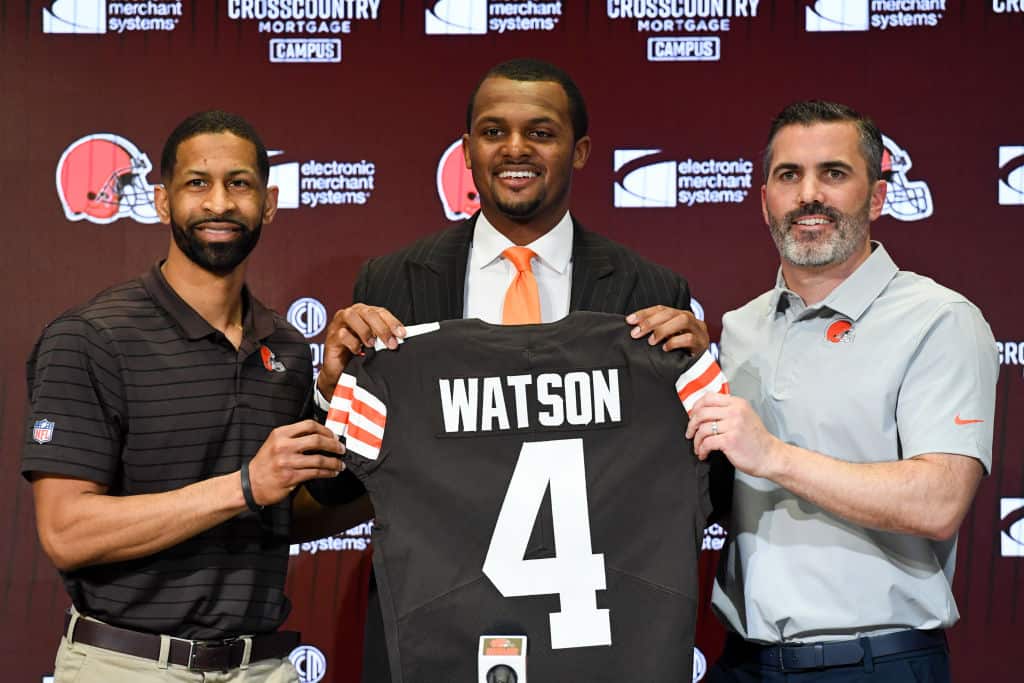 It is now official.
The Cleveland Browns introduced their next quarterback, Deshaun Watson, at a press conference this afternoon.
#Browns Andrew Berry and Kevin Stefanski introduce their new QB1, Deshaun Watson. pic.twitter.com/XABhzkF7c6

— Camryn Justice (@camijustice) March 25, 2022
With GM Andrew Berry and Coach Kevin Stefanski by his side, Watson addressed the Cleveland media and answered questions for the first time.
Deshaun Watson's Browns introduction was an unseemly dance masquerading as a media conference.@DanWetzel ➡️ https://t.co/AxQ53CMauC pic.twitter.com/RRPaRpzLZv

— Yahoo Sports (@YahooSports) March 25, 2022
Here is how the NFL world reacted to the event.
Watson Repeatedly Proclaimed His Innocence
Repeatedly saying that he did not assault anyone, Watson appeared confident and never awkward with the line of questioning.
Re #DeshaunWatson presser: Watson's very clear on his position: "I've never assaulted anyone." Browns hedge a little bit more: "we're comfortable with who he is as a person." #Browns #lawtwitter

— Blake Weiner, Esq. (@blakeweinerlaw) March 25, 2022
Deshaun Watson will fight every civil case to clear his name#DeshaunWatson #Browns #DawgPound pic.twitter.com/w0tq1Ae0ON

— Sportskeeda Pro Football (@SKProFootball) March 25, 2022
In his most direct comments on his legal situation yet, #Browns QB Deshaun Watson said, "I understand the seriousness of the allegations. I've never assault a single woman. I've never disrespected any woman."

Later, he says, "I've never done the things people are alleging."

— Ian Rapoport (@RapSheet) March 25, 2022
Andrew Berry Was Extremely Careful In Choosing His Words
Some perceived that as Berry being nervous given the gravity of the situation.
My takeaway: Andrew Berry seemed nervous. I appreciated the humility in that it did not appear this was a situation that he took lightly. He seemed sincere, which is what I expected.

— bri (@breezyCLE) March 25, 2022
Body language expert checking in – Andrew Berry is NOT comfortable right now. Looks and sounds like he's feeling the immense pressure.

— daniel mitchell (@yeah_mitch) March 25, 2022
Others took that as he is not convinced what the Browns are doing is correct.
At this news conference right now, Browns VP Andrew Berry looks like and is speaking like a guy who absolutely knows he's doing the wrong thing.

— Colin Dunlap (@colin_dunlap) March 25, 2022
Kevin Stefanski Spoke The Least
Stefanski appeared more at ease than Berry though he was not asked as many questions.
When he spoke, it was of his confidence in Watson and the process the Browns went through to ensure the team was making the right decision.
Kevin Stefanski: "This organization did a tremendous amount of work into Deshaun. … I have confidence in the work we put in."

— Jake Trotter (@Jake_Trotter) March 25, 2022
#Browns Kevin Stefanski: 'I think Deshaun is ready to make a positive impact on this community. I'm looking forward to this community getting to know Deshaun.' He knows this is difficult and he's sensitive to victims of sexual misconduct

— Mary Kay Cabot (@MaryKayCabot) March 25, 2022
About That Timeline
Berry spoke of this being the culmination of a five-month process which was a surprise.
Though there was at least one follow-up question about the timeline, it was never fully clarified.
It could lead to theories that this process began mid-season.
So the timeline Andrew Berry speaks of as he pursued Deshaun Watson would yield that while Baker Mayfield was battling his ass off through multiple injuries, Browns brass were already actively looking for his replacement.
Tough business, that football.

— Colin Dunlap (@colin_dunlap) March 25, 2022
Going by Andrew Berry's five-month timeline, the Browns started seriously considering replacing Baker Mayfield with Deshaun Watson seven or eight games into the 2021 season.

— Kevin Kleps (@KevinKleps) March 25, 2022
Browns GM Andrew Berry called the Deshaun Watson trade a "five-month odyssey," which gives a timeline.

— Brooks Kubena (@BKubena) March 25, 2022
Conclusion
One press conference is not going to win people over, and the Browns must know this.
Today was just the beginning; it will take months and even then fans may not be won over by the Watson trade.
Winning football games may help, but that is not happening until September at the earliest.
That assumes Watson is not suspended so it could be later.
A lingering question was why the Haslams had their own press conference two hours later via Zoom and were not present with Berry, Watson, and Stefanski.
The absence of Jimmy + Dee Haslam today is a complete joke, IMO.

Ownership mortgaged its future + signed off on the most gtd 💰 on a single contract in NFL history — amid allegations of sexual misconduct + assault — and let Andrew Berry deal w/ the in-person fallout #Browns

— KimberlEY A. Martin (@ByKimberleyA) March 25, 2022
It is a weird situation that evokes so many feelings; the Browns obviously believe putting everyone through the pain will bear fruit in the end.
Time will tell.