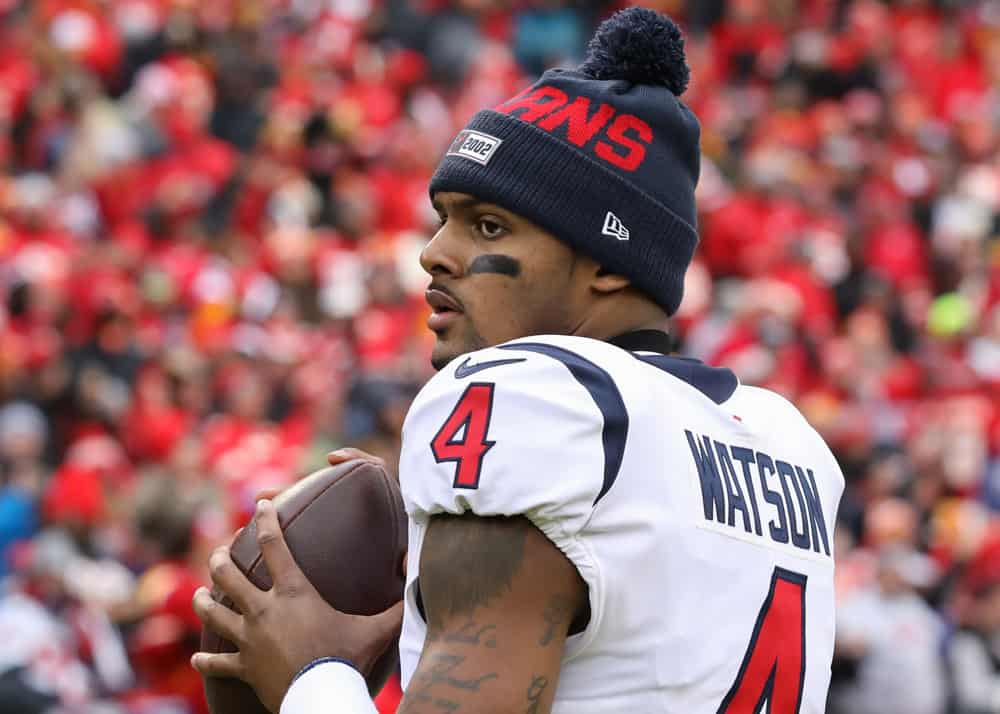 The day has finally come the Cleveland Browns will introduce their new Quarterback, Deshaun Watson.
The team is expected to introduce the 5-year veteran today during a press conference that will begin at 1 pm est today.
breaking: a second grand jury in Texas has decided NO CHARGES against new Browns QB Deshaun Watson…under investigation for sexual misconduct claims

— Ed Gallek (@edgallekfox8) March 24, 2022
This introduction has been highly anticipated by sports media since the Browns first acquired the controversial Quarterback in a trade from the Houston Texans for a series of draft picks, including 3 first-rounders.
Deshaun Watson is facing accusations of sexual assault from 22 different women, however, was not indicted by two separate grand juries.
Questions on the controversy
Many will want to hear what Watson and the Browns have to say about the accusations.
There are questions of whether Watson feels guilt or remorse, or if he will claim he is entirely innocent.
Reporters will also want to know what went into trading for a controversial figure like Watson.
How did the Browns decide to move forward despite the accusations, and what steps will the team take to rehabilitate Watson's image?
Berry and Stefanski are expected to speak as well
It will not just be Watson answering questions.
New #Browns QB Deshaun Watson has passed his physical and will sign his 5-year, $230M contract today. At 1 pm, Cleveland will introduce Watson in a press conference also featuring coach Kevin Stefanski and GM Andrew Berry.

— Ian Rapoport (@RapSheet) March 25, 2022
General Manager Andrew Berry and Head Coach Kevin Stefanski are expected to step up to the podium as well.
They are some of the minds behind the trade and will likely have their motives questioned as well.
How did they decide to go forward with the trade?
Did they expect backlash?
What is their plan with Watson moving forward?
Questions on Baker Mayfield
While the conference will center around Watson and the Browns' decision to trade for him, there could be questions concerning their former quarterback.
Reporters may want to know what led to the fallout between Mayfield and the team.
Why did he request a trade, and why does the relationship between him and Stefanski seem past resolve?
How mad do you think Baker Mayfield is every time he hears about another trade?

— Jessie Coffield (@Jessie_Coffield) March 23, 2022
They could also be asked why he has not been traded yet.
Possible outcomes of the conference
The Browns and Watson know today's conference isn't going to fix everything.
As much as they hope to clear up the controversy and begin to rehabilitate Watson's image, they know they will have much more work to do after today.
But they can at least hope to clear some things up.
The best possible outcome
The best outcome for the team and Watson would be answering questions forward and clearly.
It's all out in the open what Watson is accused of and that the team has decided to take on the controversy.
They can't dance around questions or pretend certain factors that came with trading for Watson aren't present.
They must answer questions clearly and take responsibility
The worst possible outcome
The Browns could really shoot themselves in the foot if they try to dodge questions about the accusations or try to keep everything in the context of football.
Reporters and fans have questions they demand to be answered, and the organization better do its best to give good answers.
If the Browns and Watson can't answer questions effectively, they can expect to see their images further tarnished.