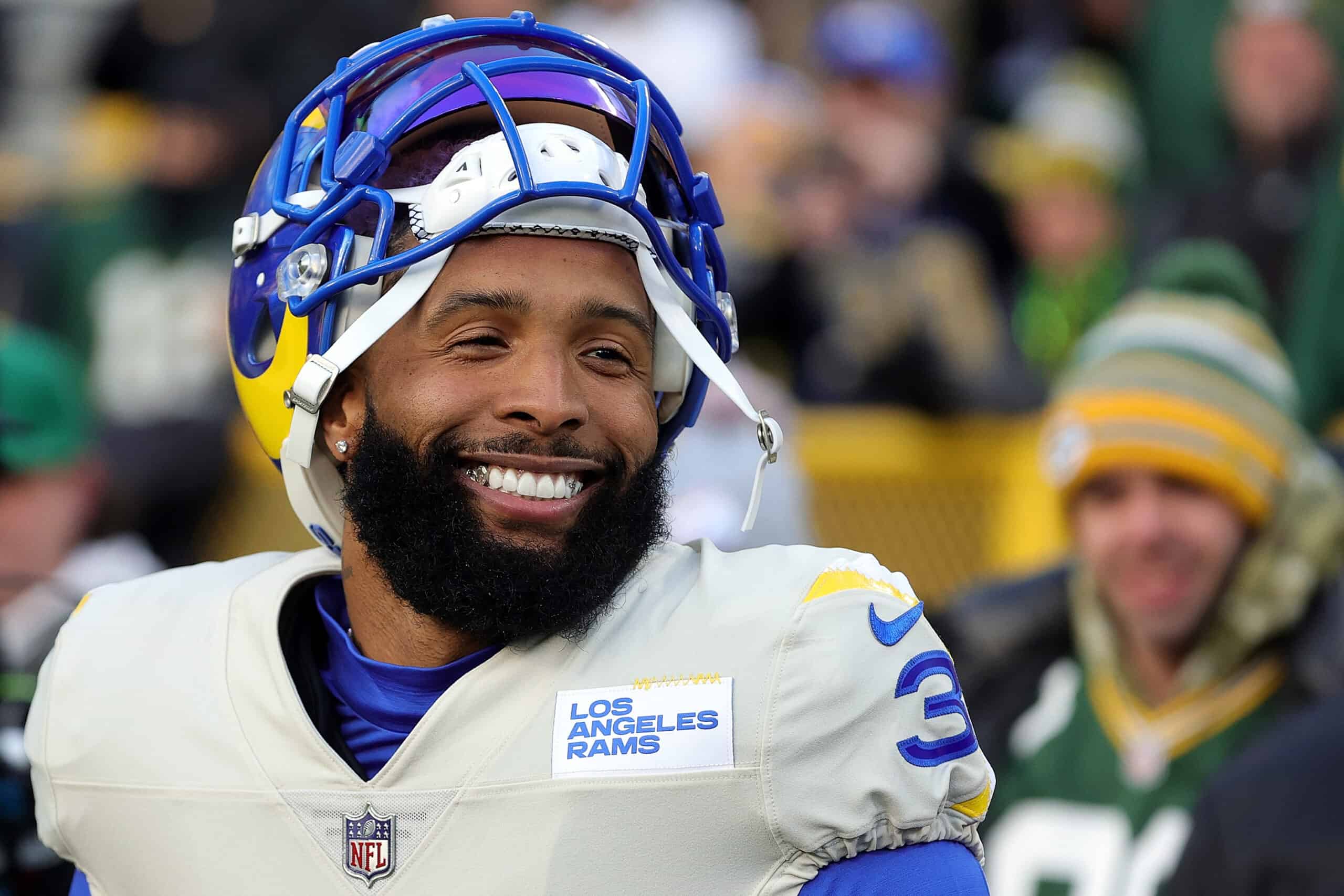 Former Cleveland Browns wide receiver Odell Beckham Jr. is a Super Bowl Champion.
His tenure with the Browns was tumultuous, but when he got onto the Los Angeles Rams roster, he performed well.
Injury curtailed his Super Bowl though he managed to score a touchdown before leaving the game.
ODELL BECKHAM JR.!! pic.twitter.com/dmAQm2OFjY

— Complex Sports (@ComplexSports) February 13, 2022
As expected, social media was flooded with reactions about OBJ's evening of glory with his new team.
It was written ✍️@obj (via @NFL)pic.twitter.com/VPMrpqf8vF

— Overtime (@overtime) February 14, 2022
Part of it was prompted by how NBC's commentators, Al Michaels and Cris Collinsworth, framed his departure from the Browns.
Here is a sampling of those posts.
1. NBC Needs To Tell The Correct Story
Michaels and Collinsworth acted as though the Browns released OBJ for absolutely no reason.
They neglected to consider the preamble to the OBJ disaster, his dad's social media tirade.
Someone tell Cris Collinsworth the #Browns did OBJ a favor by granting his release and giving him all his money when they didn't have to.

Definitely not "thrown out on the street." 🙄#SuperBowl

— John Sabol (@John_Sabol) February 14, 2022
Listen, Odell Beckham Jr. is a good man and a good player. But acting like the Browns front office didn't do right by him and let him choose his destination is certainly something. #Browns

— Hayden Grove (@H_Grove) February 14, 2022
So, let me get this straight.

Odell Beckham requests his release and sits out a few days of practice AFTER asking to be traded during the previous offseason.

Somehow, he was forced out of Cleveland and his old team didn't want him anymore??? pic.twitter.com/pIix1Wc0aE

— Brent Sobleski (@brentsobleski) February 14, 2022
2. Mayfield Bashers
Equally unsurprising are the reactions and disdain directed at Baker Mayfield who wisely began a social media break during the NFL playoffs.
Many blame Mayfield for OBJ's lack of results in Cleveland, and the extremists suggest prison time.
Yea Baker Mayfield deserves prison time for ever having us believe OBJ was washed

— Southside's Own (@FlowsAndolini) February 13, 2022
Baker Mayfield should serve jail time for wasting 3 years of OBJ's prime.

— Kendall (@_kendall_beck_) February 13, 2022
Just a reminder, OBJ is good… Baker Mayfield is not

— RC Maxfield (@RCMB323) February 13, 2022
Baker Mayfield watching OBJ catch that TD like: pic.twitter.com/TlrBMuG3sd

— Grace (@ballerstatzz) February 13, 2022
Baker Mayfield watching Odell score a TD in the Super Bowl pic.twitter.com/jdkdl26aOC

— Barstool Sports (@barstoolsports) February 13, 2022
Since the Browns cut Odell Beckham:

Baker Mayfield TDs to WRs: 3
OBJ receiving TDs: 7

— Ian Hartitz (@Ihartitz) February 13, 2022
3. A Mayfield Defender
There was at least one person who shared his perception of the OBJ situation and came to Mayfield's defense.
If the Rams win, a lot of people will take cheap shots at Baker Mayfield for the whole OBJ situation, and that just isn't fair

— Sir Yacht🛥 (@SirYacht_) February 13, 2022
Conclusion
Hopefully, with the 2021 season officially coming to a close, the Baker Mayfield and Odell Beckham Jr. saga will also end.
OBJ got the last word with a Super Bowl victory, and the Browns need to move on and stop looking in the rearview mirror.
The 2022 offseason is officially underway on the NFL calendar, and the Browns must improve the roster to contend with the AFC Champion Cincinnati Bengals who are their AFC North competitors.
Speaking of the Bengals, Mayfield was bound to be criticized regardless of who won the Super Bowl.
Had Joe Burrow won, Mayfield would have been bashed for being a No. 1 overall pick that did not get a championship quicker than Burrow.
Onward and upward, Browns!