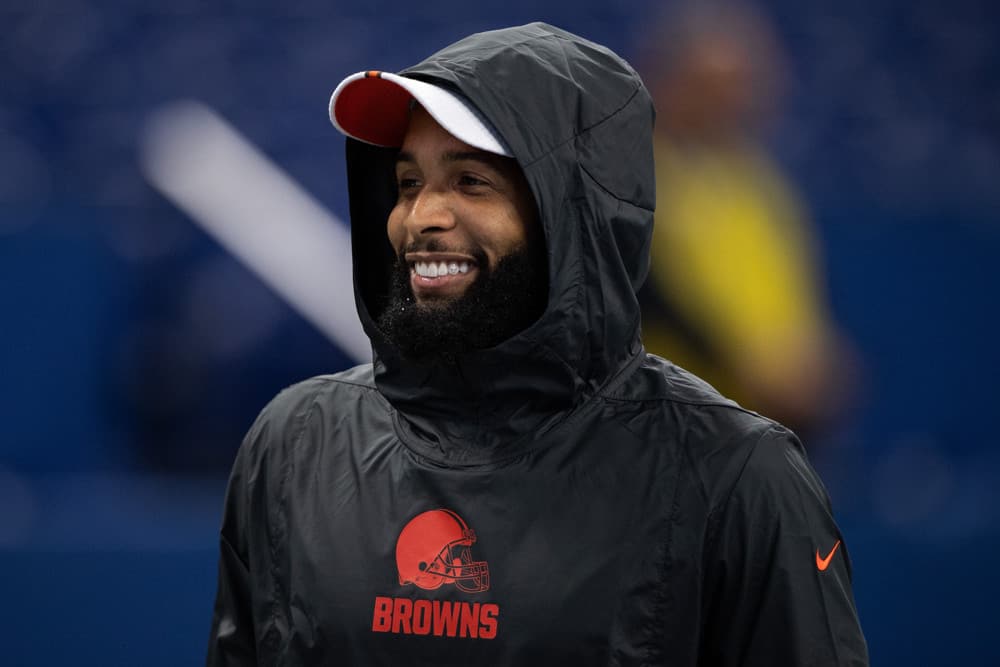 Odell Beckham Jr looks forward to the 2020 season.
Cleveland's 2019 free-agent prize is healing well from his recent core surgery.
He has a good feeling about new head coach Kevin Stefanski.
Beckham says he and Baker Mayfield will connect better in the Browns' new offense.
He promises to be more engaged in voluntary team activities.
But what Odell Beckham looks forward to the most might be his new shoes.
Nike's Vapor Edge cleats- Odell's shoe
Nike announced its latest football cleat just before the Super Bowl.
Nike Vapor Edge pic.twitter.com/kGYBwvXfko

— Marlen Gutierrez (@Marlen_Guti_Gut) January 30, 2020
It is called the Nike Vapor Edge.
Several NFL players received pre-release samples to try out.
Great shot of the new Nike Vapor Edge 360 traction plate. Richard Sherman wore the unreleased cleats in today's win against the Vikings 👀
–#JustDoIt #NikeFootball #49ers #RichardSherman pic.twitter.com/2Qz0Q7OFCj

— Football Equipment (@FBEquipment) January 12, 2020
But make no mistake.
This is Odell Beckham's shoe.
.@obj checking from Miami to show off the new Nike Vapor Edge cleat 🔥 pic.twitter.com/as77iMjtKO

— Complex Sneakers (@ComplexSneakers) January 31, 2020
He collaborated with Nike on the design.
We all know Beckham for his American football prowess.
But it was his international football- that is, his soccer background that led to the new Vapor Edge design.
Beckham grew up playing soccer.
He is still a fan, which is how he took notice of Lionel Messi's new soccer cleats.
Messi, a star of the iconic Barcelona football club and Argentine National Team, rocked a sleek new cleat with no visible laces.
Take control in the most modern #Predator yet. Predator 19+. #fifa #messi #cleats #shoes #soccer #soccer#football #footy #footballboots #boots #nike #nikefootball #adidas pic.twitter.com/1gUwqDqWTD

— Soccer Boot (@mysoccerboot) November 20, 2018
Beckham was intrigued by the Adidas shoe and called his Nike contacts to work on the Vapor Edge.
Better Luck This Time Around
Cleveland Browns fans remember the last time Beckham designed some football cleats.
They weren't well received.
Odell Beckham Jr. and Jarvis Landry were told by the NFL to change their cleats at halftime or they wouldn't be allowed to play the second half, according to the CBS broadcast. https://t.co/d6fqo6adfb

— SportsCenter (@SportsCenter) November 4, 2019
But the Vapor Edge 360 is set to be a popular NFL accessory.
It comes laceless (with a drawstring) or with the laces on the inside.
I seem to remember something about "laces in" being a bad idea.
25 years ago today, Ace Ventura was released in theaters 😂

LACES OUT, DAN! pic.twitter.com/4MFg8nSYt3

— FanDuel (@FanDuel) February 4, 2019
But Beckham, who chose the laceless version, says the new cleats improve performance.
Nike says the Vapor Edge feels like a sock with spikes.
Beckham expects that to translate to faster feet and better cutting ability.
"And obviously, it looks good," he offered.
Nike is Pretty Happy With the Vapor Edge, Too. 
Here is Nike's official description of their newest cleat:
"Built for speed and performance at the highest level of professional football, the Nike Vapor Edge offers instant propulsion and power transfer. The ultra-light, aerodynamic cleat also provides a responsive feel thanks to its independent traction pods."
Early reviews back up Nike's and Beckham's enthusiasm.
EA Sports and Madden Football allow gamers to outfit their stars with the Vapor Edge cleats.
They like the shoe so much, players get an increased speed rating when they wear them.
Nike Cleats Make Players Faster in @EAMaddenNFL 20 https://t.co/I6aMv1A2Rb As part of the January update to #Madden20, #Nike Vapor Edge Cleats increase the speed or acceleration of certain Nike sponsored players. Which @Nike sponsored @NFL player is your favorite? #SuperBowl pic.twitter.com/EZfMIF29Y1

— COGconnected (@COGconnected) February 2, 2020
Nike's newest football innovation even caught the eye of that other football game.
Soccer Bible compares the Vapor Edge football cleat favorably to the top soccer cleats.
Mercurial/PhantomVSN Hybrid? Nike unveil the Vapor Edge. And yes, we know it's an American Football cleat before you say anything… https://t.co/Y61rxeL2vs pic.twitter.com/fif6pbnQhO

— SoccerBible (@SoccerBible) February 3, 2020
They say the shoe's features give NFL players "a combination of some of the best (Nike) has to offer from (our) beautiful game."
Will Nike Fix the Mayfield-to-Beckham Connection? 
Odell Beckham predicts he will get in and out of cuts better and faster next season.
He credits the new Nike Vapor Edge cleats.
Several folks cited the sleek and lightweight design.
Twitter. Y'all. Just look. 😍 @Nike Vapor Edge. It's a cleat with 360 flyknit. Do y'all know what that means?! It means it's a sock with spike. Awh man, these are going to be the most comfortable lightweight cleats. Who wants to get strapped first? pic.twitter.com/UzEwOgH232

— Coach Mickey Grace (@CoachMickeyG) January 30, 2020
Personally, the thought of wearing socks with spikes sounds uncomfortable.
But who am I to argue with the pros?
Cleveland Browns fans hope for big things from Odell Beckham in 2020.
Comfortable shoes can't hurt.