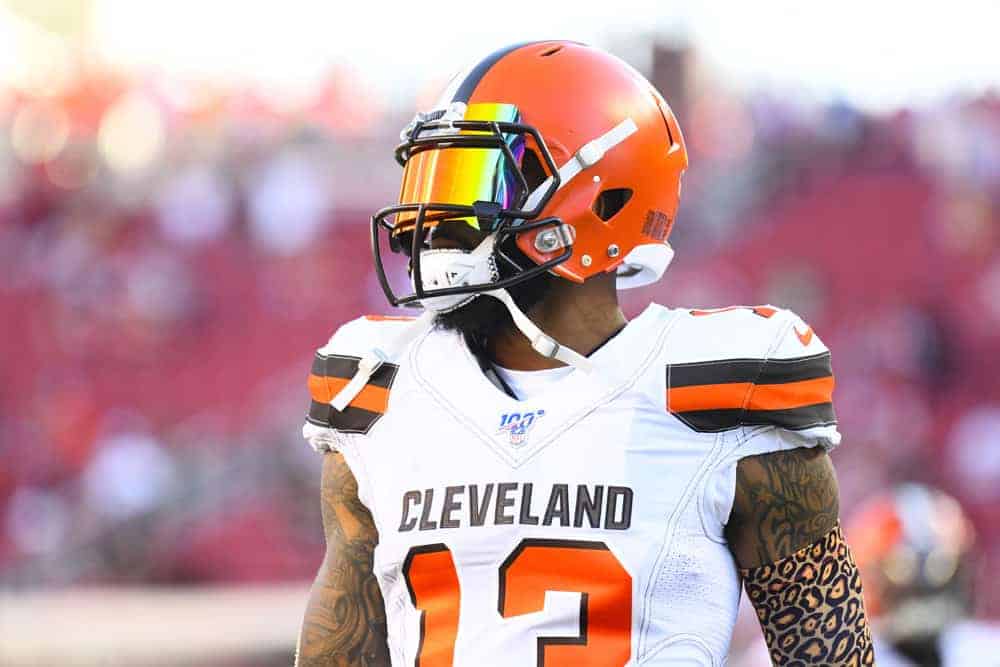 It was easy for Cleveland Browns fans to feel underwhelmed by Odell Beckham Jr.'s performance during the 2019 season.
The receiver arrived in Cleveland with high expectations and while he did finish with 1,035 receiving yards, he only had four touchdowns on the year.
Beckham finished with 74 receptions on 133 targets and it was clear the chemistry just wasn't there with Baker Mayfield.
Add in a nagging injury and total mismanagement of the offense by head coach Freddie Kitchens and it is a bit of a shock Beckham still eclipsed 1,000 yards.
The young Beckham often faces criticism.
But it is important to remember he is still considered one of the best receivers in the game.
ESPN's Jeremy Fowler conducted a poll featuring the opinions of over 50 NFL executives, coaches, scouts, and players.
The goal was to rank the best players at each position and Beckham showed up all the way at fourth overall in terms of wide receivers.
The article is behind a paywall, but the results were shared via several outlets.
Browns' Odell Beckham Jr. is 4th best receiver in NFL per ESPN pollhttps://t.co/x4n0CWZEfj pic.twitter.com/6e3XyZRdwR

— WKYC 3News (@wkyc) July 10, 2020
Odell Beckham Jr. Among the Rest
The Browns star finished behind DeAndre Hopkins, Michael Thomas, and Julio Jones, respectively.
This is high praise for Beckham after a tough 2019 season in his first year with the Browns.
His doubters should remember he has gone over 1,000 yards five times in his six career NFL seasons.
Wrap up your week with ESPN Cleveland Tonight w/ @MattFontana83 on 850 ESPN Cleveland, @thelandondemand, ESPN App.

Odell Beckham was ranked the 4th best WR in the NFL by his peers, including one 1st place vote.

Where would you rank Odell? #Browns

— ESPN Cleveland (@ESPNCleveland) July 10, 2020
The only time he failed was in 2017 when Beckham was limited to just four games.
Beckham's 1,035 yards last season saw him finish 26th overall, while teammate Jarvis Landry finished 10th overall with 1,174 yards.
This shows that the final yardage total isn't the only factor in ranking the best in the NFL.
Both players averaged 14 yards per reception compared to the mark of 11.6 by league-leader Michael Thomas.
Landry was left off the list entirely and this reputation may end up being why Beckham outlasts his long-time friend in Cleveland.
The man known as OBJ has the higher ceiling and is clearly held to a much higher standard by his own peers and those evaluating NFL talent.
Beckham Belongs Among the Best
Right now it is fair to put Thomas atop the list due to his insane connection and chemistry with New Orleans Saints legend Drew Brees.
But Beckham could be on that same level if Mayfield can become more consistent.
The young quarterback has one of the best receivers in the game at his disposal.
There is also Landry on the other end, who arguably deserves at least a nod as a well above-average option.
He has made five Pro Bowls in six career seasons, for what it's worth.
Beckham's high ranking in the ESPN poll is another example of evidence that the Browns do indeed have the right pieces in place to win.
The "on paper" dominance is back in 2020 and it is now up to the elite members of the team to actually live up to the potential at the same time.
This poll should also quiet the Beckham haters just a bit before the season begins.