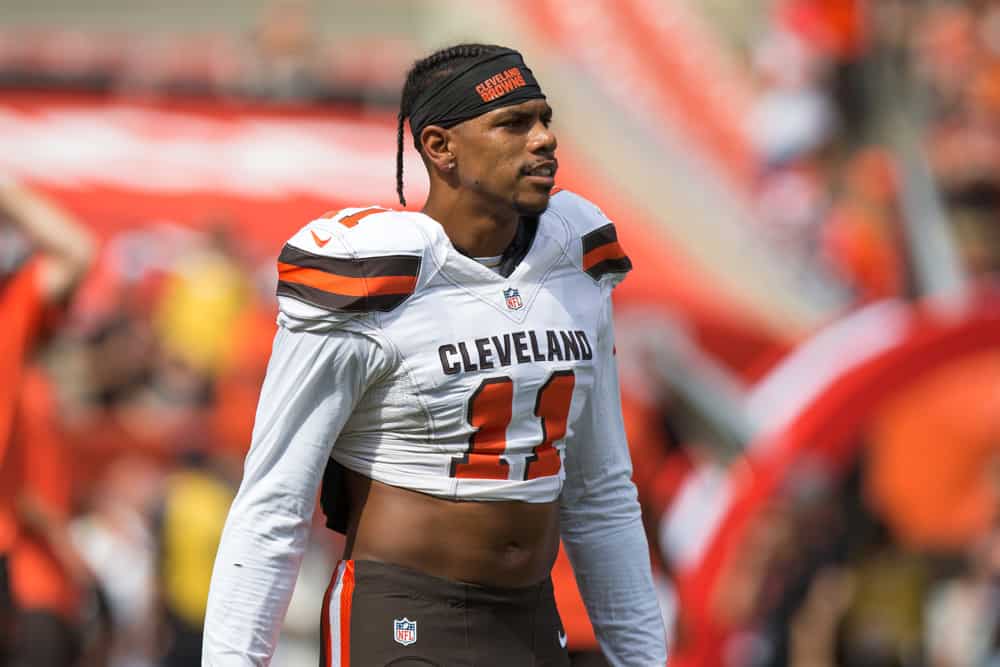 Former Cleveland Browns wide receiver Terrelle Pryor is eying a return to the NFL.
Pryor, 31, told TMZ Sports "there have been conversations with" five teams, including his preferred destinations of the New England Patriots or the Pittsburgh Steelers.
"Those two [teams] are very intriguing, especially Cam [Newton]," Pyror said. "I've been a big fan of him throughout the years."
Pryor also spoke about the possibility of playing with Steelers quarterback Ben Roethlisberger.
"Obviously, Big Ben, that's my former hometown city in Pittsburgh, so that's just two teams that I really want to play for," Pryor said.
Pryor did not name the other three teams in the TMZ video.
In 2016, Pryor had 77 receptions on 140 targets for 1,007 yards and four touchdowns for the Browns.
However, he only managed 36 receptions on 67 targets and three touchdowns in 17 games from 2017-2018, when he played for the Washington Redskins, the New York Jets and the Buffalo Bills.
"I can still play," Pryor said. "And, I can still make plays and dominate. I know that."
In September 2019, the Jacksonville Jaguars cut Pryor from injured reserve.
"f you go back and look at the last year, my preseason game, it was really just my injuries," Pryor said. "Every day I'm working on things certain things with my hips because I know I had problems with my hips that I was…it had me lingering with my hamstring."
Pryor said the key for him is to demonstrate he can stay healthy, which is important considering he's played in all 16 games only once in his seven-year NFL career.
"They gotta see that I can stay healthy," Pryor said. "That's the only thing that really held me back.

"Even from two years ago when I played with the Jets, I was leading the team in receiving in yards and yards per catch up to Week 7 and 8. And, I got hurt. I tore my groin actually in Week 2 and I played through it. It's just injuries. It happens. It's part of the game, so I feel like my body is back. I'm back. I've got my feet under me. I'm working hard, but I'm really working smarter."
Pryor mentioned the difficulty for some free agents because of the COVID-19 pandemic.
"A lot of the teams are not really dealing with any of the players because of the COVID situation," Pryor said.
The NFL indefinitely halted all league-relegated physicals in March.
It prevents teams from performing physicals or meeting players in person.
Pryor began his NFL career with the Oakland Raiders as a quarterback before switching to the wide receiver position.
Any team that decides to sign Pryor could also have to face potential media and fan scrutiny after a November 2019 stabbing incident Pryor was involved in at his Pittsburgh apartment.
Pryor nearly lost his life, was hospitalized after the stabbing and was also charged with simple assault.
Pryor lived and co-signed a lease on the apartment with Shalaya Briston, who was charged with attempted homicide.
Police described Pryor and Briston as "mutual combatants in this incident."