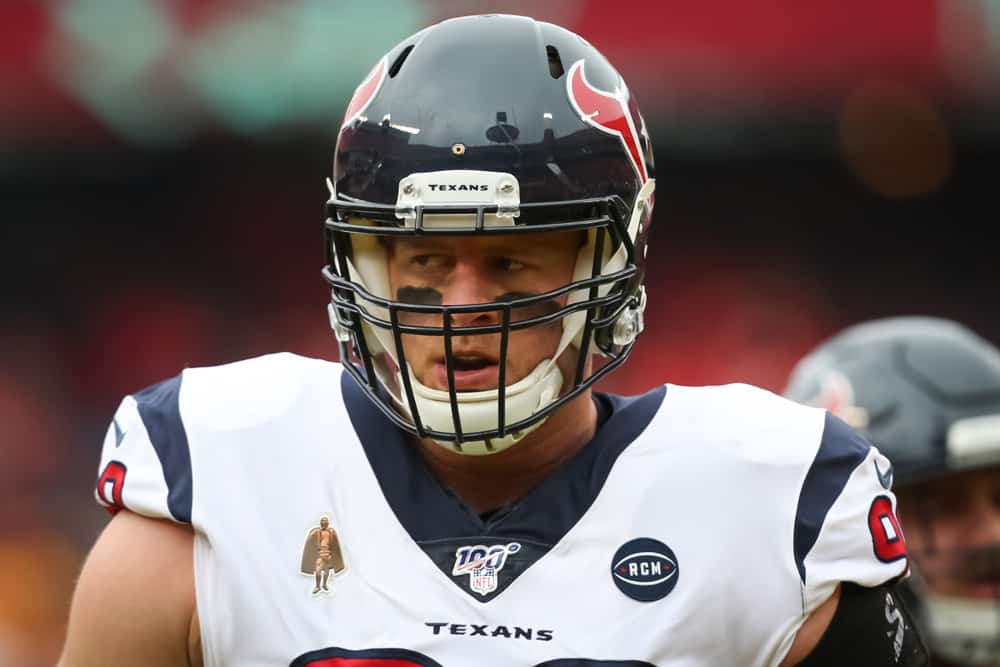 The Houston Texans released J.J. Watt on Friday and Cleveland Browns Twitter was immediately in a frenzy.
Should the Browns make a run at Watt?
What would it cost to sign him?
No matter what fans think, the Browns are already being linked to Watt.
ESPN's Field Yates also brings up a great point about why it could be an easy match.
The Browns are a really interesting suitor for JJ Watt: a playoff team poised to improve next year, but in need of more DL.

Also, Cleveland has plenty of cap to work with, so wouldn't be limited to a one-year, small money deal. He'd add a ton to that locker room and defense.

— Field Yates (@FieldYates) February 13, 2021
So what would a Watt deal look like?
What Could the Browns Offer Watt?
At this point in the year, the Browns are projected to enter the new league year with over $21 million in cap space.
As Yates points out, the Browns could easily give Watt a multi-year deal without worrying too much about the money.
The defensive end was set to earn $17.5 million this season in Houston.
So realistically, the Browns could easily offer him likely up to $15 million per year if they did in fact want to make the best case for signing him.
The front office can get creative with extensions for Denzel Ward and Baker Mayfield and work around those in a way to avoid any "salary cap hell" in 2021.
Another option is to offer him in the $12-15 million range for one year and structure a second year with a low dead cap value.
However, it all depends on if Watt wants a fully guaranteed deal or if his only goal is to win.
What Should the Browns Offer Watt?
This is the ultimate question.
Just because the Browns have so much cap space doesn't mean it should be applied to a player who will turn 32 years old in March.
He has also dealt with major injuries throughout his career, but was able to play in all 16 games during a brutal 2020 season for the Texans.
The Browns would be hoping the five-time All-Pro would return to his healthy ways while also being realistic.
Every season J.J. Watt has qualified, he has finished as a top-10 player at his position:
🔹 2011 – 75.1 (8th)
🔹 2012 – 92.3 (2nd)
🔹 2013 – 93.2 (1st)
🔹 2014 – 92.7 (1st)
🔹 2015 – 91.6 (2nd)
🔹 2018 – 90.5 (3rd)
🔹 2019 – 87.0 (9th)
🔹 2020 – 85.5 (7th) pic.twitter.com/1OIbLqsqtR

— PFF (@PFF) February 12, 2021
A favorable offer would be a one-year deal worth $10-12 million.
Watt gets his wish of playing for a contending team and the Browns would still have plenty of money for extensions and other free agents.
Now of course, some fans are going to freak out about giving $10 million to Watt.
That is just the way the fandom goes.
But this amount is a huge bargain if he ends up being healthy and even playing at three-quarters of his top abilities.
The idea of a multi-year deal makes more sense as well if Watt gets around $10 million on the high end, but in a fully guaranteed two-year deal.
The question is if he would take such a pay cut.
That may come down to whether he believes winning is more important than money at this point in his career.
2021 could be all about just taking a one-year deal with a contender and worrying about one final big deal starting in 2022.
Teams won't be as concerned about the cap once revenue is back to normal and he can have negotiations that don't come out of nowhere because of a release.
Overpaying a bit for Watt may be worth it if it is simply a one-year plan while the former top picks, aside from Myles Garrett, are still on cheap deals.