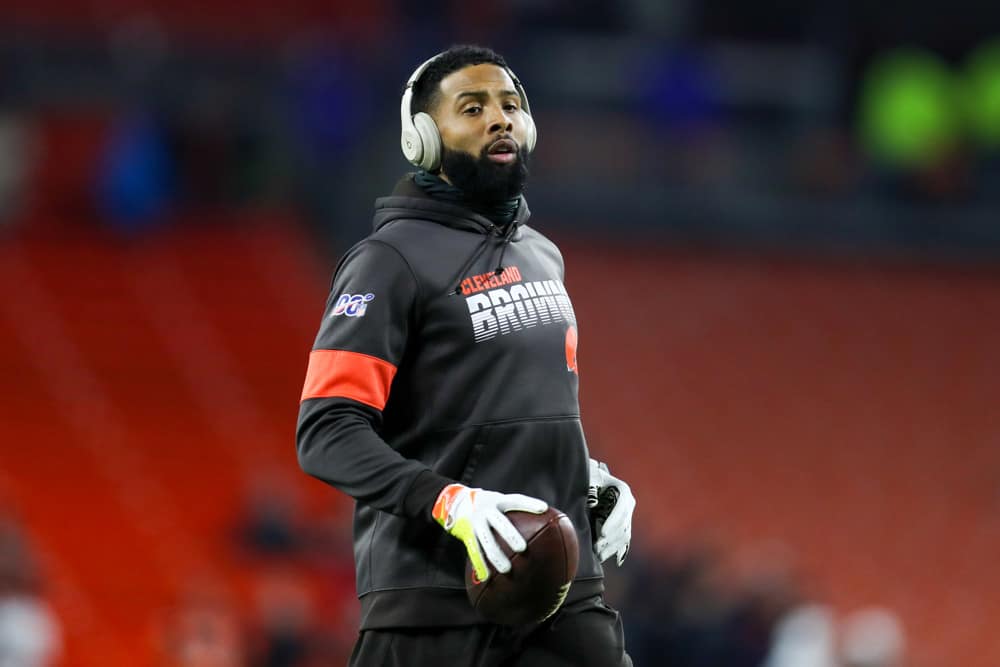 Kevin Stefanski ended the anticipation and questions early this week.
Odell Beckham Jr. will not suit up for the Cleveland Browns home opener this Sunday.
Browns' HC Kevin Stefanski said today that WR Odell Beckham Jr will not play Sunday vs. Houston.

— Adam Schefter (@AdamSchefter) September 15, 2021
The announcement was a bit of a Wednesday surprise after the team waited until the last minute for a decision last week.
Stefanski told reporters he felt it was prudent to let the team prepare for Houston without the uncertainty of last week.
For a coach who likes to be ultra-prepared, the early decision makes things easier.
Kevin Stefanski gives the reasoning for his decision to declare Odell Beckham Jr. out for this Sunday's game against the Houston Texans. #Browns pic.twitter.com/rMcuigHIwm

— clevelanddotcom (@clevelanddotcom) September 15, 2021
The coach's decision could also reflect a needs-based assessment taking the opponents into account.
This week's opponent, the Houston Texans, doesn't warrant the same "all hands on deck" approach the Chiefs might.
And the performance of Beckham's understudy, Anthony Schwartz, makes Stefanski's decision easier, too.
What It Means To the Browns
Anthony Schwartz stepped into the OBJ role last week versus Kansas City.
Baker Mayfield hit him for a big gain early on which Schwartz sped past two defenders.
He didn't play a huge role from there on out, but he put the Chiefs on notice to pay attention to the rookie.
Anthony Schwartz making PLAYS @AuburnFootball ⚡️⚡️⚡️

— PFF College (@PFF_College) September 12, 2021
Cleveland plays a Houston team that picked off Jacksonville's Trevor Lawrence 3 times last week in a strong victory.
But Baker Mayfield plays behind the top-rated offensive line and a stronger running game.
Schwartz should be able to beat the Houston secondary deep, and Mayfield will have the time to deliver.
What About The Other Receivers?
Beckham Jr. wasn't the only weapon Cleveland left off the table last week.
Donovan Peoples-Jones was on the field for most of the game but only saw one target.
And even that required an audible from Mayfield, who spotted DPJ in a 1-on-1 situation on third down.
Anthony Schwartz got the targets (5 to 1) in Week 1, but Donovan Peoples-Jones easily held the edge over the rookie in snaps (44 to 28) and routes (25 to 16). DPJ a sleeper this week vs. Houston.

— Mike Clay (@MikeClayNFL) September 15, 2021
Rashard Higgins did not see a single target and only made it on the field for 4 offensive snaps.
And that was 4 snaps more than running back-wide receiver Demetric Felton saw.
It remains to be seen if Stefanski will use a more varied receiver mix against Houston.
Odell Beckham's Prognosis 
It is important to note that Odell Beckham's condition was not discussed.
There is no indication the veteran wideout suffered any kind of setback.
Beckham's offseason videos and optimistic training reports led fans to hope for an early return.
WR Odell Beckham Jr. won't play Sunday, Stefanski says. He will continue to practice on a limited basis.

— Andrew Gribble (@Andrew_Gribble) September 15, 2021
But the fact remains to rehab an ACL tear is usually a one-year-long endeavor.
Should Beckham Jr return before November, he beats the typical timeline.
And Cleveland has the weapons to wait until OBJ is 100% before he returns to the lineup.