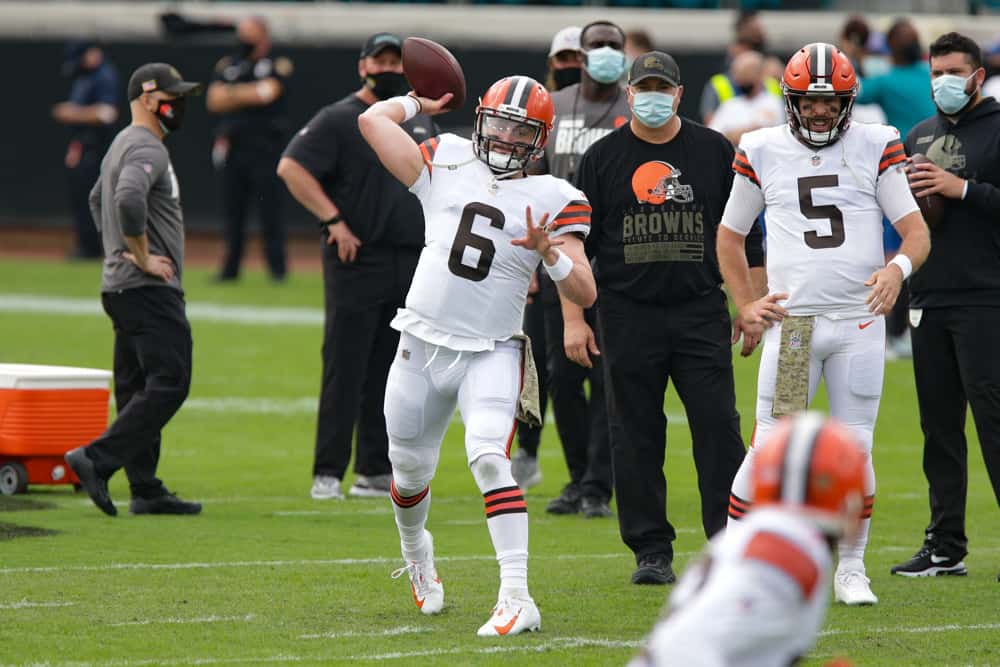 Andrew Berry and Kevin Stefanski got a lot out of the Cleveland Browns roster this season.
But after exceeding expectations with a divisional-round playoff appearance, they face a whole new challenge.
How do they do it again in 2021?
#Browns QB Baker Mayfield: We're setting a new standard here. We're going to be back.

— Scott Petrak ct (@ScottPetrak) January 17, 2021
Cleveland is not in an awful position with their salary cap, with the tenth-most dollars available among NFL teams.
But they have a slew of free agents and extension-eligible players they have to take care of.
That will lead to some creative juggling of contracts and moves from the analytically-adept front office.
Some of them will be more creative than others.
Here are 3 bold offseason predictions for the Browns.
1. Browns Sign WR Keelan Cole
Berry has some gaping holes to fill on defense with his five top tacklers and two other starters eligible for free agency.
Pretty much every decent linebacker, defensive back, and edge rusher is on some Browns fan's must-sign list.
But in a bold move, Berry's biggest move will be on the offensive side of the ball.
Wide receiver Keelan Cole will step in as the Browns' third wide receiver.
Keelan Cole puts the #Jaguars on top, and look at the punter! 🤣pic.twitter.com/hSYNJoEfLs

— Pro Football Network (@PFN365) November 15, 2020
Cole stepped into the slot role for Jacksonville last year and had a career-high 55 receptions.
But he is a natural outside receiver and provides a much-needed speed threat for Mayfield.
He had a pair of 75-yard catches as a rookie and a team-record 91-yard punt return this year.
Odell Beckham and Jarvis Landry tie up a lot of money in the first two spots.
Cole will sign for considerably less than what Rashard Higgins demands on the market.
And that will help Berry fill some more holes on defense.
2. Browns Trade For J.J Watt And Stephon Gilmore
Berry and the Browns have some big contracts to pay out in the years ahead.
That is why the general manager will offer a bunch of 1-year, low-ball free-agent contracts again.
But he also knows the team is a couple of impact defenders away from a Super Bowl run.
How much do teams still have to game plan for @jjwatt? Here are all the RB runs in the second half of the Titans game in 59 seconds. pic.twitter.com/bbjkNyHJ9t

— Seth C. Payne (@SethCPayne) January 22, 2021
And that is why he makes two big trades before the draft, landing not just JJ Watt, but Stephon Gilmore, too.
Watt would love to go to Pittsburgh with his brothers, but they won't offer enough in return.
And the only thing better than playing on the same team is beating your brothers twice a year.
Houston will ask for a high draft pick, but they won't get it for an oft-injured star nearing the end of his career.
But pairing a mid-rounder with a late-round pick should get it done.
The reigning DPOY Stephon Gilmore picks up right where he left off 👀
pic.twitter.com/wHNgxyLfGm

— PFF NE Patriots (@PFF_Patriots) September 13, 2020
Meanwhile, New England has dire needs on offense heading into 2021.
Bill Belichick prefers Harrison Bryant, but he'll take David Njoku along with Greedy Williams instead.
Gilmore had a down season statistically, but the numbers belie the fact quarterbacks avoided him at all costs.
And with Denzel Ward on the other side of the field, where will they go?
3. Browns Trade With Jaguars And Net 2 DBs In Draft
With a couple of day 2 and 3 picks already gone, Cleveland has to be careful with what they have left.
When his first pick comes up, Andrew Berry will have his wish list ready.
But when he realizes he can land his biggest remaining fish later in the day, he'll trade down with someone.
In my scenario, he balances out two picks with the Jacksonville Jaguars on draft day.
Jaycee Horn averaged 27.4 coverage snaps per catch allowed in 2020.

Most in college football. pic.twitter.com/YIrQxlGf24

— PFF Draft (@PFF_College) January 17, 2021
Unsure whether one of their prized targets will fall to their third pick at #33, the Jags are ripe for the taking.
Berry knows he has a few targets likely to be on the board for a while.
So he gives up Cleveland's #26 and #59 for the Jaguar's #33 and #45.
With those picks, he lands Oregon safety Javon Howard and cornerback Jaycee Horn of South Carolina.
Howard is the top-ranked safety in many mock drafts and Horn had the best catch-allowed-per-coverage-snap rate this season.
Cleveland Wins the Offseason Again! 
Successfully negotiating the deflated salary cap while salvaging key free agents is a fete in itself.
Keeping players happy and engaged while extending only one or two of the eligible players is magic.
Adding proven value at two key positions via trade is masterful.
And drafting multiple rotational pieces with future starting potential wins the offseason.
Our 2021 opponents are set 👀

📰 » https://t.co/Lc9bYNG6sa pic.twitter.com/Dx7XlfvYRF

— Cleveland Browns (@Browns) January 4, 2021
With Covid in the rear-view mirror and a 17th game to add revenue, things should be easier in 2022.
Even with well-deserved extensions for a handful of players, there should be room to grow.
And the Cleveland Browns dynasty will roll on.