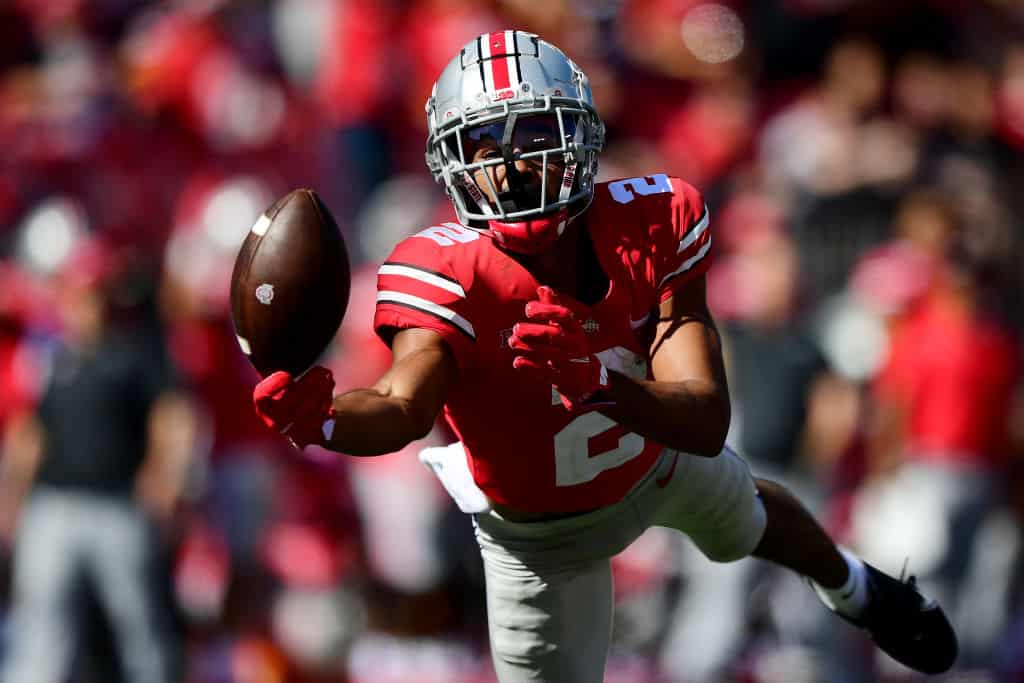 Now that the 2022 NFL Combine is underway, we can expect a daily dose of meetings between Cleveland Browns' front office members and draft prospects.
Today's report of this nature comes from Ohio State wide receiver prospect Chris Olave who gave a ringing endorsement of the Browns after sharing that he had a meeting with them on Monday.
Ohio State WR Chris Olave has met with the Browns and said he would love to stay in Ohio because of the amazing fanbase. #Browns pic.twitter.com/IR6kHHTcjw

— Hayden Grove (@H_Grove) March 2, 2022
What Olave Said
Olave said that he would love to stay in Ohio and admires the great organization and loyal fanbase the Browns have.
Ohio State WR Chris Olave says he did meet with the #Browns and calls them a "great organization." pic.twitter.com/vQMdDCShGX

— Brad Stainbrook (@StainbrookNFL) March 2, 2022
It is not surprising that the Browns met with Olave.
Wide receivers are a definite need for the 2022 Browns roster.
Olave is not the only receiver the Browns have met with.
Receivers in the NFL Draft that have met with the Browns:

Ohio State WR Garrett Wilson
Ohio State WR Chris Olave
Arkansas WR Treylon Burks
USC WR Drake London
Penn State WR Jahan Dotson#Browns

— Hayden Grove (@H_Grove) March 2, 2022
Hayden Grove is reporting that the Browns met with four others including Olave's teammate Garrett Wilson.
Others the Browns met with are Arkansas's Treylon Burks, USC's Drake London, and Penn State's Jahan Dotson.
The Browns are involved in due diligence on these prospects.
NFL Network's Daniel Jeremiah projects that London will be the first one off the draft board.
He has him as the No. 7 overall pick going to the New York Giants.
The Browns pick at No. 13, and all indications have been they are picking a defensive end.
There is so much we don't know so it is difficult to read the tea leaves if any of these meetings indicate a desire to draft WR quicker than Jeremiah is projecting.
On March 16, we will learn more as it is yet to be determined if the Browns will re-sign free-agent defensive end, Jadeveon Clowney.
Olave Is Projected To Go In The Middle Of First Round
Jeremiah has Olave going at No. 17 to the Los Angeles Chargers.
Olave, 21, was a four-year player at Ohio State.
In 38 career games, he caught 36 touchdown passes and accumulated 2,711 receiving yards.
His average yards per reception were 15.4.
These are promising numbers, and Olave is familiar with Ohio and the Browns so he could jump in and be an impact player immediately if the Browns select him.