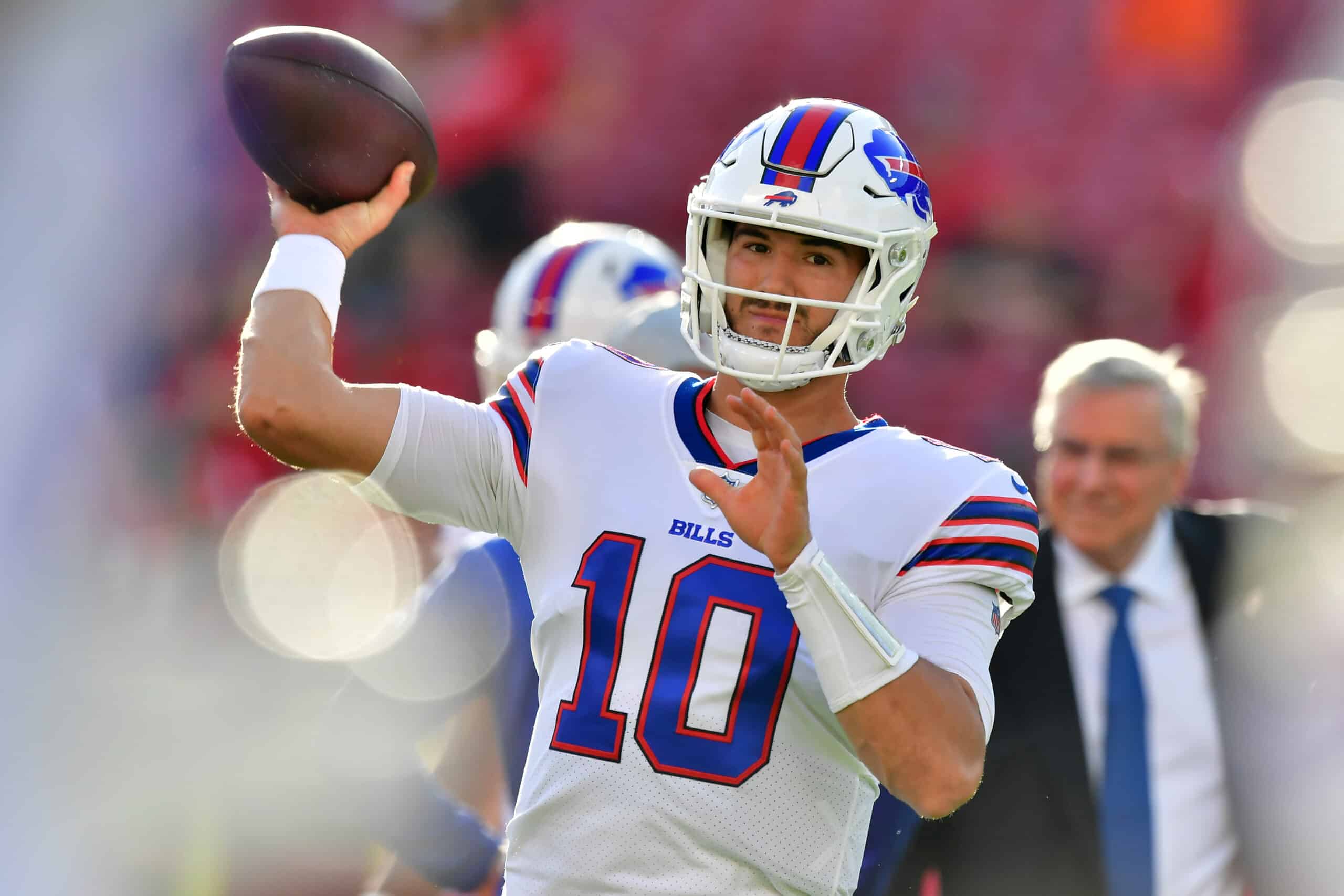 Quarterbacks dominated much of the conversation in NFL Combine press conferences yesterday.
This is kind of odd since the 2022 NFL Draft is considered weak in quarterbacks.
Andrew Berry used a chunk of his 14-minute interview talking about the Cleveland Browns' starter, Baker Mayfield.
I've talked to more NFL teams this week about Mitchell Trubisky than the 22 QB class.

I think that says a lot.

— Matt Miller (@nfldraftscout) March 1, 2022
But GMs and coaches brought up another quarterback at many of the press sessions.
"I've talked to more NFL teams this week about Mitchell Trubisky than the '22 QB class. I think that says a lot," Matt Miller, ESPN NFL draft analyst,
Those in the know downplayed rumors of major veteran quarterbacks changing teams this year.
So, with trades and the draft offering limited possibilities, it makes sense the free-agent passers are next up.
NFL teams dove into the 2022 QB draft class and came up saying "Mitch Trubisky looks like a starter".

— Jeff Bell (@4WhomJBellTolls) March 1, 2022
But there aren't any sure bets among their ranks, either, with most hoping teams look past some bad experiences.
Is there another Ryan Tannehill story waiting to be told in the 2022 NFL season?
Well, here are 3 reasons the Browns might consider signing Mitch Trubisky.
1. Trubisky Can Run a Baker Mayfield Offense
When Kevin Stefanski came on board, Case Keenum seemed like the perfect quarterback to come with him.
The veteran could be seen as a non-threatening mentor with enough in the tank to play a few games in a pinch.
Entering his third year in the Stefanski offense, Baker Mayfield shouldn't need a mentor anymore.
He needs a backup who can step in and maintain the flow of Cleveland's offense at a game-winning level.
2017 NFL Draft Analysts who had Mitch Trubisky over Watson & Mahomes.

Mel Kiper
DJ
Bucky
Riddick
Reuter
Zierlein
Casserly
Mayock
Schrager
McShay
Matt Miller
Peter King
Evan Silva
La Canfora
Tuls
Easterling

— Max Markham (@MaxMarkhamNFL) May 9, 2020
Keenum won both of his starts last year, but the offensive pace was noticeably slower.
Mitch Trubisky has the skill set to be a slightly taller version of Baker Mayfield.
He is quick enough to handle the rollouts and motion and keep the flow going mid-game or as a relief starter.
Trubisky's arm strength is not as impressive as Mayfield's, but he has more zip than Keenum.
2. Trubisky Has The Right Personality
Cleveland's best-case scenario for 2022 is a healthy Baker Mayfield returning to his late-2020 form.
But that might not be enough for Mayfield to avoid some feelings of impending doom.
Mayfield is in the final year of his rookie deal, and he needs to improve his defensive reads and progressions.
Even Trubisky's height advantage (he is 6'2″) could be seen as a threat after every batted down pass attempt.
#Bills GM Brandon Beane on impending FA QB Mitch Trubisky: "He's a marry-your-daughter type of guy."

Says he was a such a pro in Buffalo and never once brought up what went wrong in Chicago. Beane said he thinks he'll get a chance to compete to start somewhere this offseason. pic.twitter.com/t94H97Ali7

— Ari Meirov (@MySportsUpdate) March 1, 2022
But if anybody can handle the potential QB-room tension and keep Mayfield engaged, it is Trubisky.
Buffalo GM Billy Beane described the former Bear and Bill as a "marry-your-daughter type" of guy.
Trubisky can commiserate with Mayfield about the expectations that come with being a top pick ahead of bigger stars.
Teammates will like Trusbisky, and he'll be ready to step in, while remaining content to play second fiddle to the starter.
3. Trubisky Adds ToThe Offense Now and Later
Several teams with open starting positions express some interest in Mitch Trubisky.
This means landing him will cost at least as much as Case Keenum, which kind of defeats one purpose.
But an incentive-laden deal with an out if Mayfield scores an extension brings some worthwhile benefits.
Trubisky has some running prowess, as demonstrated by a 22-yard scamper for Buffalo last year.
#Bills QB Josh Allen on Mitch Trubisky: "The dude is an athlete. I don't think people really understand that. You give him leeway in an offense to have that mindset of, 'See it, do it, we trust you.' He's going to kill it."

(via @JFowlerESPN) pic.twitter.com/IuWbTH0U7f

— CTB (@catchtheblitz) February 22, 2022
If Mayfield continues to struggle on third downs, Trubisky presents a Marcus Mariota-type of option for Stefanski.
Should the Browns' worst fears be realized, Trubisky brings a lot of upside as a fill-in for an injured or ineffective Mayfield.
And Berry could save a lot of time having a viable option in the house now as opposed to waiting for 2023.
But then again… 
Multiple teams reportedly plan to kick the tires onTrubisky as a starter in their 2022 plans.
And having already carried the clipboard for one season, he is probably anxious to jump back in the saddle.
There is always a chance playing near his Ohio hometown entices Trubisky.
But short of expressing a true opportunity to displace Mayfield, that is not likely to be enough.
Andrew Berry on Baker Mayfield:

"The reality of it is we've seen him play at a high level before. I think, being realistic, the injury does have some impact on his performance. But we're focused on him getting healthy. We know he works. We think he's talented." #Browns pic.twitter.com/eXF9uEGSJT

— clevelanddotcom (@clevelanddotcom) March 1, 2022
Berry won't get into a bidding war with New Orleans, Tampa Bay, Washington, or other teams looking for a starter.
If Cleveland is looking for a Mariota-type backup, there are other options like… Marcus Mariota.
And they could do worse than leaving Case Keenum in place, probably at a renegotiated price.
But if Berry and Stefanski are truly worried about Baker Mayfield, we wouldn't rule anyone out.