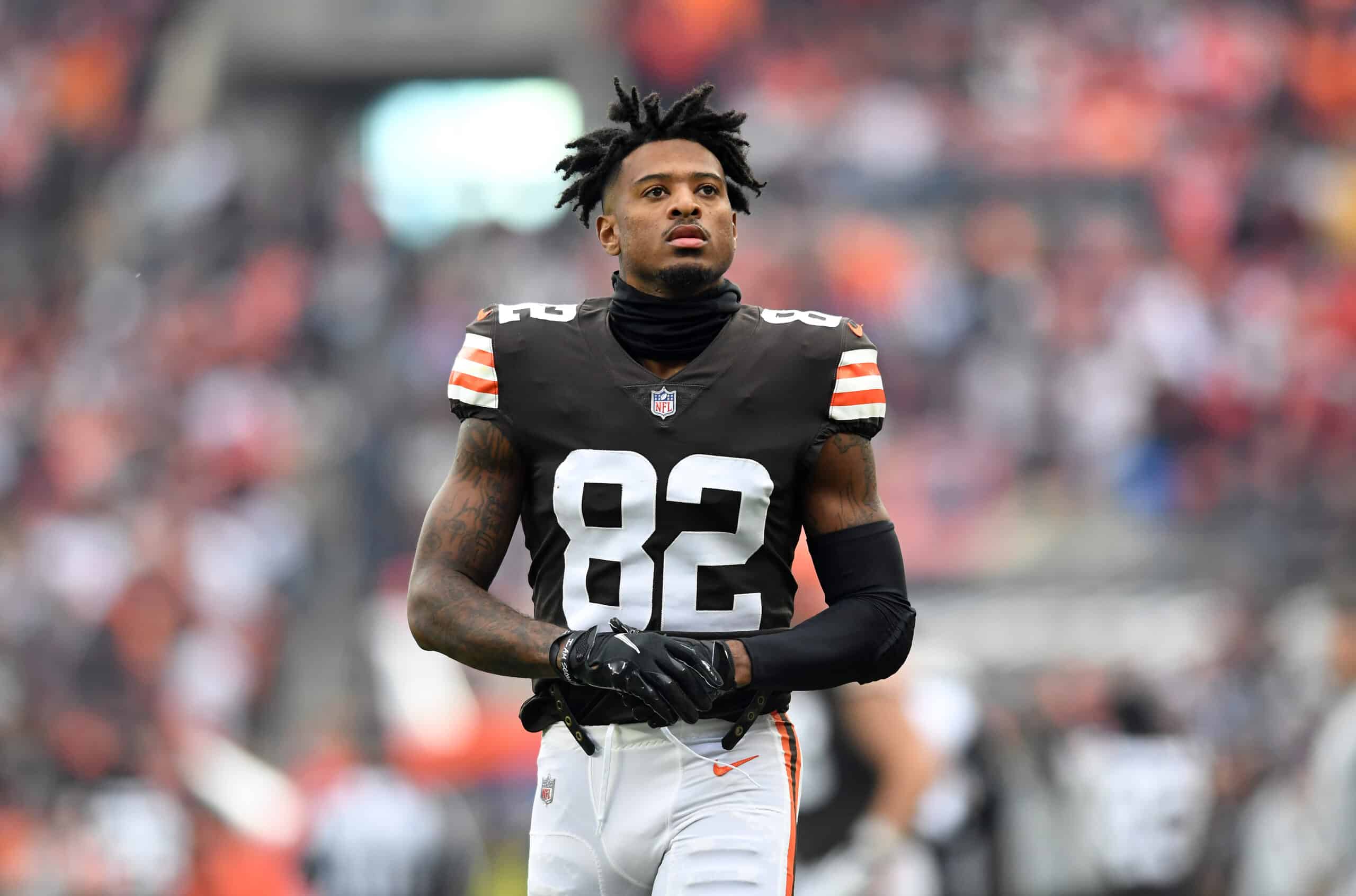 North Carolina is the new Hollywood.
On Wednesday, the Carolina Panthers announced the signing of former Cleveland Browns wide receiver Rashard Higgins.
Per multiple sources, it is a one-year deal for "Hollywood" Higgins with the Panthers.
Source: Ex-Browns WR Rashard Higgins has agreed to a one-year deal with the Carolina Panthers

— Jake Trotter (@Jake_Trotter) March 16, 2022
The Higgins drama in Cleveland has finally ended.
From star performances to being benched without explanation, it's been a wild ride for Higgins.
Now, he beings anew in the NFC. Plenty of Cleveland fans will be sad with his departure.
However, the relationship between him and the franchise is ultimately what led to this.
Trouble in the Kitchen(s)
Higgins burst onto the scene in 2018 with the Browns.
He posted then-career highs across the board offensively.
He seemed poised to be one of Baker Mayfield's favorite targets for years to come.
Then, in 2019, everything took a turn for the worse.
Rashard's targets went from 53 to 11, with total receiving yards dropping from 572 to 55.
Under then-head coach Freddie Kitchens, problems stirred that season for more than one player.
For Higgins especially, however, that year stung.
It's especially concerning when you consider Higgins blossomed under Kitchens the second half of the previous season.
Under Freddie Kitchens (Weeks 9-17) last year, #Browns Rashard Higgins generated a 131.0 passer rating when targeted, 5th best in the NFL (min. 30 targets).

— PFF CLE Browns (@PFF_Browns) May 20, 2019
In a narrow October loss to Seattle in 2019, Higgins did not play despite being medically cleared to do so.
Higgins told ESPN he was confused why he didn't play.

He was cleared by the doctors earlier this week.

Freddie Kitchens wanted him to rest… against a very very good football team.

Freddie Kitchens should be held accountable. #Browns

— Brad Stainbrook (@StainbrookNFL) October 14, 2019
More "DNP's" and a drop in targets continued that season for Higgins.
Revival… Or is it?
Enter Kevin Stefanski, who seemingly revived the impact of Higgins.
He resurged in 2020, seeing his usual number of targets and posting great numbers.
In just 13 games he hauled in 37 passes for 599 yards and four touchdowns.
Everything seemed just fine. In 2021, it's like 2019 happened all over again.
Prior to a Week 12 battle with Baltimore, the Browns listed Higgins as inactive despite no injury.
This had plenty of folks scratching their heads.
One unproven theory has been put on social media, but again there is no evidence to support this.
Somebody decided to make a commercial for a local car dealership and skip out on the Browns pre-Thanksgiving charity events. You didn't hear that from me… https://t.co/DFbwTJYZew

— WRXchad (@WrxChad) November 29, 2021
In Week 14, Higgins sat out most of that second bout with the Ravens as well.
We may never know what, but it is clear something happened with Higgins last season that had an impact around the locker room and with the coaching staff.
Hollywood Heads South
Now Higgins is a Carolina Panther. It's a good acquisition for the Panthers who have a decent receiving core but need depth.
They extended both Robby Anderson and D.J. Moore this past year, and Terrace Marshall Jr. is back as well.
Higgins once again finds himself in a situation with talent ahead of him on the depth chart.
That should be fine for him, however, as in two separate seasons he excelled in that role in Cleveland.
As the saying goes, sometimes a change of scenery is all that's needed.
The grass isn't always greener on the other side.
For Higgins, he's certainly hoping to see a "greener" green.