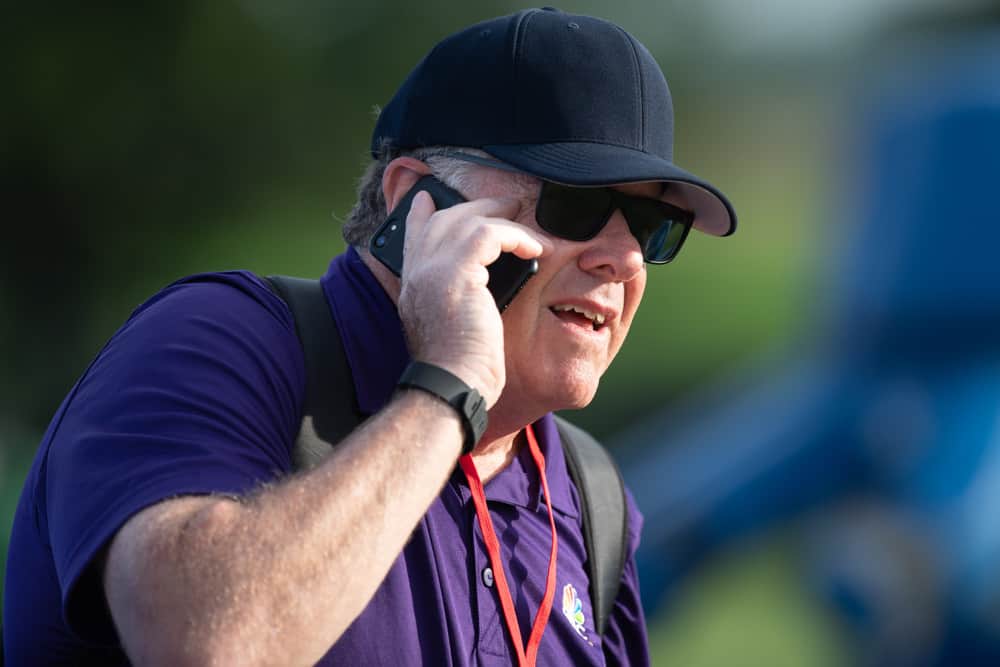 The Cleveland Browns off to a 1-1 start with Baker Mayfield recently playing well against the Cincinnati Bengals.
While many people think Mayfield can have an outstanding season, Peter King recently mentioned a regret he thinks the Browns will have.
On NBC's Pro Football Talk, Peter King and Mike Florio recently talked about 3 teams that should regret passing on Cam Newton.
Both King and Florio had the Cleveland Browns on their lists.
The Browns were the only team they had in common.

King and Florio's Lists
Besides the Browns, Peter King's list included the Jacksonville Jaguars and the Denver Broncos.
Unlike King, Florio had 4 teams on his list; the Browns, Chicago Bears, New York Jets, and Cam's former team, the Carolina Panthers.
The logic isn't hard to figure out.
None of these teams had a starting quarterback setting the world on fire in 2019.
Peter King's Take
Peter King said that the Browns have seen 2 years of Mayfield.
He asked the hypothetical question of whether the Browns are happy with who they have.
King described an NFL behavior of being extremely fair to the overall 1st round draft picks.
He thinks bringing Newton to camp would have motivated Mayfield, and there could have been a competition for the starting job.
King described the strategy as a way to "stick a burr in him (Mayfield)".
Mike Florio's Take
Florio's take is also interesting.
He believes Mayfield's performance last year is part of the reason Freddie Kitchens was fired so that was his rationale for the Browns signing Cam.
Cam Newton's Stats
Coming into the season, no one really knew the condition of Cam's health, and the pandemic didn't help in learning how he was feeling.
Thus far this season, his health seems fine, as are his stats.
Cam Newton completions 10+ yard downfield in Week 2: 15

The most of any QB. pic.twitter.com/HiS1ONTxqy

— PFF (@PFF) September 21, 2020
In Week 1 vs. Miami, he was 15 for 19 for 155 yards.
He also rushed for 75 yards and 2 TDs.
Week 2 against Seattle was a more difficult matchup against a higher caliber opponent; however, Cam performed well.
He completed 30 out of 44 passes for 397 yards and 1 TD.
Again he rushed for 2 TDs on 47 yards and threw 1 INT.
The Patriots are 1-1.
Baker Mayfield's Stats
Baker, and the majority of the Browns, had a bad game in Week 1 against a polished Ravens team.
He completed 21 out of 39 passes for 189 yards which included 1 TD pass and 1 interception.
In Week 2 against rookie QB Joe Burrow and the Cincinnati Bengals, he improved greatly.
He was 16 for 23 for 219 yards, including 2 TD passes and 1 interception.
.@bakermayfield finds @obj FOR SIX! 😱

📺: https://t.co/xCYUKnVxnh pic.twitter.com/PXLKQI8WDB

— Cleveland Browns (@Browns) September 18, 2020
The Browns are 1-1.
Conclusion
Both teams have won the games they should have against weaker opponents.
It's too early to call if the Browns should have signed Cam Newton.
Only 2 games have been played.
Cam also has the GOAT for a head coach, Bill Belichick.
Whereas, Baker is on his 3rd head coach in 3 years, rookie coach Kevin Stefanski.
It really is an apples to oranges comparison at this point.
But the idea of the Browns signing Cam Newton may not completely be a done deal.
His contract with the Patriots is only a 1 year deal for 2020, and as everyone knows, 2020 is Baker's make or break year.
But if Cam continues to perform well, it is likely the Patriots will give him a longer-term deal.
However, the Browns should have cap space to make him an offer also, so time will tell.