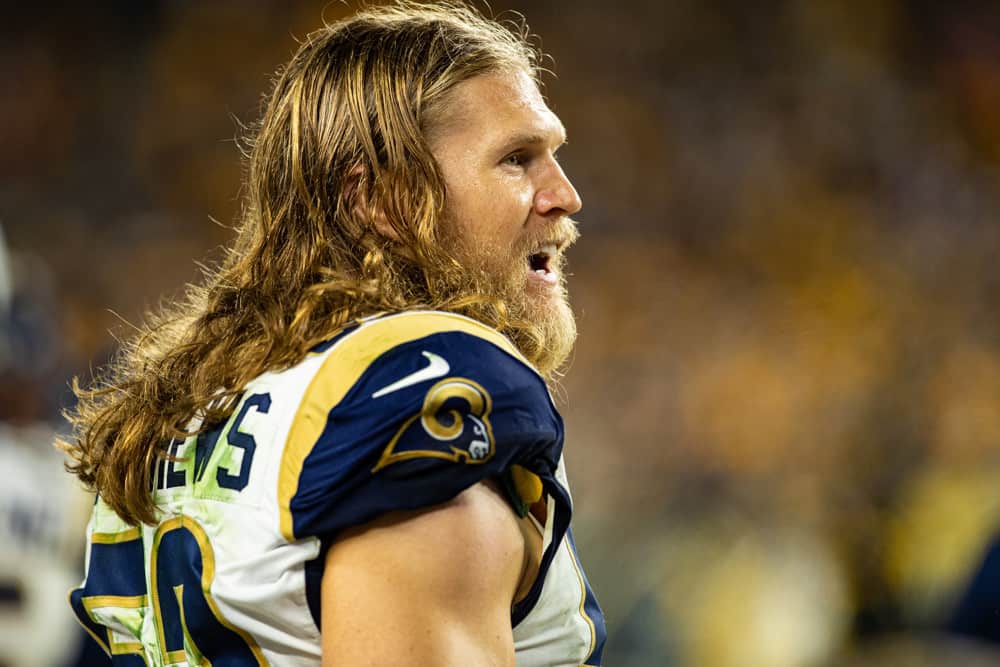 The depth chart does not lie.
When looking at the Cleveland Browns, the position of linebacker is not very deep.
B.J. Goodson and Sione Takitaki appear to be the team's starters, while Jacob Phillips, Tae Davis, and Willie Harvey appear to be backups.
With Clay Matthews still on the market, it makes too much sense to bring him in.
So, why haven't the Browns made the move?

Veteran Help
Matthews would be the perfect low-risk, high reward player brought into the club.
The 34-year old may not be the same guy that landed endorsement deals with the Packers, but even on a down year, he still managed eight sacks in 13 games with the Rams.
New defensive coordinator Joe Woods could use a player that can make a difference on the edge and be utilized as a pass rusher.
Matthews has the ability to serve the Browns as a veteran, Super Bowl-winning mentor, and provide minutes on a backup basis.
Veteran Clay Mathews from the #Packers shows #LARams fans why he is still valuable and the #Panthers what happens if you blow an assignment vs him – 1st sack of season for #Rams #LARvsCAR pic.twitter.com/d9IalWMgCj

— 🎯Steven Van Over (@StevenVanOver) September 8, 2019
The Injury
For those of you who are wondering why Mack Wilson's name was not mentioned, this is why.
Mack Wilson suffers knee injury, undergoing evaluation

📰 » https://t.co/oxrmYo8RAE pic.twitter.com/1EcWWJKsAs

— Cleveland Browns (@Browns) August 18, 2020
As of now, we do not know if Wilson is seriously hurt.
Even if Wilson is hurt and out indefinitely, a player like Matthews is exactly what is needed.
The Browns are not deep at the position and those players that are filling back up roles are not proven.
Matthews has the stats and reputation to step in immediately.
Browns LB Mack Wilson still could miss significant time even if no surgery needed on his hyperextended knee injury, per source. Wilson will find out more tomorrow. Returning before October would require a major effort.

— Jeremy Fowler (@JFowlerESPN) August 19, 2020
Your Take
After finding out that Wilson was hurt, fans took to Twitter to voice their support in bringing Matthews to the Browns.
With Mack Wilson done for the year, @browns need to use some cap space or trade Njoku for a linebacker. Maybe sign clay Mathews

— NE👀L 🐝 ❎ (@MAGAnoo) August 18, 2020
@TonyGrossi is Clay Mathews still available & is he even a possible replacement in a similar position as Mack? Or, is Mathews more of a pass rush specialty only?

— Cleveland Brown (@Brownswillroll) August 19, 2020
In Conclusion
It's not looking promising for the future of Wilson.
The Browns need a fix and fast given how soon the season is going to come up.
Realistically, Matthews is not the old Pro Bowl version of himself, but he would provide a band-aid for the moment.
The Browns want to compete and Matthews brings everything that symbolizes "winner."
This might be the best and quickest fix for the team's defense.