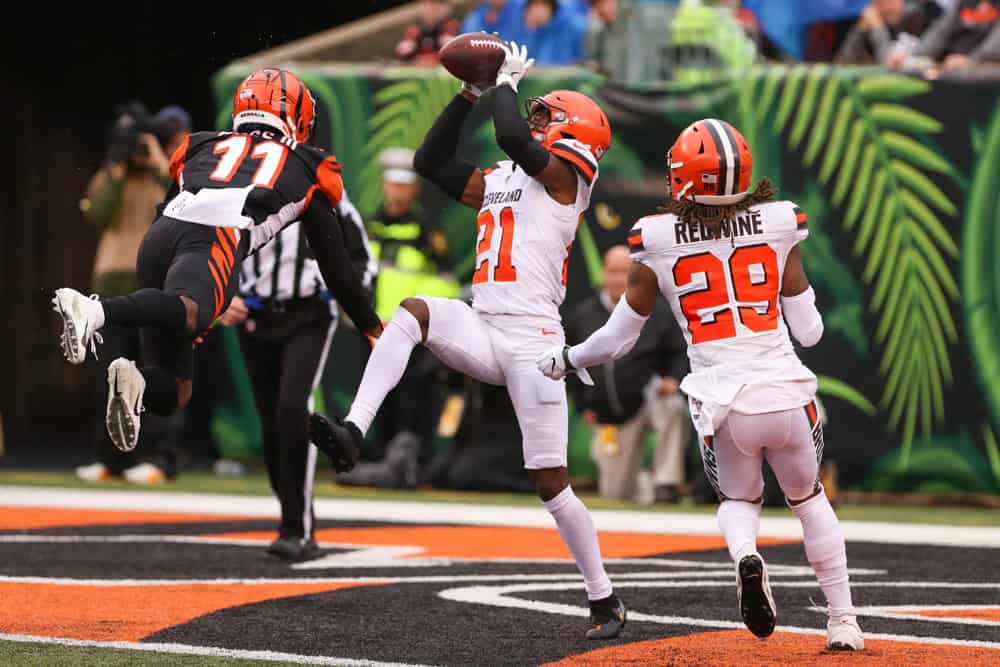 The Cleveland Browns have made some significant improvements to their defense over the last few seasons.
One of the major areas that has been revamped is the secondary position.
The Browns are loaded with young talent in the secondary such as Greedy Williams, Denzel Ward, and newly drafted Grant Delpit.
These young studs should be to hold down the Browns secondary for years to come.
Sam Monson at Pro Football Focus has ranked the Browns at No. 13 in his league ranking of the best secondaries in the league right now.
That's fairly impressive for a team that struggled to win a single game just a few seasons ago.
Here's what Monson had to say about the Browns secondary:
"Cleveland's defensive backs have not been put in the best position to succeed in recent years, despite some significant draft capital thrown at the secondary. However, Denzel Ward has still shown some very impressive play. In the NFL, Ward has allowed a 64.9 passer rating when targeted, with fewer than 50% of the passes thrown his way being caught. He has been one of the better man-cover corners in the league and had four games last season with fewer than 20 receiving yards allowed."
The Joe Woods Factor
Here's what Monson had to say about the addition of Greedy Williams:
"New defensive coordinator Joe Woods will be tasked with further developing Greedy Williams — a second-round draft pick last year. Williams excelled in man coverage in college at LSU, and Woods has extensive experience playing man coverage and matchup coverage shells within his coaching history. Williams struggled as a rookie, allowing a 91.5 passer rating when targeted, but if he can be better supported by the scheme, he could be in line for a major improvement in Year 2."
One of the biggest takeaways from this offseason was the addition of new defensive coordinator Joe Woods.
The Browns could be looking at some new packages on defense this season.
The linebacker situation in Cleveland is not great, which could mean that the team will deploy an extra defensive back or two.
The #Browns deployed five DBs on 83.8% of snaps last season, 7.7 percentage points more than any other team. The Vikings, where Kevin Stefanski arrives from, were No. 5 on this list & the 49ers, where DC Joe Woods arrives from, were No. 6.https://t.co/ptTc193xjW

— PFF CLE Browns (@PFF_Browns) July 28, 2020
The Browns have built a nice group of young talented players in their secondary.
That is going to play as a strength for the team heading into the 2020 season.
There is a good chance that the Browns only use two linebackers and have an extra defensive back instead.
It'll be interesting to see how Woods decides to utilize his players, but having this many talented players in the secondary is a great thing for Cleveland.
Improved Secondary
Here's what Monson had to say about the safeties:
"Safety is an area where the team now has intense competition for playing time, with new faces joining from both free agency and the draft. Karl Joseph and Andrew Sendejo add veteran experience to the group, while rookie Grant Delpit gets to reunite with his college teammate from LSU a year later. Second-year player Sheldrick Redwine flashed some impressive play as a rookie and will be looking to try and steal playing time, but he may be facing an uphill battle given the investment in more proven or highly-touted options."
The Browns made plenty of moves this offseason to improve their offense.
New Browns general manager Andrew Berry made sure to share the love with the defense as well.
The organization added veterans Karl Joseph, Andrew Sendejo, and Kevin Johnson who should all make a significant impact next season.
As mentioned before, the Browns still have young studs in Williams, Ward, Delpit, and even Sheldrick Redwine made strides during the 2019 campaign.
Despite having so much talent on defense there is still plenty of work to do.
The #Browns secondary is a work in progress, but the biggest impact could come from DC Joe Woods' scheme & coaching. If he works his magic, their DBs are certainly not short on talent, with four former 1st- or 2nd-round picks potentially starting.https://t.co/pXEVWLMZIl

— PFF CLE Browns (@PFF_Browns) July 28, 2020
Ward has been solid during his first two years in the league, allowing a passer rating of 64.9 when targeted.
The key for him is staying healthy, but the sky is the limit if he can stay on the field.
However, Williams is a different story and definitely needs to make some improvements.
He allowed a passer rating of 91.5 when targeted, which is No. 108 in PFF's coverage grade.
This is where the addition of Woods as defensive coordinator is going to be helpful.
Williams excelled at man coverage during his time in college, but the Browns didn't take advantage of that last season.
He heavily struggled as a rookie and it was likely because he wasn't playing man coverage.
The defensive backs aren't the only area to watch next season.
Cleveland added tons of depth at safety which gives him plenty of versatility at the position.
It'll be interesting to see how big of an impact Delpit and Redwine can make after the Browns added Joseph and Sendejo.
Honestly, this secondary should be ranked higher than No. 13, but they'll get a chance to prove themselves in a few months.