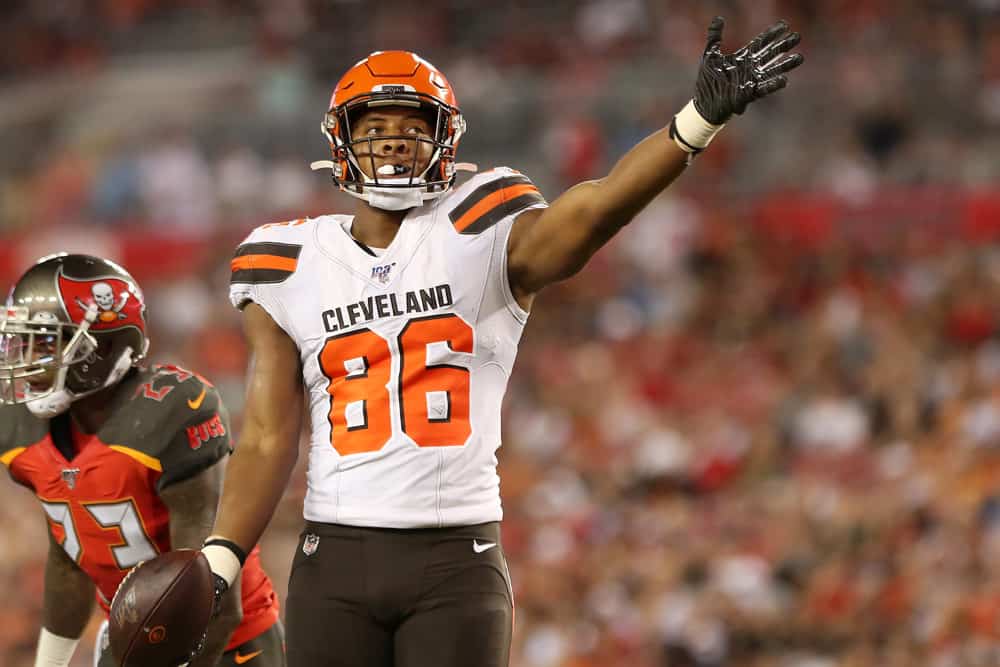 Pharoah Brown spent the first two years of his NFL career on the Oakland and Cleveland practice squads.
In 2019, the Cleveland Browns elevated him to the regular squad, where he started 6 games.
He caught 14 of his 16 targets in between performing admirably in his blocking role.
Baker to Pharoah into your phone. #Browns pic.twitter.com/egqmODMFoN

— Hayden Grove (@H_Grove) August 3, 2019
By all accounts, he was a well-liked teammate, and his Cleveland roots endeared him to fans.
He doesn't seem to be the type of guy who would consider Sunday some kind of revenge game.
But there he was, telling Houston reporters how hyped he was and how he wants to dominate the Week 2 game.
"Mentally, I think I'm in the same place [as last year]," Brown said. "I want to go out there and I want to dominate them guys."
So what gives with Pharoah Brown holding such ill will towards his hometown team?
Pharoah Brown Versus The Cleveland Browns
Brown had his first career press conference this week in his 5th NFL season.
To say he enjoyed it is an understatement, right from the start when he cautioned reporters about trick questions.
The Texans starting tight end comes off his best offensive showing yet, catching 4 passes for 67 yards.
And one of those catches was a one-handed grab in-stride on a seam route.
Pharoah Brown with an awesome one-handed grab
pic.twitter.com/dF6nOW4VQh

— Bet The Pigskin (@betthepigskin) September 12, 2021
But back to the Browns, Pharoah alluded to having similar feelings about his first trip to Cleveland as a Texan.
That was in Week 10 last year when he caught Houston's only touchdown in a 10-7 loss.
Cleveland did cut him at the end of a full preseason last year before he signed with the Texans.
Could that be the reason he wants to dominate Sunday, or is there something else?
With Family and Friends Like That…
Later in his session with Houston reporters, Brown revealed the real reason he wants to take it to Cleveland.
It seems he has to deal with a group of rowdy Browns fans on a regular basis.
"I have a bunch of family, bunch of friends that are Browns fans," said Brown. "I've been hearing it. I can block out the social media, but I can't block out the family calls. So, I hear this stuff all week, and they talk the most, those Cleveland Brown fans, they just talk the most stuff that you can ever believe. They think that they have a great team."
Checking social media, Brown's assertions about Cleveland Browns fans bear out.
But his own family and friends giving him stuff about how Cleveland will beat him Sunday?
Deshaun Watson throws a dart to Pharoah Brown for a TD to cut the Texans (+4.5) deficit to 10-7

Pharoah anytime TD +2800 ✅#BarstoolSportsbook
pic.twitter.com/kgGZ9B0TlY

— Bet The Pigskin (@betthepigskin) November 15, 2020
We don't doubt it, and in fact, we can kind of appreciate their loyalty.
Brown is expected to start at tight end this week, although there is a complication.
He missed practice Wednesday with an unspecified upper-body injury.
So there might not be anything for him to do Sunday except listen to his family and friends cheer for the home team.