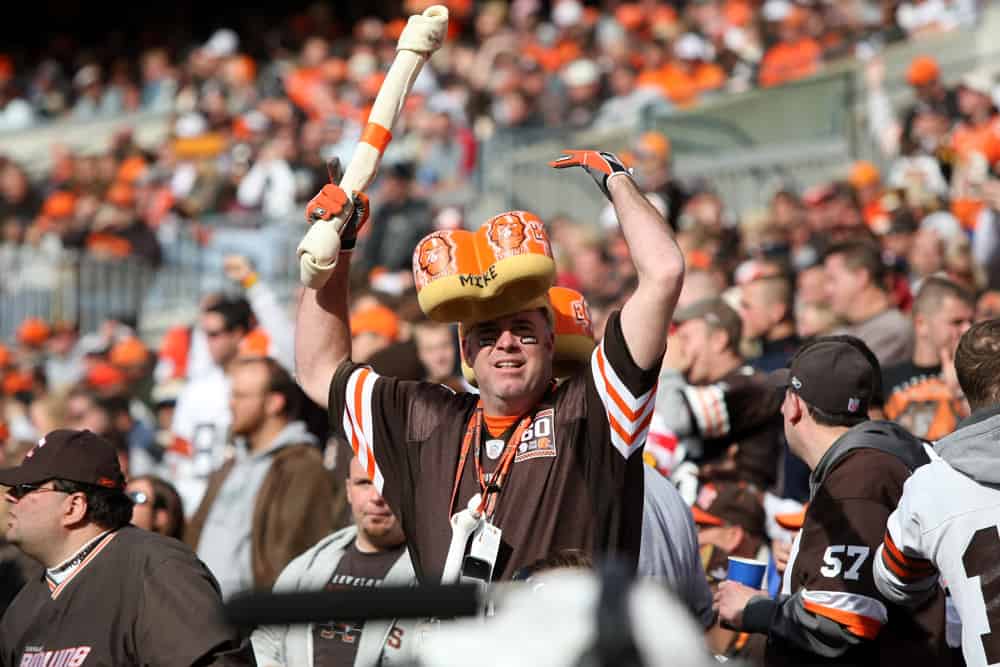 In another annual rite of the NFL offseason, CBS Sports' Pete Prisco has Cleveland Browns fans up in arms.
The sports network published Prisco's "Top 100 NFL Players of 2021" this week, with the usual response.
To be fair, such lists are difficult to compile, and it is nearly impossible to please every fan base.
And every analyst and writer worth his mettle tries to exhibit some twist that sets him apart from the others.
Here it is. My Top 100 players. Eat it alive. You will. https://t.co/L6QndGGQ8X

— Pete Prisco (@PriscoCBS) June 1, 2021
Prisco's twist appears to be that he knows nothing about the Cleveland Browns.
It is the only way to explain some of his choices and omissions.
Some fans will be happy to see more than an equitable share of players on Prisco's list.
But Cleveland landed 10 players on the more-objective PFF best position players lists just on offense.
So it is no surprise Prisco's 5 from both sides of the ball comes up short of satisfying most Browns fans.
Prisco's Most Glaring Omissions 
Browns fans took Prisco to task immediately over the omission of Baker Mayfield among 14 quarterbacks chosen.
And Prisco's introduction extolling the values of NFL passers made his omission all the more preposterous.
But Mayfield is not the most glaring omission from the Browns.
In their first 3 seasons, only two players in NFL history have at least 11k pass yds, 75 pass TD, and an 89 passer rating:

Baker Mayfield
Dan Marino

It's been a HISTORIC start to Baker's career. pic.twitter.com/yTlhEL6BgC

— CBS Sports HQ (@CBSSportsHQ) May 31, 2021
Somehow the NFL's top-rated man-coverage cornerback, Denzel Ward, didn't even rank a "just-missed" status.
Six other cornerbacks did make Prisco's list, including current free agent Stephon Gilmore.
Gilmore deserves a mention among the best corners of all time more than a current nod ahead of Ward.
John Johnson III was mentioned as a "near-miss" on Prisco's list after 7 other safeties.
Denzel Ward: 31% completion % when in single coverage the last 3 seasons

The only CB below 40% 🔒 pic.twitter.com/XuCwD3sr1K

— PFF (@PFF) January 13, 2021
There are only 2 centers on the list, but one of them is Elgton Jenkins, flipping over from guard this year.
Jenkins is good enough that Green Bay let Cory Linsley walk in free agency this season.
But is he really better at this stage than JC Tretter (or a bunch of others)?
Browns fans can argue for Jarvis Landry, and even Jack Conklin after a career year, too.
Prisco's Choices Also Raise Questions 
NFL fans, and especially AFC North fans, will debate Myles Garrett vs. TJ Watt well after the players retire.
Prisco awarded Watt the #6 spot overall, just ahead of #9 Garrett, to the dismay of Browns fans.
But that is far from the most debatable ranking
Derrick Henry and Nick Chubb rank 1-2 in many top-players lists, as the top pure runners in the NFL.
Highest PFF rushing grades since '17:
🔹 Nick Chubb – 92.9
🔹 Derrick Henry – 92.6
🔹 Aaron Jones – 91.1 pic.twitter.com/RlXZ6UB7qV

— PFF (@PFF) February 16, 2021
It is not a vicious slander to rank Henry in front of the Browns' star running back.
But Prisco saw fit to put 52 spots and 4 other running backs between the pair, dropping Chubb to 63 overall.
This is the same Nick Chubb averaging 5.6 yards-per-carry and second only to Henry in yards after contact.
Dalvin Cook (19), Christian McCaffrey (21), and Alvin Kamara (37) are great, but Chubb falling to 63 is indefensible.
Let's start off with some more great #Browns facts.

Last year the offensive line ranked first in run-blocking grade: 81.2
With a rookie changing positions on that line.
Last year the Browns had the highest pass-block grade: 86.5
And no other team was above 80 in pass blocking pic.twitter.com/BD5lg3X7qw

— Jacob Roach (@roachizm13) May 27, 2021
But at least he didn't fall into the 80s like Aaron Jones (84) and Saquon Barkley (87).
Odell Beckham Jr's reputation kept him on Prisco's list at 81, the only Browns receiver to make the cut.
Joel Bitonio (86) and Wyatt Teller (96) also earned mention among an often under-mentioned player group.
But that doesn't make the distance between the Browns' starters and some other linemen easier to tolerate.
Thankless Task Gets None From Here 
Kudos to Pete Prisco for recognizing Myles Garrett as a top-10 NFL player heading into 2021.
And thanks for naming 5 Browns among your top 100.
As for the rest of your choices and omissions… well, you knew what was coming.
The biggest snub in @PriscoCBS Top 100 NFL players of 2021 is _________

— CBS Sports HQ (@CBSSportsHQ) June 1, 2021
Prisco listed Mayfield, Johnson, Conklin, Landry, and Tretter among 40 players who "just missed."
Denzel Ward's omission from even the top 140 has to be an oversight.
As Browns fans, we can wonder where Kareem Hunt, Jadeveon Clowney, and Troy Hill could fit in.
Even as we dream of where Jeremiah Owusu-Koramoah and Greg Newsome will land in Prisco's 2022 list.
"On paper right now in the NFL on the AFC side, the Cleveland Browns have the best roster… QUOTE ME!"@mspears96 with some major praise for the Browns 😳 pic.twitter.com/HNOTLyrSR8

— NFL on ESPN (@ESPNNFL) May 31, 2021
But for now, we'll have to be content with joining the fan bases of all 31 other NFL teams.
That is to say, we disagree…
And strongly recommend that Prisco watch more Cleveland Browns football in the season ahead.